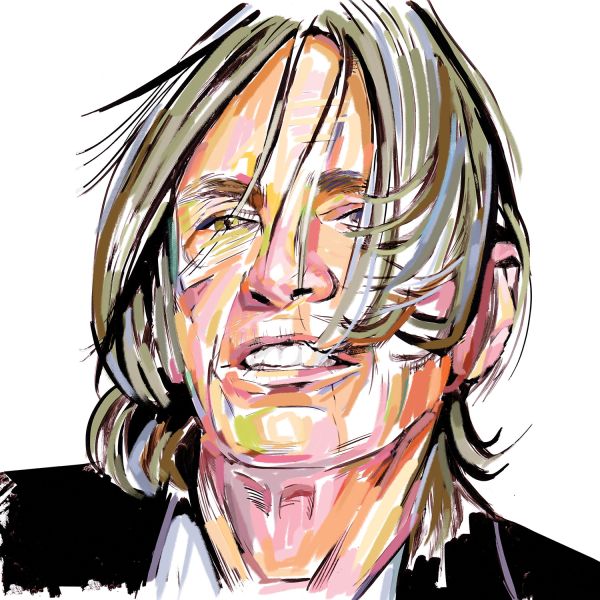 Lately, Eileen Myles, 66, has had difficulty writing in her East Village apartment. "I'm like a bad college student," she explained over black coffee last month at Cafe Mogador. "I squirm all day long." Fortunately for Myles, the procrastinating poet and novelist who once ran for president in an act of protest now enjoys the bounty of her re-issued 1994 novel Chelsea Girls; the debauched and electric account of self discovery and downtown life can be spotted the length of the L train. Also, the character of Transparent's Leslie Mackinaw, a radical poetry professor, is based on Myles, who is slogging away on her new book, Afterglow, a memoir of her late pitbull Rosie.
You often write about the different jobs you've had in the city. What were some of the stranger ones? Oh God…I tried to write porn briefly. There was an ad in the Village Voice to come to a loft in Murray Hill. There was this gleaming woman who asked me to write something and see if I had a knack and I went home and just wrote the most fucked up stuff I could think of. It was so strange. I remember bringing it to her and her saying, "great." Got offered something like $200 a week. But I actually didn't do it. I got as far as, "I'll be there tomorrow," and then I thought, "I will feel mentally ill if I do this."
When Chelsea Girls was first published you said you felt like it was tipped to change your life, yet you remained under the radar. Almost a year since its re-issue, how much has your life changed? Hugely. And then not. I'm sitting in Mogador, talking to you and living in my apartment and I like that. When you're making your work, you feel good inside, but there's always that little edge where you're like, "When are they gonna know that I'm me?" I knew I was a good poet—if it was going to be somebody young picked out of the crowd, I would be picked. And then by the time I was in my 40s, I was puzzled. I taught and I was published, but there was just a level of more success that I was puzzled that I couldn't have. I thought, "Is it because I'm weird? Because I'm gay?" It doesn't do you any good to ask those questions.
'All acts are political.'
You ran for president in 1992. Watching the 2016 campaign, do you ever want to make another run? No. I mean, I think all acts are political acts. If I spend too much time looking at bullshit on social media I'm wasting time, but if I spend a lot of time on social media distributing statistics about gun control and so on, that's not a waste of time. It's in my work and it's in my presence. If there was something that was literally more on the line to do, I would do it. I participate in a homeless retreat—I'll do the third one this fall—where I live with a group of Buddhists. We take to the streets in New York and we live out there for four days. We eat with the homeless, we sleep on the street, we beg and we just witness what it's like to be homeless in New York City.
Did you have any preconceptions about the homeless that were completely upturned? I mean some of them are about me. Ever since I stopped drinking, whatever veils were between me and the homeless went down. I realized that one of my core fears was to be homeless and felt homeless in some way. What we do is witness the homeless and the idea is to talk to them, but I was so convinced that they wouldn't talk to me. By the end of that [first] retreat I realized it was me. I recoiled from them, I disliked them, I was afraid of them. Then, the second time I went I talked to people and it was very different. What was then confusing was that I wanted to rescue them. I didn't do anything—I took people's phone numbers and I was going to do something—and I felt ashamed. [Eventually] I realized it was just more of my ongoing changing relationship with their condition and my condition.
Could you ever leave New York? I love New York. New York is my home. I can't imagine New York not being my home some of the time. This weather, this time of year. There is a very particular shuttling from misery to joy that is so much how it feels to live here. It's felt that way for 40 years.