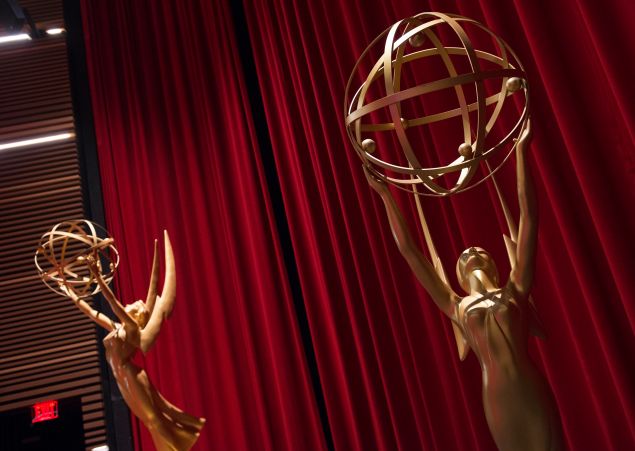 Welcome to the 2015-2016 Emmy Awards season, where all the shows you thought would get nominated…did! Despite being possibly the safest Emmy ballot in recent memory–minus a Crazy Ex-Girlfriend or two–we're here to predict this thing, one category at a time. In this installment, the big ones – Outstanding Series, Lead Actor, and Lead Actress in a Drama, Comedy, or Limited Series. 
Plus, will Tom Hiddleston show up with Taylor Swift? (Probably!) Is a win for Rami Malek also a win for Christian Slater? (Technically!) Is Shameless still on TV? (Apparently!) Let's do this: 
DRAMA
Outstanding Drama Series
The Americans
Better Call Saul
Downton Abbey
Game of Thrones
Homeland
House of Cards
Mr Robot
Vinnie: Game of Thrones has this very Daenerys Targaryen-like tendency to toil away in a smelly Dothraki cave for a whole year and then swoop in with hellfire and death to win this category anyway. But since this was arguably Thrones' best season…wouldn't shock me if it won for the second year in a row. Of course there's always the "finale season" advantage, and the collective sound of monocles shattering with a Downton Abbey win here could be heard from space, so I wouldn't rule that out either. But no, predicting the Emmys means going with your heart, and my heart basically runs on tiny cogs and gasoline anyway, soooo – Mr. Robot. That show outmatched all these other series on a pure story basis, and that's with the backing of the USA Network, home to the WWE and that weird goblin creature Todd Chrisley. That's like, I don't know, a small band of Night's Watch brothers and Wildlings going up against a massive united force and winning!
Shit, Game of Thrones was so good this year.
Dana: Can I just say these Emmy nominations seem like what the Emmy nominations would be from people who have never actually watched any TV, but based their entire decision on what they heard the good shows were. Is Homeland still on the air? Was Downton Abbey even good this year? These people don't care. This is just a boring, boring, field. I would have loved a nomination for UnREAL but until I run the zoo, I'll have to settle for predicting a boring Game of Thrones victory.
Vinnie's prediction: Mr. Robot
Dana's prediction: Game of Thrones (mostly because I haven't seen Mr. Robot yet)
Outstanding Lead Actor
Kyle Chandler, Bloodline
Rami Malek, Mr. Robot
Bob Odenkirk, Better Call Saul
Matthew Rhys, The Americans
Liev Schrieber, Ray Donovan
Kevin Spacey, House of Cards 
Vinnie: Are you ready for me to predict a Mr. Robot sweep? Are you? Okay, watch: Rami Malek for Outstanding Lead Actor. But then I want Christian Slater to accept the award, which is a spoiler if you've never seen Mr. Robot. But seriously, Malek is a damn sight to behold in that show. It's like Sam Esmail locks him in a darkened closet with a box of cigarettes and spotty Pokemon Go connection in between takes to draw out peak anxiety performance.
My second option would be Matthew Rhys. Not for The Americans, which is great and all, but for The Wine Show.
Dana: My favorite thing about Leiv Schrieber is how he always looks like he has mutton chops, even when he doesn't have mutton chops. That, I assume, is the plot of the show Ray Donovan which might also be about a man trying as hard as he can to pull off a fedora. I hope Rami Malek wins because he's the only non-middle aged white man on this list, but Spacey, even with his goofy exaggerated plantation-owner accent, is a really good actor. Besides, Emmy voters like middle aged white men.
Vinnie's prediction: Rami Malek
Dana's prediction: Kevin Spacey
Outstanding Lead Actress
Tatiana Maslany, Orphan Black
Keri Russell, The Americans 
Robin Wright, House of Cards 
Taraji P. Henson, Empire
Viola Davis, How to Get Away with Murder
Claire Danes, Homeland
Vinnie: Little editor complaint here: Do you know how hard it is to caption a picture from Orphan Black? You basically just write "Everyone and everything in this photo as played by Tatiana Maslany" and call it a day. I'm not a huge fan of handing out Emmys based on a performer's past work but, holy shit, come on now. It was looking like Maslany was going to have to play the Emmy Awards podium just to get nominated. This is her year.
Dana: It's also just an indicator of how boring these nominations are so far that there haven't been any snubs. They're reverse correcting from last year by finally giving Tatiana her well-deserved nom. Now I hope they actually give her the Emmy as a "whoops, we fucked up last year."
Vinnie's prediction: Tatiana Maslany
Dana's prediction: Tatiana Maslany
COMEDY
Outstanding Comedy Series
Black-ish
Master of None
Modern Family
Silicon Valley
Transparent
Unbreakable Kimmy Schmidt
Veep
Vinnie: Hey look, we just decided to nominate every comedy on television. What an honor! Silicon Valley is my favorite here, but season 3 was its weakest by a longshot. Kimmy Schmidt is fantastic on a pure joke-by-joke basis but as a show doesn't hold up much to the competition. I've already had many late night drunken debates with anyone who would listen, and then some who wouldn't, and then eventually the police about how Transparent is "so much more" than a comedy, so I won't do that here. My actual prediction? Master of None. The episode "Nashville," which pulled the near revolutionary move of having basically nothing bad happen, made me leave my house for the first time in two days.
Dana: Quick question. Just a quick thing. No big deal. But where the FUCK is Crazy Ex-Girlfriend? Crazy Ex-Girlfriend was the best comedy on television last year, with the added bonus of including diverse representation of sexualities (anyone else gettin' bi?) and women of all body shapes. Plus the songs! I'm just going to leave this here. I assume the Emmy voters didn't actually watch it because their snobby TV's don't get the CW, but Rachel Bloom is a goddess, and she won a Golden Globe for a reason. Also: no BoJack Horseman? This field looks like another case of "not actually watching the shows but picking the ones that were supposed to be good."
[youtube https://www.youtube.com/watch?v=H2lmojePnA0]
Vinnie's prediction: Master of None
Dana's prediction: Fucking Veep
Outstanding Lead Actor
Anthony Anderson, Black-ish
Aziz Ansari, Master of None
Will Forte, Last Man on Earth
William H Macy, Shameless
Thomas Middleditch, Silicon Valley
Jeffrey Tambor, Transparent
Vinnie: God, I just want that weird, sweet, uncomfortable little show that is Last Man on Earth to win something this year. Respect to Aziz Ansari for successfully playing Aziz Ansari, to Anthony Anderson for being as surprisingly adept at carrying the heavy material as he is the light, to Jeffrey Tambor for being in a whole other league, and William H Macy for reminding me Shameless is on TV…but there isn't a single person that could carry Last Man on Earth other than Will Forte. He is that show, and that show is outstanding.  
Dana: Aziz Ansari is wonderful, but his acting playing himself was not the strength of the series. Now if his dad were nominated…. I actually love Thomas Middleditch in Silicon Valley—he manages to play someone prickly but loveable, arrogant and insecure at once. I think Silicon Valley wouldn't be nearly as strong as it is if the characters weren't so gosh darned believable. If I had any confidence the Emmy voters actually watched Last Man on Earth, I would agree with Vinnie, but since they probably don't… I'm going Macy. We're going to get a fun, edge-of-our-seats "And the winner is… Will—" fake out!
Vinnie's prediction: Will Forte
Dana's prediction: William H. Macy
Outstanding Lead Actress
Ellie Kemper, Unbreakable Kimmy Schmidt
Julia Louis Dreyfus, Veep
Laurie Metcalf, Getting On 
Tracy Ellis Ross, Black-ish
Amy Schumer, Inside Amy Schumer
Lily Tomlin, Grace & Frankie
Vinnie: Rachel Bloom for Crazy Ex-Girlfriend. Listen, Emmys, I'm not asking you to nominate The Flash for Outstanding Drama (at least not here…), I'm just saying that sometimes breakthrough, exhilarating performances CAN happen on the CW. Think about it. And take a look at Gorilla Grodd for Best Supporting while you're there.
Actual prediction – Tracee Ellis Ross for Black-ish. Seriously, though, she deserves it. She is the heart and soul of a show that is basically all heart and soul.
Dana: Seconding the Rachel Bloom train. And seconding the Tracee Ellis Ross. This is the problem with going second—Vinnie is really good at this. Look, Julia Louis Dreyfus doesn't need anything, Amy Schumer is on the cover of Vogue right now—TER deserves this award. Also she spoke at my commencement ceremony last year, and as a fellow Brown alum if I didn't vote for her they would take my name off all the good lists.
Vinnie's prediction: Tracee Ellis Ross
Dana's prediction: Tracee Ellis Ross
LIMITED
Outstanding Limited Series
American Crime
Fargo
The Night Manager
The People v OJ Simpson
Roots
Vinnie: Jeez, when did Limited Series become the 1992 United States men's Olympic basketball team of Emmy categories. I'm only half sure that reference applies here. What I am sure of is Outstanding Limited Series is STACKED. I am almost certain The People v. OJ Simpson is going to take this, as it probably should, but Fargo was just…so good, man. That fucking UFO? Fargo's second season (sorry, second installment) would have already been top five of 2015 and then Noah Hawley dropped a damn alien spaceship into the mayhem because he could.
Honestly, though, can't really go wrong here. Screw it. Give it to The Night Manager. Have Tom Hiddleston accept in a "I heart TS" tuxedo. Let the world burn.
Dana: I cannot WAIT to see if Hiddleston brings Taylor Swift to the Emmy's. You know, knowing Taylor Swift, maybe that was her master plan all along. She hasn't actually been to the Emmy's yet, has she? Maybe she just has a really great dress and wants to meet Claire Danes.  I was not a huge fan of The People v. OJ for mainly John Travolta-face-related reasons, so I'm going with the next biggest movie-star-bait TV project: Fargo
Vinnie's prediction: Fargo
Dana's prediction: Fargo
Outstanding Lead Actor
Bryan Cranston, All the Way
Benedict Cumberbatch, Sherlock: The Abominable Bride
Idris Elba, Luther
Cuba Gooding Jr, The People v. O.J. Simpson: American Crime Story 
Tom Hiddleston, The Night Manager
Courtney B Vance, The People v. O.J. Simpson: American Crime Story 
Vinnie: After watching ESPN's amazing O.J. Simpson documentary, I don't think Cuba Gooding Jr. did as stellar a job as I previously thought. I mean, he was great, but he wasn't O.J. Simpson. And without O.J. Simpson, you lose a bit of the spectacle that was the backbone of American Crime Story. Courtney B. Vance, however, give an Emmy to that man. Unless you want to play it safe and say Bryan Cranston, who was genetically modified at birth to attract acting awards like a magnet.
Dana: Look at that list! Is this the Oscars? For me, one of Cuba Gooding Jr.'s biggest problems wasn't something he could control: it was his size. OJ is a physically imposing character and that makes a difference. Idris Elba is phenomenal in Luther, and assuming the Lead in a Drama is going to go to a Bryan Cranston-type, I'm desperately hoping Idris will take this one. Cranston will get a chance for another Emmy for everything else he'll do for the rest of his life forever.
Vinnie's prediction: Coutney B. Vance
Dana's prediction: Idris Elba
Outstanding Lead Actress
Kirsten Dunst, Fargo
Felicity Huffman, American Crime
Audra McDonald, Lady Day at Emerson's Bar & Grill
Sarah Paulson, The People v. O.J. Simpson: American Crime Story 
Lili Taylor, American Crime
Kerry Washington, Confirmation 
Vinnie: Do you think at parties Sarah Paulson says stuff like " I couldn't even win an Emmy if I had two heads!" I bet she's fun. But no, she should totally take this. She pretty much single-handedly took back the legacy of a real-life person with her take on Marcia Clark. People v. OJ Simpson was the TV event of the year, and even with an Easter Island head masquerading as John Travolta alongside Ross Geller playing Kim Kardashian's dad, all eyes were on Sarah Paulson.
Dana: The sad thing is, if Sarah Paulson wins the Emmy, she's contractually obligated to give it to Ryan Murphy like a Rumplestiltskin first-born-child thing. How is it possible for me to be this indecisive in a category that contains crown queen of Broadway Audra McDonald? I'm actually going to go with Kerry Washington for her role as Anita Hill, proving than she can do more than just wide-eyed, vaguely angry wine drinking in Shondaland.
Vinnie's prediction: Sarah Paulson
Dana's prediction: Keri Washington