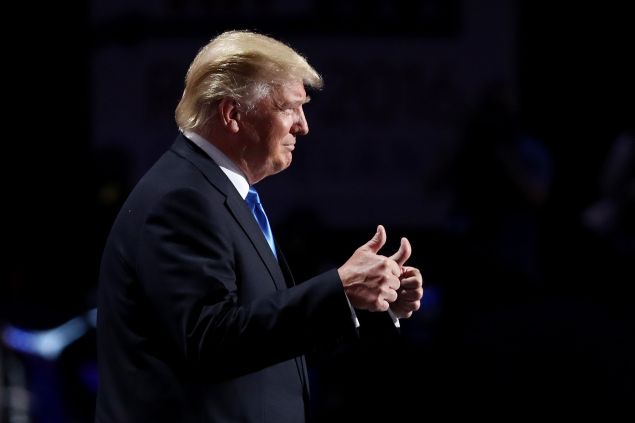 Get it together, RNC. You have a candidate who is deeply unpopular with women, so you host an event at your convention to showcase women who support him—but allow it to go forward with empty chairs on stage and a near-empty audience?
There were six speakers for the event, including the always-hilarious Diamond and Silk, but they were all seated on one side of the stage, with a number of chairs on the other side that were unused. It makes it look like the GOP couldn't find a few more women willing to speak in favor of presumptive Republican nominee Donald Trump. It also makes it look like they couldn't even sweep the convention center for some random female Trump supporters to even things out and give the appearance of support.
At the very least, they could have removed the additional chairs so they weren't in view of the cameras, making it appear that almost no women wanted to endorse Trump.
The stage wasn't the only problem. Some reports put the number of audience members at around 17, with many of them were journalists hoping to get a good "women can't defend Trump" story out of it. They got something even better: anecdotal "proof."
At the same time, does a poorly attended event like this really matter or prove anything? People don't usually go to conventions for the side events—they're there to see the celebrities and the main speeches. The 'Women for Trump' event took place in the morning, before the main spectacle of the convention's first take began. It started late, to be sure, but it still wasn't a prime-time event.
Events like this are more for journalists and insiders. I wouldn't be surprised if a similar event for Hillary Clinton is sparsely attended next week when Democrats hold their convention.
But Trump's campaign and the RNC should have been keenly aware of the optics for their candidate. The latest Washington Post/ABC News poll finds that just 27 percent of women have a favorable opinion of Trump, and Republican women are split on their view of the candidate. The RNC could have showcased how many Republican women do support Trump, but instead they put on an event early in the morning, early in the convention week that made it appear as though the GOP couldn't find more than a handful of women to support the candidate.
At a time when the opposing party is poised to nominate the first female presidential candidate in history (from a major party), the comparison is painfully obvious.
Disclosure: Donald Trump is the father-in-law of Jared Kushner, the publisher of Observer Media.