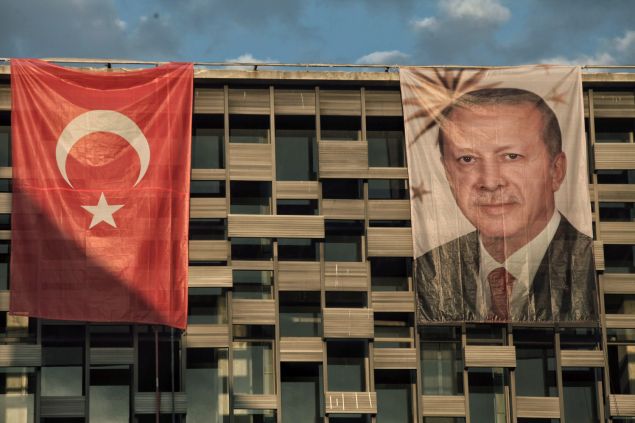 The Turkish people defeated the July 15th coup attempt. Turkish President Recep Tayyip Erdogan remains in office today because Turkish citizens (across Turkey's complex political and ethnic spectrum) courageously defended their hard-won democracy—a democracy nine challenging decades in the making.
It appears Erdogan's government has now smashed the coup plot—and rather decisively. Coup d'états against democratic states are criminal acts. Coup perpetrators deserve punishment as justified by law.
Erdogan is certainly dealing out the punishment. The government claims the followers of Muslim cleric Fethullah Gulen planned and executed the coup. Pro-Gulen personnel in the Turkish Air Force and the gendarmerie played key roles. At one time Gulen supported Erdogan. For years opposition parties objected to Erdogan's tendency to give Gulenists choice positions in the bureaucracy, to include the judiciary. Gulen now lives in exile in Pennsylvania. Erdogan has requested his extradition from the U.S. to Turkey.
Some 9,400 security personnel allegedly involved with the failed coup are currently under arrest (most of them members of the military) and there are indications several hundred more may be detained.
Given the size of Turkey's military and national police forces—and emerging information about range and types of operations conducted by coup plotters—10,000 plotters under arrest is a reasonable figure. It represents less than the troop strength of a typical infantry division.
Unfortunately, in the coup's sordid aftermath, "the lynching has started."
The Voice of America attributes that biting assessment:
"Beyza Ustun, an official of the Kurdish-dominated, left-wing People's Democratic Party, reflecting the concern members of Turkey's minorities have expressed at what they see as a growing threat to their rights."
I fear we witness a bitter, hostile irony of history-in-the-making. Contrary to his claims he is defending democracy, Erdogan's actions in the last five days have damaged—if not quite dismantled—key elements of the very democratic system that saved him and his government.
He has already moved from justified legal action to vengeful, self-serving purge. That stinks of dictatorial power grab, going Full Ottoman, with Erdogan living down to his deserved nickname: Sultan Recep.
Is purge a loaded word? Look at the numbers. So far he has suspended, fired or revoked the licenses of 60,000 civil servants (58,881 is one precise figure) working in various positions.  If that sounds like a large number of people, it is.
Turkey's judiciary and educational systems are primary targets. At last count, over 21,000 employees of the Education Ministry have been fired or suspended, including more than 1,500 university deans. Over 1,600 private education institutions with links to Gulen and his movement are being closed.
Government officials say that purged employees will have their day in court—which makes the judiciary purge even more disturbing. So far the government has dismissed 2,745 judges and prosecutors. In The Financial Times, Istanbul human rights lawyer Ayse Bingol asks some pertinent questions: "We are talking about arrest warrants issued for thousands of people. How were they issued? Based on what facts? Is it a kind of witch-hunt or is there respect for the rule of law?"
The judiciary purge includes members of Turkey's highest court, the Constitutional Court. Erdogan had two Constitutional Court judges, Alparslan Altan and Erdal Tercal, dismissed and then detained. Both men have Gulenist sympathies. However, members of the court have opposed and struck down legislative and legal measures that Erdogan favored. According to Erdogan's critics, the measures he advocated would cede even more power to the presidency.
*  *  *
Recent attacks by militant Islamist terrorists aligned with the Islamic State led France to declare a state of emergency.
Erdogan said Turkey needed a state of emergency to fully respond to the coup, and Turkey's parliament obliged.
Parliamentary leaders see their country's turmoil. The Turkish people want coup participants brought to justice. However, the state of emergency suspends the European Convention on Human Rights, making it all too easy for Erdogan to pursue self-serving ideological goals. An Erdogan ally all but said that's coming.
Turkey must "clean the state coffers fully of members of the Gulenist organization."
The opposition Republican Peoples Party (CHP) strongly opposed the coup and has been very supportive of Erdogan. The CHP is Turkey's secularist "Kemalist party," the party of Kemal Ataturk, founder of the Republic of Turkey. Current CHP leader Kemal Kilicdaroglu recognizes the danger posed by the state of emergency. On July 22 Kilicdaroglu reminded an interviewer that the CHP had long opposed Erdogan's excessive tendency to appoint Gulen sympathizers to key government positions—when Erdogan and Gulen were allies. The reminder, however, wasn't the heart of Kilicdaroglu's statement:
"Any kind of wrongdoing with regard to legal proceedings [by the government] would only help strengthen the coup mentality. We should carefully avoid this. We want all those who are prosecuted on coup-related charges to be tried in line with democracy and the rule of law. We don't want a witch hunt…We are a strong state with the rule of law. There have been setbacks in democracy from time to time but Turkey's face has always been turned toward democracy."
That's an eloquent statement and eloquent warning. If Erdogan consolidates personal power in the process of ending the current turmoil, he risks seeding further civil conflict.
*  * **
Contrary opinions rattle Erdogan. Yes, Big Ego Erdogan is a bit thin-skinned. Allegedly the Gulenist deans on his purge list promote anti-democratic and anti-government ideas. More likely they hold anti-Erdogan opinions.
Erdogan's demand that Germany squelch and prosecute comedian Jan Boehmermann provides an international example of the fierce treatment Erdogan's domestic critics confront within Turkey.
In March, Boehmermann mocked Erdogan in a satirical and obscenity-laced poem the comedian read on his ZDF-neo channel talk show program, Neo Magazin Royale.
As the BBC reports, the comedian acknowledged his poem "included material that broke German laws on free speech," so Boehmermann was seeking confrontation. In May, a German court ruled Boehmermann's animal "sexual reference" obscenities (read the BBC article) "were unacceptable." However, the comedian's criticism of Erdogan's clamp down of free expression in Turkey was completely legal—he has freedom of political speech. Boehmermann claims German Chancellor Angela Merkel "filleted me, served me for tea to a high-strung despot…" He has a point.
During the state of emergency Erdogan can fillet his domestic critics, and unlike Boehmermann they will have limited legal recourse.
*  *  *
Erdogan styles himself a moderate Islamist. His AKP is a moderate Islamist party. Erdogan has renounced the speech he gave two decades ago where he said "Democracy is merely a train that we ride until we reach our destination. Mosques are our military barracks. Minarets are our spears." He claims his views have changed and he is committed to Turkish democracy.
In a column I wrote for Creators Syndicate shortly after the coup I argue that "the big message emerging… is this: in crisis, Turks courageously defended their democracy." This indicates that "the secular Republic of Turkey, founded by Kemal Ataturk in 1923, has achieved one of Ataturk's most fundamental goals: embedding democratic values in Turkish society. Despite the turmoil and uncertainty, that rates as very good news."
A week after the coup I think that remains true.
Ataturk is the only person—so far—to have taken a culturally Muslim society and create a parliamentary democracy. He's the leader who, to paraphrase the CHP's Kilicdaroglu "turned Turkey's face toward democracy." In the process, Ataturk emancipated Turkish women—another extraordinary reform. In 1924 he abolished the Islamic caliphate. Ataturk believed religious tolerance and free speech are essential rights in a modern and just society, so he insisted that the laws of the republican Turkey be secular, not Islamic.
For abolishing the caliphate and demonstrating Muslims can create a parliamentary democracy, radical Islamist terror organizations like al-Qaida and ISIS despise Kemal Ataturk more than they do George W. Bush.
Which takes us back to bitter irony. Ataturk's revolutionary reforms—the reforms that created modern Turkey—are threatened and under attack, and "the biggest threat comes from President Erdogan," the very man Turkey's democracy-protecting citizens saved.
Austin Bay is a contributing editor at StrategyPage.com and adjunct professor at the University of Texas in Austin. His most recent book is a biography of Kemal Ataturk (Macmillan 2011). Mr. Bay is a retired US Army Reserve colonel and Iraq veteran. He has a PhD in Comparative Literature from Columbia University.