Glamping, or glamorous camping, is the latest way to gain Instagram followers. After all, there's nothing as authentic as pretending you enjoy the great outdoors for a weekend, while everyone else is in the Hamptons. Whether you're looking for a romantic yurt for two, a tipi for the kids or a tent with beds more comfortable than your own, there are options statewide. If "rustic" and "luxurious" are the words you'd use to describe your aesthetic, glamping might be just the vacation you need.
Trying to convince your new significant other that you're low-key? Suggest glamping–you'll still be able to blow dry your hair and charge your phone, but can frolic in a nearby lake with ample photo opportunities. While some of the destinations on Glamping Hub–otherwise known as Airbnb for nature lovers–are more rustic than glamorous, others give glampground-goers the chance to double as amateur Free People models and leave Manhattan behind for the weekend.
Glamp in a barn. 
This "Beautifully Renovated Barn in Upstate New York" sounds like something out of a hipster's dream journal. The "rustic" (but of course) barn has been renovated by local artisans. There's a pond, yoga deck and three whole fire pits for all your selfie needs. If you're not exactly in the market for a romantic getaway and don't have time to Tinder your way to a soulmate this summer, the barn sleeps a maximum of six guests in five different beds on three levels, so there's no need to have a couple's retreat–or, some of your friends can, separately. And, for the truly eco-conscious, even the sheets are organic. 
Glamp in a treehouse. 
Don't have time to venture to an adult summer camp for a booze-filled long weekend? Instead, try a treehouse–but with modern plumbing. This Cayuga Lake getaway has not one, but two treehouse cabin rentals. Don't worry, though…both tree houses have air conditioning and heating, so unless you went to the most elegant of sleepaway camps, it is quite the departure from arts and crafts, gymnastics filled schedules.
Glamp on an organic farm.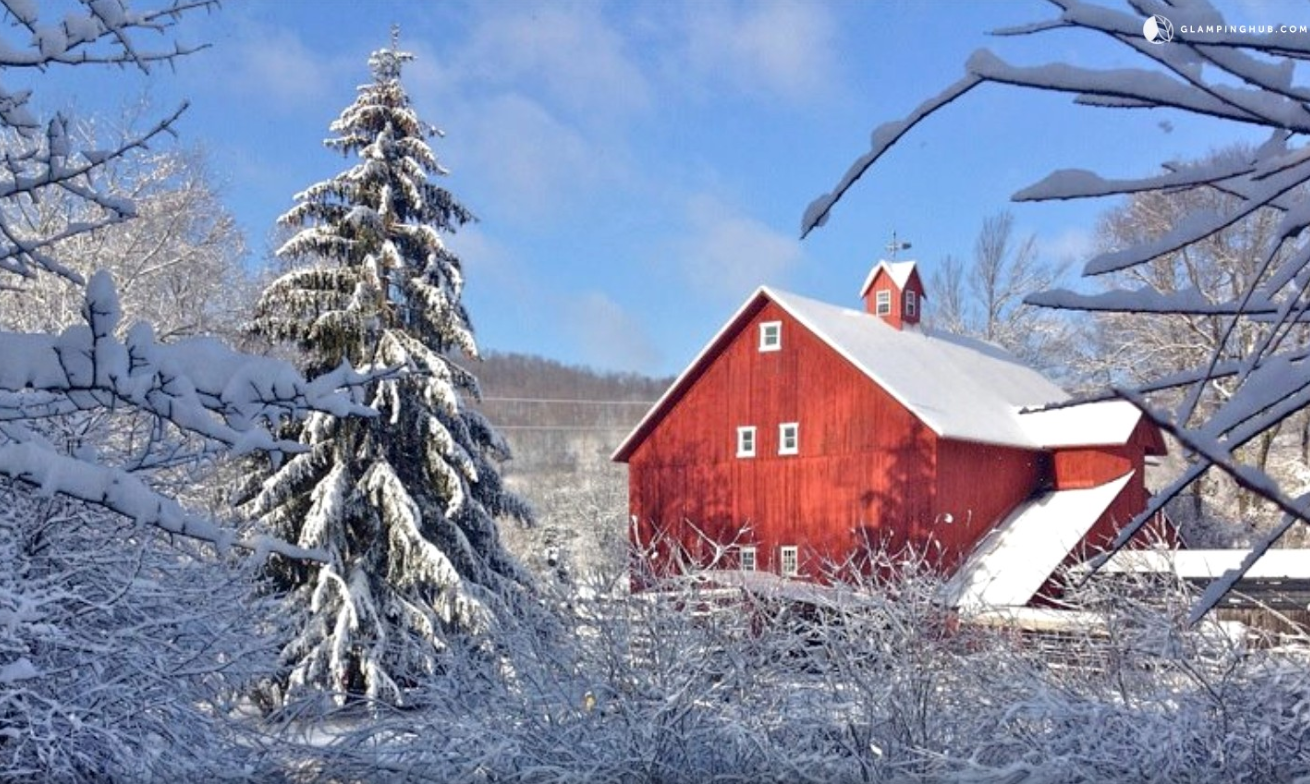 The amateur chefs in your family can make use of their agricultural prowess on this organic farm in the Catskill Mountains. You will, however, have to stay in a tent for the opportunity to enjoy the organic farm nearby. Luckily, each tent has a bathroom and a stove, so it's not exactly roughing it. There are no outlets, so expect to digital detox after your hike. (Or bring your own portable charger.) Unfortunately, the lack of outlets means you won't be able to photograph the flock of sheep and assorted turkeys who also spend time on the farm.
Glamp in a yurt. 
This yurt tucked away in the Catskill Mountains is far more glamorous than the usual nomadic tent, since it houses a modern bath and full kitchen, along with an open deck. No one has to know that it has French doors. Your Facebook friends will be wildly impressed that you went so off-the-beaten path for your summer vacation. If the yurt isn't quite your style, because it's a bit too close to actual camping, Harmony Hill Lodging and Retreat Center also offers a fully equipped cabin. You could always lie and simply stay there, instead.