Mermaid nails.
(Photo: Valley Nails Instagram)
Pride nails.
(Photo: Valley Nails Instagram)
Summer nails.
(Photo: Valley Nails Instagram)
Patriotic nails for July 4th.
(Photo: Valley Nails Instagram)
Shell nails.
(Photo: Valley Nails Instagram)
What better way to show off your ring?
(Photo: Valley Nails Instagram)
Pikachu nails.
(Photo: Valley Nails Instagram)
Pokemon nails.
(Photo: Valley Nails Instagram)
Turquoise mermaid nails.
(Photo: Valley Nails Instagram)
Rolling Stone nails.
(Photo: Valley Nails Instagram)
With nail art on the rise, even the most demure Upper East Siders can be spotted wearing glitter, glass and animal prints on their fingers. In fact, Kelly Ripa is a recent fan who announced her dedication to intricately painted digits, on live TV. Despite the recent craze, anyone who was interested in a less than basic manicure had to venture downtown to one of the major hot spots, be it Chelsea and Nolita for Valley Nails or the Lower East Side for Vanity Projects and Akiko. To save all of the uptown girls from commuting, Valley Nails recently opened on the UES. Their nail technicians allow you to personalize every single nail, from color to print, which can be a heady endeavor. If you have yet to leave behind your classic Essie colors, how do you go about branching out? The Observer spoke to founder Nina Werman to find out how you should prepare for your very first nail art appointment.
"Nail art has become ubiquitous and is now really a fashion accessory," Werman said, showing off her own custom manicure that looked more like MOMA art than a Pinterest tutorial. "I've seen a lot of clients become more sophisticated about what they want and develop a point of view about their own nails." At Valley, there are no pre-prepared looks. Instead, customers can completely customize everything. Werman owes the popularity to the unique nature of the experience. She believes her clients are drawn to the distinctive nail art, but also appreciate that they'll have the same experience at all three locations. It's a bespoke turn away from the same seasonal polishes being worn by everyone else at brunch.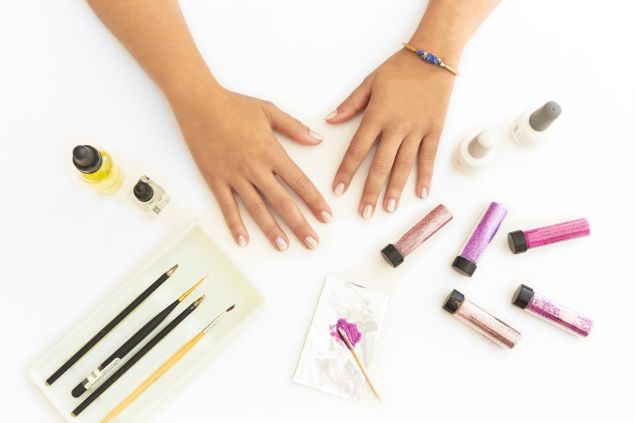 If you're a first timer, make sure to bring a photograph and explain what materials you're envisioning, so you know Valley can deliver. "We encourage clients to do some research or arrive early and use our Instagram, Google or come in with fabric," Werman said. If you want to be sure of the price and design beforehand, you can email images and receive a suggested time frame in return. "Derive inspiration from visual arts, street art, conceptual art," Werman suggested.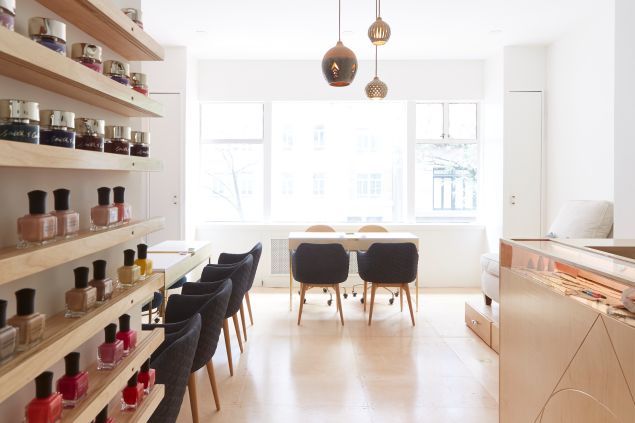 Werman's technicians are "heavily steeped in the nail art world," and they use an iPad pro to create original concepts. She offered a list of ways for nail art virgins to prepare, including determining what nail shape you want in advance and matching the gel polish to your wardrobe. "For first time clients, less is more. We'd rather you spend less money and be really happy with something simple, versus going all out and feeling overwhelmed by your nails. We do have those clients who get a martini glass on one hand, and a flip flop and a palm tree because they're going to Hawaii and they want to celebrate that and we're happy to accommodate it. But I would be surprised if after a week, that client isn't looking at their nails wondering, 'Why is this still here?'" Werman said, comparing the first nail art appointment to walking into a candy shop for the first time.
There's no need to go overboard, so make sure to take off one accessory (in this case, glitter or an extra stripe) before you leave the salon with $150 worth of polish on your fingertips. And, come prepared–whether you bring a bag, an Instagram image or your favorite fabric, you'll guarantee nails that you'll appreciate for at least two weeks.