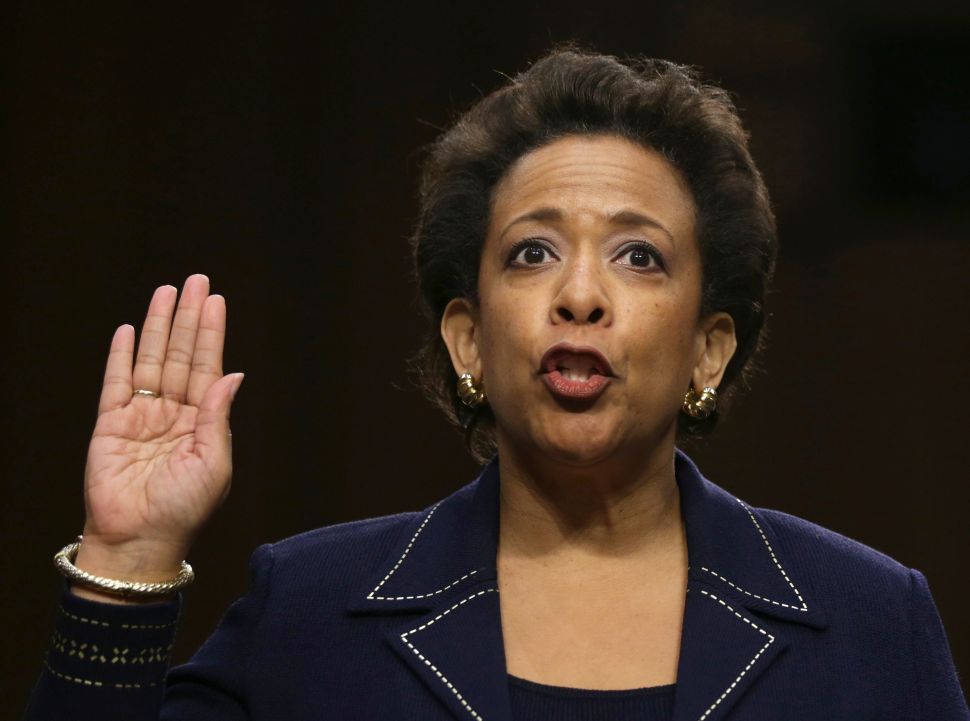 An exclusive interview with a security source who was present at the unplanned meeting Monday night on a Phoenix tarmac between former President Bill Clinton and Attorney General Lorretta Lynch has shed additional light on an unusual summit that is embroiling the AG in charges of favoritism. As attorney general, Lynch heads the Department of Justice just as it is deciding whether to proceed with charges against Democratic presidential nominee Hillary Clinton over her use of a private email server during her tenure as President Obama's secretary of state.
The source has decades of experience providing security to government officials. The source spoke to the Observer for 20 minutes and answered follow-up questions via text message on the condition that no further details be revealed, including even gender, given the possibility of losing his or her job as an active overseer of security arrangements. This person was on-hand for the entirety of the meeting and some of its aftermath.
According to this source, whose credentials were checked and confirmed by the Observer with sources inside both the FBI and the United States Secret Service, the attorney general was caught completely off guard by the meeting and the source dismisses suggestions that have been raised alleging that she waited there to see Bill Clinton or accommodated his request to see him. In fact, it seems from this source that it was Bill Clinton who was maneuvering for face time with the attorney general, because his plane had been scheduled to leave before hers arrived.
"Fair is fair. I'm a conservative-leaning [person] [gender-identifying word redacted]. I don't support anything this administration does. I don't know much about the attorney general's past, except she has a good reputation. But I really don't like this executive's office, so that said, politically, that's where I'm at. But I just happened to be in a position to know firsthand what went down that day."
The FBI protects the attorney general and the Secret Service protects POTUS and there are elements from that agency that protect former presidents. According to the source, "The AG and the director each have a protective detail because they travel extensively and that duty falls to the FBI. They have a formalized unit, a detail, that lives and works out of Washington, D.C. Then there will be FBI leaders who are experts in other towns and regions who coordinate visits—someone in Chicago FBI will coordinate with the D.C. detail when the director or the AG comes to Chicago. So what happened here is that the FBI agents in Phoenix were in touch with the detail leaders in D.C. for the AG's visit. Somebody from D.C. will advance the trip and liaise with the local element, who has a big SWAT team and provide everything they need so they can send only a skeletal unit with her, two people—a medic and protection. They don't need to commit 27 people. Details include surveilling all the locations, the routes, the hospitals, safe zones; that's all handled by [the local FBI people] [actual words redacted to avoid identifying source]."
According to the source, the FBI agents protecting Lynch "knew former POTUS was in town and another executive was coming and knew Lynch was coming so we knew there'd be congestion. We were waiting for her plane to touch down at the executive terminal area of Phoenix's Sky Harbor where it's best suited to control. Clinton's plane was on the ground already. But he wasn't there. We had been hoping to get him out before she arrived, just to avoid too much traffic. They [their planes] were 75 yards apart. We have a procedure we do to clear [space for] a motorcade. As we were ready to receive her, I saw the other motorcade coming in—we were like, 'great timing.' "
The source was being sarcastic in saying "great timing," indicating that it would have been better logistically for Clinton's plane to take off before Lynch's arrived, to avoid the congestion of two motorcades on the tarmac at once. The source indicated that Clinton's people at the airport didn't know what was taking Clinton's motorcade so long to arrive and speculated that the delay was engineered specifically so that Clinton would not have left before Lynch arrived.
"Then I see Clinton walking over. His detail guys ran over to hers and said he's coming. 'He's closing.' He walked straight there to the Air Force guy at the door and next thing I know he's going up the steps [of her plane]." Asked about the Air Force detail, the source later clarified to the Observer that "There was an Air Force airman at the base of the stairs of the [Lynch] aircraft, as you always see on TV with POTUS."
According to the source, "Nobody knew this was coming. We just knew to be aware there were other events going on. There was no planned meeting. It was just chance contact. The fact is, he just started walking over. I don't think it was pre-arranged. He just started walking over and [even her security] can't tell him, 'you can't do that.' He walked in her plane for at least 20 to 25 minutes and the FBI is standing face to face with the Secret Service and just chatting on the hot tarmac like, 'what the hell.' "
Regarding the reaction and its aftermath, the source told the Observer, "I didn't think of the political ramifications, just the timing, 'cause we had other things to do. He [Clinton] came off and shook the hands of the heads of Lynch's detail. Then her detail finally got her off the plane, now much delayed, and departed for her day's events. She had a series of visits planned for Tuesday."
The source said that the impromptu visit made an immediate impression upon Lynch's staff (meaning her non-security personnel).
"I don't agree with her politics and all that, but I knew from the beginning that she got caught off guard and her staff was already talking about it that it's going to be a political problem for her. Her staff was flipping out. We didn't think about the political part until we saw her staff flipping out. For the security guys, it was more of a 'I've got armed guys coming into my perimeter' problem. But the staff guys saw right away that it was a political problem. After Clinton got off, they were like, 'that wasn't good.' And I know from others who were in the actual car with her that her people knew immediately the political ramifications of it and were very upset."
The meeting has indeed turned into a political firestorm for the attorney general, with President Obama's press secretary, Josh Earnest, declining to say whether the interaction between the powerful husband of a person being investigated and the attorney general was appropriate. In a sit-down with The Washington Post's Jonathan Capehart in Aspen, Colo., earlier this morning, the columnist grilled her about the meeting: "What on Earth were you thinking?" he asked her, in an otherwise very friendly interview.