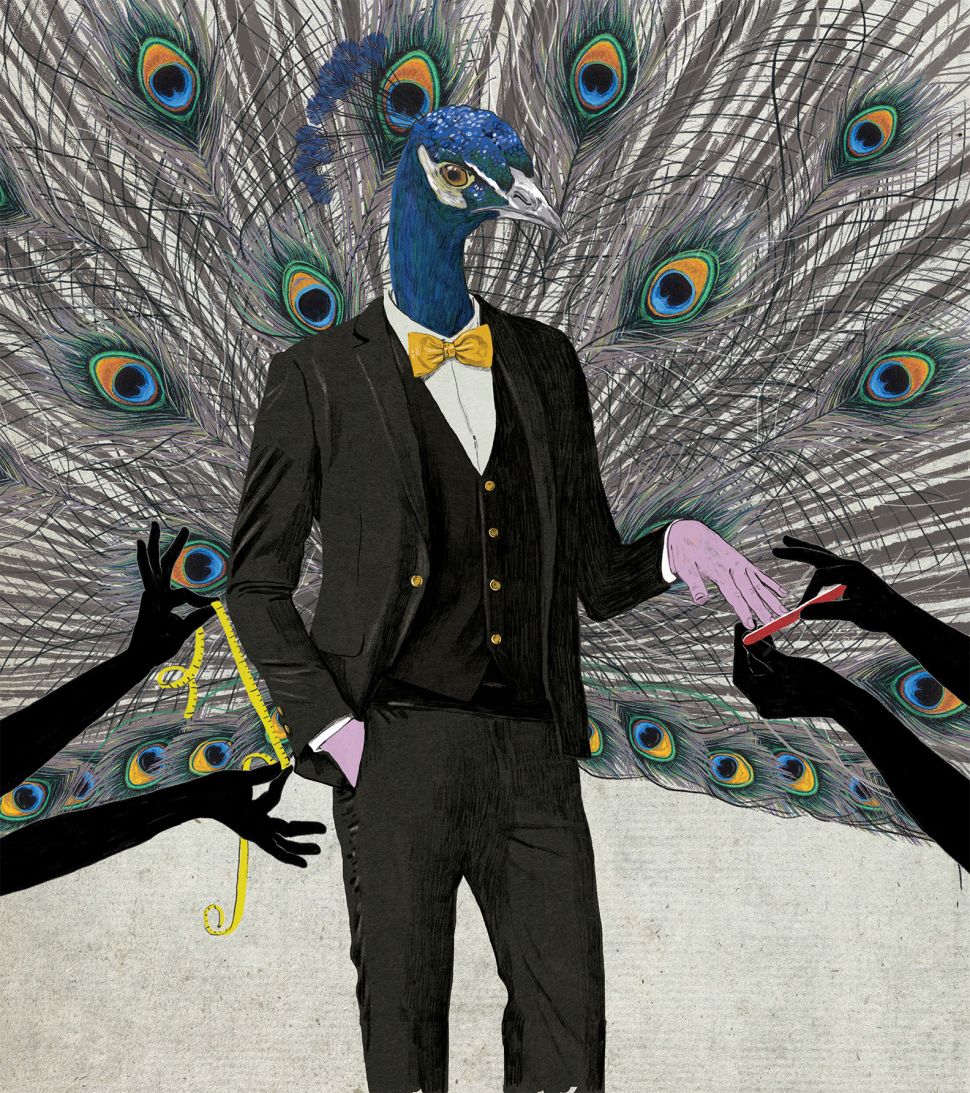 When it comes to gender, we live in strange times.
Policing who uses which bathroom has turned into a fixation for some, with unsexing the potty inciting remarkable rage in an era that also brought us Supreme Court-sanctioned gay marriage and an Emmy for Transparent.
Hillary Clinton, making no bones about playing "the woman card," has somehow become, over the last months, The Man—phallic and Establishment.
As an old white guy from Vermont via Brooklyn ignited the passions of young female voters, the presumptive Republican nominee—a Manhattan soi-disant billionaire and former Dem—inflamed far-right sentiment by connecting with Nascar-ists whose job prospects, savings accounts and masculine #privilege have been dwindling.
This election cycle has been a lot of things—surprising, surreal and divisive. It is also a masculinity muck up of epic proportions. Sure, as we prepare to elect a woman the most powerful person in the world, or not, anti-XX sentiments reach new highs, which is to say, all-time lows. Clinton is Satan, a crook, a "C" word and a baby killer, according to haters. And that's all before breakfast.
But what of men? Other than the ones yelling about Clinton yelling, and the ones yelling that we need to build a wall, where are men as we inch closer to maybe making a woman the most powerful swinging dick on earth?
Among the tribe of uber-rich Manhattanites I have long studied, one thing is clear: alpha males aren't what they used to be. At the very top of the food chain, maleness is "having some work done." Top-tier guys are Botoxing, working out and dieting with a zeal previously associated with ladies who lunch. And it turns out that this fancy Manhattan Man 2.0 has big implications for everybody else. "Elite tastes tend to trickle down to lower-income groups," explains Columbia University sociologist Victor Corona, Ph.D., who sees "a recalibration of masculinity gaining momentum on our island." Fellows in the heartland may want to hold their football jerseys tight, and brace for impact. And pedicures.
Just a generation ago, the male mogul communicated his lord-of-the-manor status by letting his physical appearance go. The silverback gorilla of law, finance, or industry didn't just have silver hair—he had a paunch. He wore the clothing his wife bought for him, and ate vegetables because (and only when) she told him to. For exercise, yesterday's macher golfed, played passable to lousy doubles or swam naked in the all-men's pool at his stodgy club. His greatest concession to vanity was a comb-over.
That's because his wealth and power were his sex appeal. The gravitas of the guy who ruled the world went hand in hand with indifference to the state of his body, let alone his body hair. Think John Gutfreund chomping his cigar on the trading floor. Think oft-rumpled Sandy Weill. The common denominator of masculinity, across class and geographical lines, was a certain indifference to mirrors. Like taking care of the kids, "fussing"—decorating one's office, buying socks, thinking about one's health—was delegated to The Wife.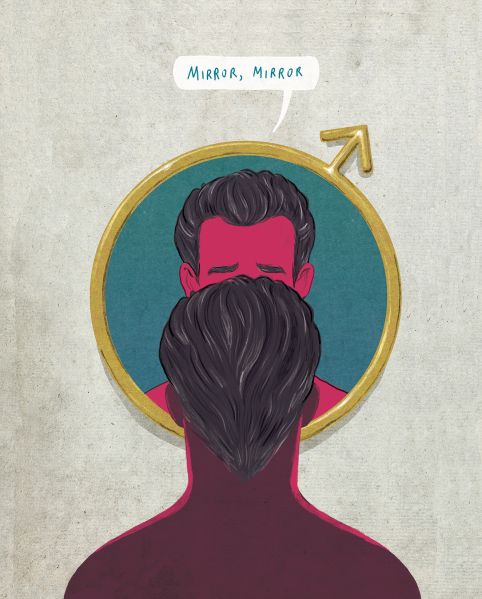 But in today's Manhattan, in the niche of the super-wealthy, guys of a certain age—mid-40s to early-60s—are more likely to avidly, lingeringly regard their reflections (frequently in magnification mirrors, but more of that later) than ever before. The city's ultra-privileged men still live in a world every bit as traditional and sex segregated as their fathers'—for starters, those with young children often have wives that stay home until the kids are old enough to be in school full-time, or longer. I went to more than one dinner party where men and women were at different tables in different rooms, like a Cheever-era retread of men in boardrooms and women at bridge tables. Yet in stark contrast to their elders, the amount of attention this new breed of XYs lavish on their abs, faces, teeth, hair, wardrobes and overall "self-care" gives the routines of their wives—and Hollywood starlets—a run for their money. And they're not embarrassed to embrace rituals of beauty that were until even a decade ago denigrated as "girly." In the age of core work, teeth whitening, juice cleanses and Instagram, every man of means is also a potential celeb, it seems, and billionaires often aspire to be beautiful and desirable. Call them "clitbait."
"My rich male patients really care about their appearances," a therapist with many wealthy clients assented when I asked about recent shifts in masculine self-image. "In a population of really successful guys in a really competitive town, you expect to see narcissism," she said with a sigh after I pressed her about why. "But now rich men are talking about their looks lots more than I remember 10 years ago."
They're pretty, but pretty from the inside, with an emphasis on holistic wellness previously associated with women my Midwestern father used to call "yoga types." "Not only do these guys eat their vegetables: they have organic biodynamic gardens at their East End homes; buy raw fresh-pressed juice companies; and paleo diet, cleanse and purge with the fervor of beauty pageant contestants," Bob Morris, men's fashion expert, author and regular contributor to The New York Times' Style section told me. Mega-nutrition is only the beginning. Just as perfect and ever-whiter teeth became the norm over the last two decades, emerging as a morphological shorthand for "I am healthy and privileged," a 20-something's ripped physique well into midlife has replaced the gut that once telegraphed, "I'm too rich and powerful to care," and even a flat stomach that said, "I care." Some of the city's hedge fund hotshots look like like they work out more than Tracy Anderson.
"We're not spotting each other at the gym," a tech billionaire conceded when I asked how he and his pals were pulling these bodies off. "Someone who comes to your house to work you out for an hour a day or more"—previously something for the lady of privilege—"is de rigueur." Like many men in his income bracket, he does "weighted get ups" and hard cardio such as "sled pushing" with his private trainer. In the summer, his peers partake in "the new golf"—kite surfing, another common pursuit of the tribe. This new breed of forever-young rich surfer dudes in midlife bobbing in the waves off Ditch Plains makes me think of Gidget.
Some also embrace grueling "obstacle course" endurance rites that push the sadomasochistic envelope. I met up with Whitney Tilson, the investor, philanthropist, director of the hedge fund Kase Capital—and self-described "obsessive extreme race participant"—not long ago at Three Guys. There, we looked at photos of his Tough Mudder and Spartan races as well as his Navy SEAL Team Physical Training, now a "team building" rite of passage for elite financiers. Tilson affably referred to "chasing races" as his "midlife crisis," but he's far from the only one seeking out muddy tracks where one is jolted by 10,000 volts of electricity, scrambles up sheer walls and schleps 200-pound logs only to be jangled from sleep (in a tent) by blaring strobe lights and the screams of a drill sergeant commanding a jump into the choppy seas off San Diego where real SEALS train. At first I thought this was merely masculinity in overdrive, but it's hard to shake another analogy: a rough version of women with lots of time to perfect their bodies at Physique 57. Maybe it's rugged, macho peacocking, but it's still peacocking, a kind of body display until recently the provenance of Real Housewives, real housewives and female celebs.
Priced at around $6,500 for a 62-hour program, the SEAL torment ain't cheap. But self-improvement while being pushed to the point of potential physical collapse, i.e. failure, is apparently a thrill that those in charge of the world are willing to pay for.
"Actual SEALS and these guys [and a growing number of women] who sign up really thrive on challenge in general," Tilson told me. He suggested that this was less about getting in shape and more about fun and bonding. And that the same discipline that leads to pushing oneself in business might also lead one to go bigger, harder and faster in the physical and mental training department. In short, it seems that once you're fabulously wealthy, you seek out other ways to raise the bar on yourself. Bottom line: alpha males are no longer lying about in lawn chairs chugging beers. Anti-leisure culture is more their thing. "We live such pampered lives 99 percent of the time," Tilson noted.
'I don't want to share my Retin-A with the guy I'm doing.'
Rich guys are not the only ones honing their physiques with the obsessive diligence of Upper East Side Glam SAHMs (stay-at-home moms). HiSES (socio-economic status) males often have beliefs and practices that parallel those of the super-educated academic elite, biological anthropologist Todd Disotell reminded me in a phone conversation from the molecular primatology lab he runs at New York University. Like Tilson, Disotell (who unlike Tilson once sported a Mohawk for his gig hosting a show called 10 Million Dollar Bigfoot Bounty) is an enthusiastic participant in Those Crazy Races.
"I want to make 55 my bitch," Disotell deadpanned when I asked what drove him. He agreed that haute masculinity—the wealthy and academic varieties—is getting a makeover, describing a recent memorial service for a fellow academic. Among the 150 or so attendees, virtually all the men in their 50s, 60s and 70s were notably fit and trim. "You would not see that in your average populations," he points out, adding, "some guys in the group who were flabby a decade ago are now in better shape than ever before."
What gives? Ever the anthropologist—albeit one who has long been on a low-carb, high-protein diet—Disotell suggested, "If you have the resources, if you're not living in a food desert like much of the population, if there's an obesity epidemic all around you, exercise and diets are a way of being in the 1 percent. It's basically differentiating yourself physically from everybody else."
Disotell was also quick to point out that, tough stuff aside, the endurance races and dieting, while distinct from ballet barre workouts and undertaken by men who would not be caught dead there, "are basically another way to lavish attention on your body like women traditionally have." Seen this way, Tough Mudder is the new coffee klatch.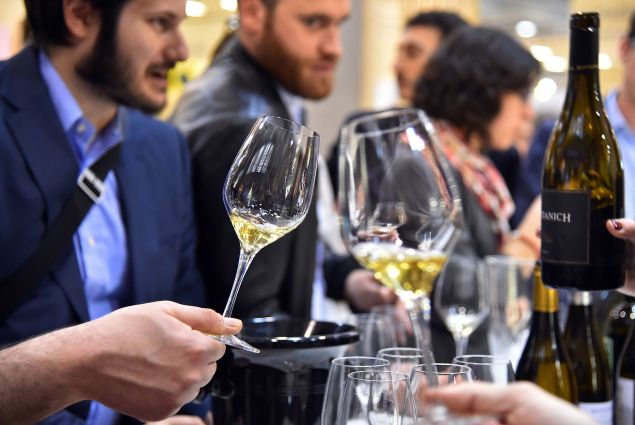 And indeed, I found over the years that many of Manhattan's wealthy guys unselfconsciously pursue a range of rarefied practices, from collecting Contemporary art to going out for "wine night"—a reworked poker night that sounds closer to a gossipy girl's night out—with male friends. These Petrus-drinking, Frieze and Art Basel hoppers are a far cry from the '80s moguls, who relied on their wives to decorate their offices. A girlfriend's husband—handsome, successful and buff—asked me during a recent visit whether a chandelier in my dining room was Lobmeyr. Further chat revealed that his wardrobe is arranged by color—the dark gray pants, then the light gray ones, then the off-white—and once I poked around I discovered that he is far from the only hetero high roller with a "look book" of clothes he craves next season. "Most of us delegate that to our personal shopper," a wealthy Wall Streeter explained patiently when I asked whether he or his wife shopped for his clothing.
Some women seem flummoxed by these developments. The wife of a successful hedge funder lamented over lunch that her husband's thighs would soon be slimmer than hers. "They have a gym right in the office. They're women," she said with a sigh. "It's a lot of pressure."
One women reported asking her bestie for shampoo recs—because she wanted her hair to look as good as her BFF's husband's. Sure enough, husband and wife were using the same hair products—and also the same colorist. Who came to their home for privacy. You're not in Duluth, where your dad uses Head & Shoulders, anymore.
Meanwhile, a divorced girlfriend with a robust consulting career was disconcerted when a guy she went out with fretted about the state of his cuticles over cocktails, then invited her to join him at SoulCycle the next day. He also admired her amazing skin—and asked for product recs. "I don't want to share my Retin-A with the guy I'm doing," she told me emphatically.
When it comes to the trend of morphing manliness in the upper echelons, Dennis Gross, M.D., who pioneered the alpha-beta peel in his cosmetic dermatology practice, has a front-row seat. Over the last five years at his sleek Upper East Side office, he's seen a 50 percent increase in guys in their 40s and 50s wanting peels, Botox and laser treatments. "Men are being scrutinized and are scrutinizing themselves in new ways," he explained. They're exposed to ads for Botox and fillers online and in gender-neutral magazines. And in the bathroom, their wives' cutting edge anti-aging products and magnification mirrors lure husbands like Sirens and lead to the realization: I don't want to look older either. "It used to be women coming in and saying, 'I want my husband to keep looking at me.' Now men express anxiety that they have to 'keep up' with their wives," Gross observed.
In addition to their forever-young wives, many wealthy men of a certain age are also feeling stressed by youthful workplaces. "I'm in finance, a younger guy's game," a 50-something investment funder told me of his use of products and peels, and his willingness to consider more. "If something extends my time or helps me seem and feel like I'm still in the game, I'll consider it," he said with a shrug. "They fret that if they look old, they'll be left behind," Gross noted. It gives "relating to women" a whole new spin. More like being one.
This radically reworked masculinity is not all just Botox and window dressing. Manhattan urologist Jonathan Schiff, M.D., says many middle-aged guys might also be getting a lift from something only their wives and mothers did until recently—hormone replacement therapy. Schiff estimates that the number of male patients requesting testosterone, HCG and HGH supplementation doubled in the past few years. Some men are driven by anxiety about sexual performance. But Schiff also pins the thirst for T to fitness culture. "Men used to just transition from walking the golf course to riding in a cart, and their game didn't suffer much with age. But today, guys in their 40s and older are hiking Mt. Washington regularly, or skiing bumps, and they really notice a performance decline." Though there's controversy over just how necessary and effective hormonal therapies are for most men, Schiff and doctors like him are clearly serving a population of men who, like women of a certain age and income, refuse to age without a fight. Like the ladies, they now feel pressured to look and feel sexy far past the point their fathers did.
'With a lessening of the stigma of homosexuality, things that were the purview of wealthy gay men and gay culture–emphasis on the body, products, extreme exercise, interior design, a personal shopper–can be of interest to other men, too.'—St. Louis University anthropologist Katherine MacKinnon
I asked St. Louis University anthropologist Katherine MacKinnon, who teaches classes on the social construction of gender, for her take on how Manhattan masculinity—anxious, striving, not giving up—got here. "Huh. That's all San Francisco gay culture stuff," she observed of billionaire wardrobing, Contemporary arting and anti-age product-ing, not to mention the previously-strictly-for-aging-ladies HRT trend. How'd it travel across the cultural landscape from the Castro to the Upper East Side between Fifth and Lex, arguably Manhattan's most assertively heteronormative neighborhood? "With a lessening of the stigma of homosexuality, things that were the purview of wealthy gay men and gay culture—emphasis on the body, products, extreme exercise, interior design, a personal shopper—can be of interest to other men, too," she explained.
In Manhattan, we agree, privilege has its privileges, and one of them is that men can buy a pass to buck normative masculinity. These guys don't just live in a state of superabundance and ecological release, unconstrained from the need to eke out sustenance and outwit predators and avoid disease to stay alive. They are living relatively unconstrained by ideology as well. Translation: if you're the richest, most powerful guy in the room, who is going to call you out for wearing foundation?
I ran this notion of rich men freed from the kind of paranoid policing of one's own sexuality and wardrobe for signs of gayness that prevails in much of the U.S. today, by the 40-something exec who told me about personal shoppers. "There's a fine line between metro and homo in the straight-and-narrow world of finance," he informed me. Still, he conceded that he and his male friends spend a lot more time doing stuff their fathers might have considered feminine. "We're not babysitting the kids, we're parenting. It's different from our dads' generation." He and his high-ranking pals take the kids to school in the mornings. Weekends are not for golf and tennis, he told me, but for shuttling one's offspring to parties and soccer. Women's work—childcare, beautification rites, rosé—is men's work, and this breed of men is okay with that.
***
Dr. Richard Bribiescas, author of the forthcoming book, How Men Age: What Evolution Reveals About Male Health and Mortality also wrote "Circadian variation in salivary testosterone levels across age classes in Ache Amerindian Males of Paraguay." He is a professor of anthropology, ecology and evolutionary biology at Yale, but the Ache men he studied refer to him as "spit man," for obvious reasons. Like Disotell and MacKinnon, Bribiescas takes the truly long and comparative view of things, and told me, "Males in particular…are not that different from birds. There's a lot of display. Arm wrestling, boxing, it's competition for a mate, whether the potential mate is male or female." In New York City, there aren't many places to play football or rugby or soccer. And if you're older, you could hurt yourself. "So men will find another way to compete. Like with clothing, or time at the gym. The message is, 'I can afford to spend time on myself.' "
Fussing with your masculinity can confer a competitive advantage by keeping a guy in the game longer, Bribiescas elaborated: "Throughout our evolutionary history, older men were reproducing more than we expected via wealth, or trying to be buff." Right. "He might have superior sperm motility and a better bod, but look at my Maserati, honey!"
MacKinnon and Bribiescas both told me that media in general and social media in particular might be having an effect on masculinity. Men are feeling more on display than ever in the context of people being very eager to share virtually everything about themselves. And social media is another arena—in addition to the workplace and the gym—to compete and peacock. Rock stars, porn stars, athletes—men will sample and borrow from the visual vocabularies of the apparently sexually successful. Hence a change like manscaping. "It's a whole other layer of vanity that is acceptable now," Bribiescas pointed out. "A hundred years ago, handlebar moustaches were hot. Now it's trimmed body hair. Maybe next it's purple facial hair, or a pierced lip. Whatever it is, men are expected to constantly figure it out and keep up. It's like an arms race." Corona, the sociologist, sees OTT male self-tending going mass. "Expect the men's self-care aisles at Target to continue to grow," he predicts.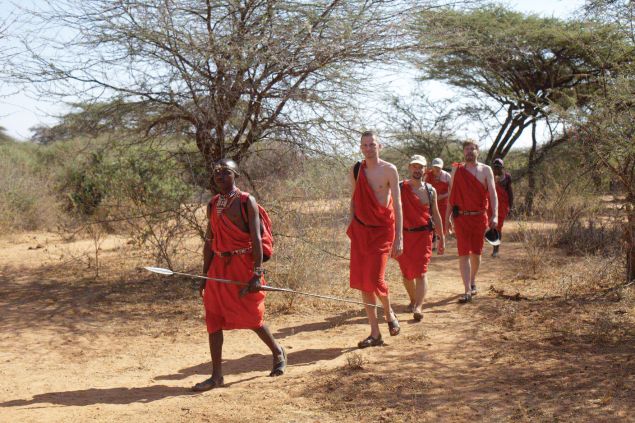 MacKinnon and Bribiescas both gamely compared HiSES Manhattan males to nomadic pastoralists. Like the Maasai warriors who primp and preen, Manhattan alphas are all about themselves, gussying up, braiding their hair, jumping up and down. Indeed, it's possible for high-income men to attend a Maasai Warrior Training Camp in Kenya, which, at press time, had 23 positive reviews on Trip Advisor.
"What we can say about Manhattan men of privilege and the Maasai is there's a cultural convergence…because it helps men be successful in their social world," Bribiescas told me. He then lamented that he could not spend several hours at the gym every day.
Isn't all this vanity, all this focus on the body, just a displacement for the ultimate anxiety? "If you're a billionaire between your 40s and 60s, the only thing that can be really catastrophic is premature death," the 40-something financial exec who filled me in on childcare and clothing among his set told me. "Like Woody Allen, we don't want to attain our immortality through our work. We want to attain it through not dying."
And yet, no matter how rich you are, or how biodynamic your garden, you're going to die. "That's true," an alpha tricked out in a Kiton suit recently conceded over lunch at The Four Seasons. He and the HiSES males around him were enjoying a kind of bittersweet twilight of the gods as the closure of their watering hole loomed. Julian and Alex stood at their respective posts near the front, stoic, resigned. Death was in the air. "But—and how do I say this without sounding crazy—when you can fly private and get your kids into any school, when you can open almost any door, somehow living forever doesn't seem like such a reach."
###
Extreme Preening: A Glossary
Clitbait: A rich guy who wants to look good for the opposite sex, Patrick McMullen and his social media followers, not necessarily in that order. He makes women swoon—and wonder who highlights his hair.
Silverback: The highest-ranking gorilla in the troop—or guy in the room.
HiSES: High Socio-Economic Status. "I have somebody to fix you up with. He's divorced, two kids, HiSES."
Peacocking: Florid male display of beauty and status. Frequently done at Michael's, The Mark, Sant Ambroeus (Madison Avenue and Southampton).
Wednesday Martin, Ph.D. is the author of the No. 1 New York Times best-seller Primates of Park Avenue, now available in paperback. She previously taught cultural studies at Yale and The New School for Social Research. Read Wednesday Martin's previous Observer stories here.
https://youtu.be/XWxgkxswB4k