Twitter users place a lot of trust in its verification system. When prominent people join the service, the company authenticates them with a little blue check next to their name. It's not clear what Twitter does to groundtruth the badges, and Twitter stays pretty cagey about how verification works. Users tend to take the badges at face value.
Last week, wrestling fans welcomed 80s superstar personality Bobby "The Brain" Heenan to Twitter as @RealBobbyHeenan, an account that showed up on June 29, with "Hello humanoids" as its first tweet. The account reached at least 29,496 followers (based on a page cached on Google) before it came down sometime around 2 AM ET Sunday morning, according to Gilbert Boyas of Prime Time Appearances, who was the first to suspect the account to be phony. Before he could, though, Twitter verified the account.
The Observer has not determined whether Twitter deleted the accounts or if their creators took them down after major wrestling figures like Gene Okerlund started telling fans to unfollow it, and they began to do so en masse. Twitter was not immediately available for comment.
In a phone call with the Observer, Boyas described why so many people believed @RealBobbyHeenan to be legitimate after the account surfaced. Boyas has worked with the Heenan family for the last few years as a booking agent for the 71 year-old star. Several months earlier, an account showed up for his wife, Cynthia Heenan (see a cached tweet from that account).
"Cynthia's account had been active for a while. So we were all following it," Boyas said. "I didn't think to question it." He explained that the account offered pretty innocuous tweets, but ones that showed some knowledge of Heenan's life. 
Then, @RealBobbyHeenan showed up on Twitter at the end of June. @Cynthia_Heenan attested that it was really her husband. "So when she gave the nod of approval, fans, current WWF wrestlers, former wrestlers and hall of famers went to follow it," he said. Mick Foley was one of the first to tell his fans it was real. The account quickly shot up to 20,000 followers, and one wrestling fan site even shared some of his tweets as authentic comments from the man wrestling enthusiasts once loved so much to hate.
Somewhere along the way, the account became verified by Twitter, adding to its credibility. The Observer didn't see the page before it came down, but judging from the cached page linked above, this was a legitimate verification. Here's a screenshot of our cursor hovering over the blue check. The words "verified account" appear when hovering, as it should (it is possible to fake a blue check on an account, but it won't be interactive, as The Daily Dot explained).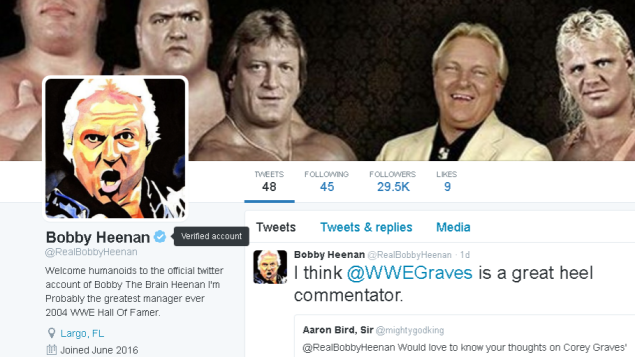 Then, yesterday morning, Boyas looked at his Twitter feed and something about the @RealBobbyHeenan tweets' content struck him as out of character.
"Plus they were tweeting out multiple times within in the hour," Boyas said, which he felt to be something Heenan wouldn't do, even if he had decided to join Twitter. "Bobby's not sitting there on his phone and tweeting out."
So Boyas contacted the Heenans, and he says that Cynthia Heenan told him that neither she nor her husband had ever joined Twitter, so both accounts were fake. Boyas spread the word among wrestlers he knew and what had been a quick rush to follow the account turned in the opposite direction. The follower count started dropping, as Boyas watched, by the thousands each hour.
Cynthia Heenan also confirmed the accounts were not from the family to Pro Wrestling Sheet, which first broke the story.
"The big thing is, how does it get verified?" Boyas asked.
It appears that whoever was behind the accounts made a careful plan to execute it. First, build up credibility over a few months with an account for the star's wife. Then use that to build credibility for an account representing the man himself. @RealBobbyHeenan may not have been the former wrestling manager, but whoever did this was a brainy heel.
So much so that someone at Twitter bought it, which raises questions about the reliability of the company's system for verifying accounts as authentic. The Atlantic took a deep dive into what the badge means and how one gets it. However, the Observer was not able to find another case of a legitimate verification badge for a completely phony account. Morrissey doesn't support Warner Bros' account for The Smiths, for example, but that doesn't make it a fake account.
What's not clear is the motive. Boyas said he never noticed either accounts tweeting out links or calls to action that struck him as suspicious. There are a number of ways to monetize an account with a large following. That said, @RealBobbyHeenan only lasted a few days.
Heenan managed popular wrestlers like André the Giant, Paul Orndorff, CM Punk and Colt Cabana. He earned an induction into the WWE Hall of Fame in 2004. In his day, Heenan was known for his charismatic ringside personality, but Boyas said that the former wrestler and commentator is not especially interested in exhibiting that personality on social media today.