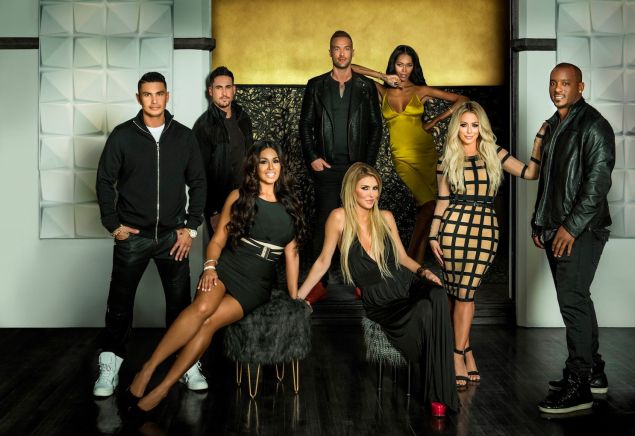 It's a pretty safe bet that the majority of the population will agree that it's tough to be single. Try being single on TV and having all the reasons that you are flying solo exposed to anyone who wants to watch.
This is the premise behind the latest 'therapy' show, Famously Single.
The series follows eight uncoupled celebrities who all move in together and try to solve their romantic problems.
The cast includes DJ Pauly D, best known as a cast member of Jersey Shore, Aubrey O'Day, a singer and former member of the girl group Danity Kane, Willis McGahee, an NFL running back, Brandi Glanville, former cast member of The Real Housewives of Beverly Hills, Calum Best, a Malibu born' London raised male model, Somaya Boss Reece, former cast member of Love & Hip Hop, Josh Murray, a former Bachelorette contestant and Jessica 'Jypsy' White, a model and actress. (For fun, you can check out their dating profiles here.)
Dr. Darcy Sterling, a Licensed Clinical Social Worker, leads the participants in session and exercises in an attempt to help them sort out the personal issues that may be keeping them from finding true love.
The series comes from Irwin Entertainment, the production company behind other therapy series, including Couples Therapy, Celebrity Rehab, Sober House, and Family Therapy.
President of Irwin Entertainment and Executive Producer of the series, John Irwin, explains the evolution of Famously Single, saying, "We noticed that on the cover of every magazine there were stories about celebrities breaking up. The divorce rate is high and now we have all these crazy dating apps. It just seems like everyone you talk to is having a hard time finding the right person. So that's what we were thinking when we conceived this show."
Irwin admits that, yes, these are celebrities, but insists that what they're going through is applicable to the general population. "At its core, this is not about being famous or just about how to deal with all of those outside forces, it's about figuring out what's happening within. We're showing that you have to fix yourself first before you can find the right person."
Specifically with the participants, Irwin says, "We told them that this isn't about us helping you find the person that you're going to marry – this is not The Bachelor or Bachelorette or anything like that. Our goal is to work with you so that when you leave you'll have all the tools you'll need to go out and find the right person."
But what Irwin and his team didn't anticipate was that, low and behold, some of the participants wouldn't have to look very far to find someone that caught their eye. "We were really surprised when some of them started coupling up right away," says Irwin, referring to Pauly D. and Aubrey who seem to have settled into something, and Brandi and Calum who are testing the waters as a couple.
Irwin goes on to say, "We set out to find an eclectic bunch of people who each represent a sort of different phase of dating, so that when you're sitting at home watching you'll connect with two or three of them because they have issues that resonant for you. We really didn't anticipate that there would be connections happening in the house right away."
These aren't average 'hook-ups' says Irwin. "Yeah, there were some quick connections that happened but what's interesting is that you can see these couples are really trying to use the dating skills they're learning in these relationships."
Also not expected by Irwin and his team where some of the negative comments about participant Willis McGahee. Many viewers took to online sites to voice various opinions about the inclusion of McGahee in the show as McGahee is reported to currently have ten children by eight different women.
In response to this Irwin says, "The intent for this experience is to help people finally find that one person that they can settle down with. With everyone involved in this, they have something going on inside them that keeps them from doing that. The result of that may be that they're dating multiple people and then they have kids with several of those people. Willis certainly is an extreme example of that and to a certain extent he's a little bit of a cautionary tale. I don't think anyone thinks that people should be having kids with a lot of partners, but it happens. It was not our intention to bring him in and hook him up with someone else. Hopefully, when this is over he leaves with the tools he needs to settle down with someone. And maybe there are people who can connect with what he's doing so that's a good reason to have him participant in this as well."
Because the root of the series is about therapy, Irwin says that finding the right therapist and they letting them do their thing without unnecessary intrusion is key to the success of the series. "Clearly we need someone who is a true expert in helping people. Then we don't mettle in the process. In this case we have Dr. Darby and we worked with her early in production on the protocol and the therapeutic exercises that would take place, but once everything starts we don't have producers telling her or anyone else what to do. We just let what happens happen. As a result of doing it this way, it's genuine."
Irwin says that other than the cameras, the 'TV process' of therapy is really no different than real life therapy. "The magic formula is that when people start to do therapy it stirs them up – they have to dig into stuff that they don't want to deal with. When you start to peel that onion, you get some drama but that drama helps them heal. It's no different than in real life – I'll go see my therapist, get stirred up, act out and then I'll be accountable for that the next time I sit down with them. We're just showing that process in the hope that people watching get as much out of it as the participants do."
Irwin says that while there are plenty of 'Oh my God, did she say that, did they really do that' moments, the bottom line is that on Famously Single, "All of these people are really working to go through a big transformation in their lives and they're doing it on TV. Yes, we're trying to entertain you with this show, but we also want to educate people and maybe motivate them to get off the couch and get some therapy for their own issues. The theme of our program is that therapy is the best way to address personal problems, so if you're having trouble, reach out, there is help to get you on the right track."
Famously Single airs on Tuesdays at 10e/7p on E!