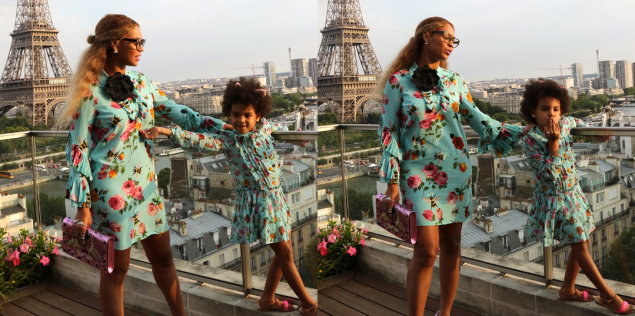 Start your weekend informed with a dispatch on the top fashion news of the moment…
Blue Ivy's Gucci moment: Of course the daughter of Beyoncé is a natural style star. It seems the tiny tyke is also a fan of Alessandro Michele, just like her mom. In fact, Blue and Bey have been spotted in coordinating Gucci threads as they traipse through Paris. File this under #vacationgoals. via Telegraph.
Take a seat: After a fruitless search to purchase furniture that was made by women, Rachel Comey and artist Leanne Shapton set to find out why there were so few females in that particular field. As a response, Shapton painted the type of chairs she imagined would be designed by ladies and Comey curated them in her New York boutique. via The Cut.
Bad rap: Rapper Burberry Perry is facing a lawsuit, from none other than his namesake, Burberry. The heritage British label is claiming that the rapper's name infringes on their intellectual property. But they must also be unhappy with the not-so-ironic plaid print that graces the cover of Burberry Perry's debut album. via Vogue UK. 
Paired up: There's a new hot couple in fashion, and it includes Kendall Jenner and A$AP Rocky. The model was spotted at the rapper's Panorama set last weekend, and not long after, the duo were spotted canoodling at a Manhattan restaurant. via Harper's Bazaar.
Hello, Hamptons: Online retailer Revolve has pulled off a miraculous publicity stunt this summer and it involves a Hamptons mansion, Kim Kardashian, tons of big bloggers and, of course, trendy clothing. Get an inside look at how this party house works and how it's translating into sales. via Fashionista.