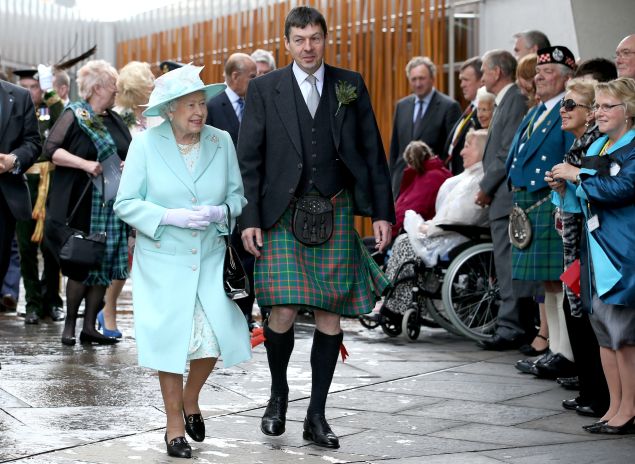 Start your weekend informed with a dispatch on the top fashion news of the moment…
Reigning fashion: Celebrations for Queen Elizabeth's 90th birthday will continue this summer with an exhibition of her many outfits at Buckingham Palace. Yes, 150 frocks, jackets and other pastel-hued and sequin embellished pieces will be on display for public consumption. Similar exhibitions will follow at Palace of Holyroodhouse and at Windsor Castle. via Harper's Bazaar.

Hip hauncho: This week, Justin O'Shea rolled out his first collection for the Brioni label. In the process, he hung out with Metallica in an old Paris nightclub, all while keeping up his boxing regimen. via The New York Times.
Fit for royalty: Leave it to Christian Louboutin to roll out a bag inspired by Cinderella. To be specific, the footwear maven was inspired by the pillow that her lost glass slipper was presented on. The aptly named Piloutin style is covered in embroidery, spikes and leopard. via Elle.
Crowded campaign: What do Kate Moss, Grace Coddington, Frank Ocean, Bella Hadid, Young Thug and Presley Gerber have in common? All of them, plus a ton of others, were included in Calvin Klein's latest ad campaign. And yes, there's plenty of underwear involved. via The Cut.
A corner in time: The corner of 57th Street and 5th Avenue will be named in the late photog, Bill Cunningham's honor, but not for long. The memorial will stay in place for a week, but don't worry, a more permanent homage is in the works. via Refinery29.