For just five minutes, John Varvatos traded in his rock 'n roll shtick for a little bit of jazz. Before you ask any questions, let us explain. The designer held an "intimate" show (for nearly 200 guests) for his Spring/Summer 2017 collection at Django, a Tribeca jazz lounge in the Roxy Hotel.
Buyers, editors and various celebs, including Kellan Lutz, singer Travis Mills and Machine Gun Kelly, were ushered into the underground café, lured with the promise of cucumber gimlets and rosé. Armed with booze, the crowd schmoozed about the café tables and chairs until it was showtime.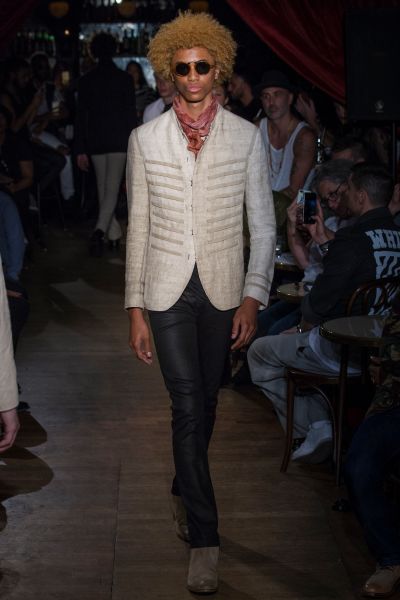 Once the lights dimmed and the music started, it was clear that Varvatos wasn't totally dedicated to this whole jazz idea; his beloved rock ballads blasted out of the sound system. And the clothing? Well it was a bit more romantic than usual, including pale linen jackets and neckerchiefs adding pops of color where needed. Soft hues reigned supreme, from a buttery cream to a light grey, all in fabrics that keep cool, calm and collected in the face of summer heat waves.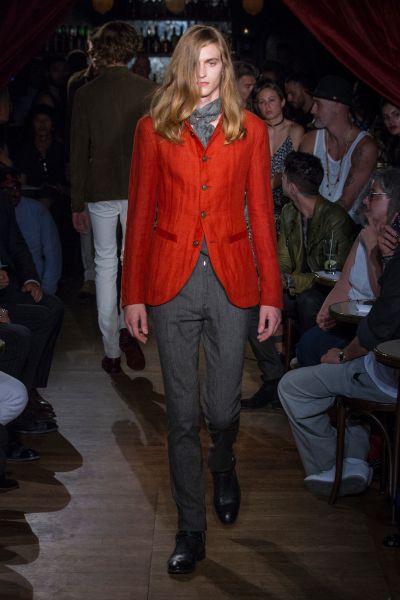 But where was the rock factor? Military stripes on a cream blazer called to mind the style that Jimi Hendrix made a signature and the skinny trousers paired with suede boots was undeniably rocker-approved. Cool, rounded sunglasses helped the look as well as curly tousled 'dos or sleek manes.
In fact, the collection was titled "The Urban Romantic," playing with a mix between heritage and modern concepts and textures. But still, while playing off of antiquated clothing concepts, such as long jackets with a vest underneath, the range was thoroughly wearable. When dissected, simple basics that Varvatos is known for, emerged: a perfect t-shirt, an ideal blazer, easy trousers.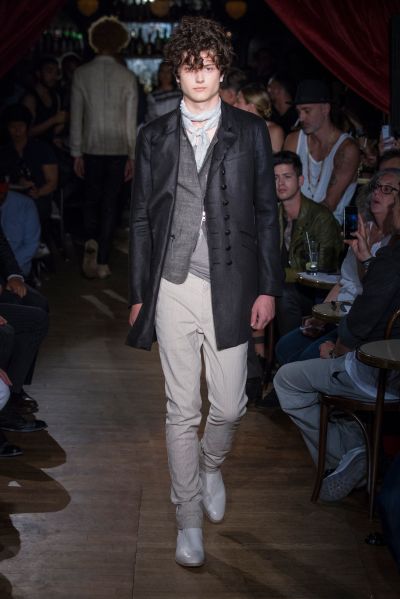 The designer is also well-known for throwing a rowdy after-party, and this season was no exception. Doubling as a launch for his new Dark Rebel Rider scent, Tyler Bryant & The Shakedown were tapped as musical guests for the eve. And as the final event of New York Fashion Week: Men's, it was a fittingly raucous end to the shows.