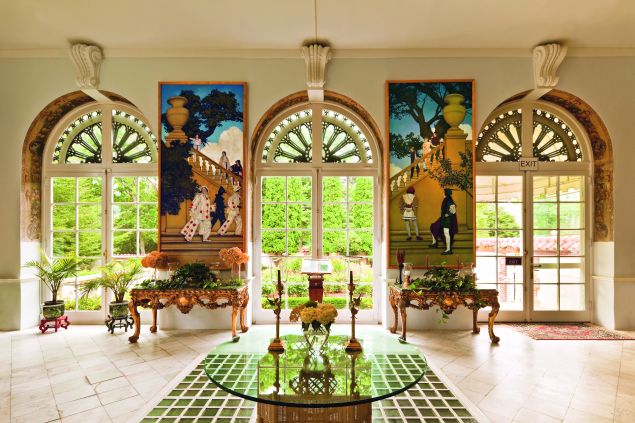 Backing away from a legal challenge by a nonprofit community group, filmmaker George Lucas recently gave up his plans to build a museum in Chicago to display his collection of animation and illustration art. The billionaire will try for a different site in California, hoping for less opposition. Still, many of us might never get to see the art in that collection.
Dealer Judy Goffman Cutler has seen those works. That's because she sold Lucas quite a few of the original paintings in his collection that illustrators such as Howard Chandler Christy, J.C. Leyendecker, Maxfield Parrish, Norman Rockwell and N.C. Wyeth produced during the 1910s, '20s, '30s, '40s and '50s as images for novels, movie posters and magazine covers and product advertisements. For reasons of "client confidentiality," she won't say how many works she sold to Lucas, but will assert that "[she] built his collection."
Lucas' Museum of Narrative Art may or may not ever get built, but back in 1998 Cutler founded her own institution: the National Museum of American Illustration, in Newport, Rhode Island. The museum, housed in a stately mansion, is open Thursday to Sunday from Memorial Day to Labor Day ($18 for adults, $12 for students and $8 for children ages five to 12) and by appointment during the rest of the year. The restored 52-room 1898 home is on a street lined with open-to-the-public mansions bearing elegant names (The Elms, Chateau-sur-Mer, Marble House, Rosecliff and Kingscote) and every wall of this museum is covered with paintings by Rockwell, Parrish and their contemporaries.
Lucas may have been Cutler's best customer but he was by no means her only celebrity client. Others include filmmaker Steven Spielberg, Michael Jackson, Steve Jobs, businessman Ross Perot, actress Whoopi Goldberg and the collector and Walmart heiress Alice Walton.
Although still a dealer and the owner of New York City's American Illustrators Gallery, Cutler's gallery still has inventory for sale as well, but close to 18 years ago she transferred ownership of thousands of works from the gallery to the museum, and none of those works are on offer. Clearly, her heart is more in being a museum owner than a merchant.
Why? Bragging rights. "I have the second largest collection of Rockwells anywhere" —the largest one is at the Norman Rockwell Museum in Stockbridge, Mass. — "and the largest collection of Parrishes in the world," she said. The Haggin Museum in Stockton, Calif. boasts the largest collection of work by J.C. Leyendecker (best known for his advertising images for the Arrow Shirt company), and the Brandywine River Museum in Chadds Ford, Penn. claims the largest number of works by N.C. Wyeth (father of Andrew Wyeth and renowned for his illustrations in adventure books, such as Treasure Island and Robinson Crusoe). Let other museum people argue their numbers, though—there is plenty of work by these and other artists on view at the National Museum of American Illustration without having to traipse all over the country trying to see them.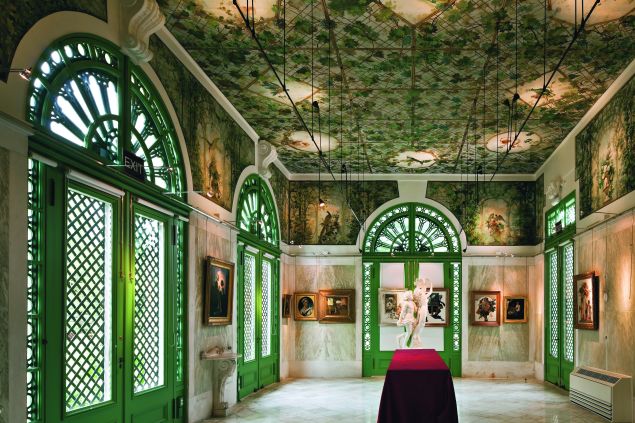 Illustration art has a remarkably broad audience, as it is an art that everyone "gets" and appeals to both those nostalgic for what excited them in their youth and to younger people who see many examples of this work as artistically quite sophisticated. If artistry and nostalgia don't pique your interest, large amounts of money might. Paintings by Rockwell and Parrish regularly lead American art auctions at both Christie's and Sotheby's. Just three Rockwell paintings—"Saying Grace" ($46 million), "The Gossips" ($8.4 million) and "Walking to Church" ($3.2 million) — accounted for 68 percent of the total $84 million earnings that Sotheby's produced at one 2013 sale, and two paintings by Maxfield Parrish ("The Knave of Hearts" and "Old White Birch") both earned more than $1 million apiece at a Christie's sale this past May.
Other high-priced artists in this category are Maxfield Parrish (his 1922 painting "Daybreak" earned $7.6 million at Christie's in 2006), N.C. Wyeth (his 1916 "Wild Bill Hickok at Cards" fetched $2.2 million at Coeur d'Alene Art Auction in Idaho in 2007) and J.C. Leyendecker (his 1928 "Thanksgiving, 1628-1928" brought $365,000 at Heritage Auctions in Dallas).
Part of the reason that Cutler no longer wants to sell Rockwells and Parrishes is that "I can no longer afford to buy them." She has briefly owned some of the more prized Rockwells, such as the 1945 "Homecoming Marine," which she bought in the early 1980s for $250,000 and sold a few years later for $600,000 and that fetched $9.2 million at a 2006 sale at Sotheby's. Another that got away was the 1957 "The Rookie (Red Sox Locker Room)" that she purchased in the 1970s for $50,000— "that was a lot at the time" —and sold to a private collector in the 1990s for $600,000, later sold again at Christie's in 2014 for $22.5 million.
Forty years ago, there was no real market for the actual paintings by American illustrators. "Their value for the artist was in the reproduction in a book, poster or magazine, really just a licensing fee," Cutler said, "and once the reproduction was made the paintings were abandoned." Many artists didn't bother to retrieve their paintings from the publishers, and in some cases the illustrators just gave them away. As a result, many paintings were simply discarded or just left to get soiled and damaged. "Condition has been a big problem in this area, because many of the people who had these paintings didn't respect them and take care of them."
The exponential growth in the market for American illustration art dates from the early 1980s, not longer after Rockwell himself died in 1978, when appreciation of his artistry and that of many of his contemporaries became more widespread. And, it didn't hurt when prices for Rockwell's work at auction reached six figures, never looking back.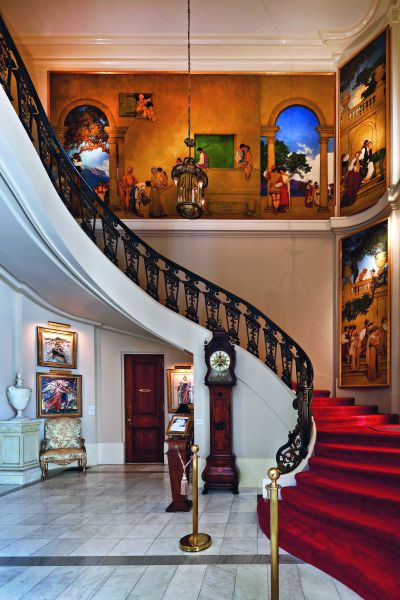 Somewhat presciently, Cutler began collecting illustration in the 1960s. "I lived in Philadelphia, stuck at home with two kids," she said. "I was always interested in art and went to galleries, but there was nothing there that I could afford. I was intrigued by the illustrators, although you couldn't find an art critic or art historian who shared the opinion that this was art, at least back in the mid-1960s. There certainly weren't galleries that sold works by illustrators, so I placed classified ads in the 'Wanted to Buy' section in the local newspapers around Philadelphia where we were living. I guess people use eBay now for the same purpose." Those artists whose works she wanted to buy included Howard Chandler Christy (go to New York's Hotel des Artistes to see the artist's 1920s murals), Charles Dana Gibson (the "Gibson girl" was the paradigm of beauty from the 1890s into the first two decades of the 20th century) and James Montgomery Flagg (the artist of the Uncle Sam "I Want You" poster).
"Someone called me and told me how I could meet the widower of Christy's second wife, Nancy, who lived in New York City and had some works by Christy he was willing to sell. They were a group of five or 10 black-and-white charcoal drawings that Christy had done, and I paid $500 for them. But, then I saw in the corner an unfinished canvas—it was a self-portrait with Christy's favorite model in the background—that Christy didn't like and his wife Nancy hated, maybe because the model in the painting had replaced her in his work. After spending $500, all I had left was $50, but he let me have it, and I still own it."
Over the years, Cutler built a collection through using classified ads, and a lot of the people who sold things to her early on were retired art directors at the Saturday Evening Post. "Those art directors had worked with so many of these illustrators and had kept the artwork the illustrators had submitted, even though they had no value to anyone else after the images were used in the magazine. They told me what they wanted for them, and I paid what they wanted." Eventually, Cutler became a dealer, because the only way she could afford to buy something was to sell something. She has bought at the occasional auction, and sometimes other dealers call her up, "but I still get 90 percent of my material from private owners. The big difference now is that these people know that illustration has value, unlike the people in the 1960s and '70s who were just trying to get rid of what they had."