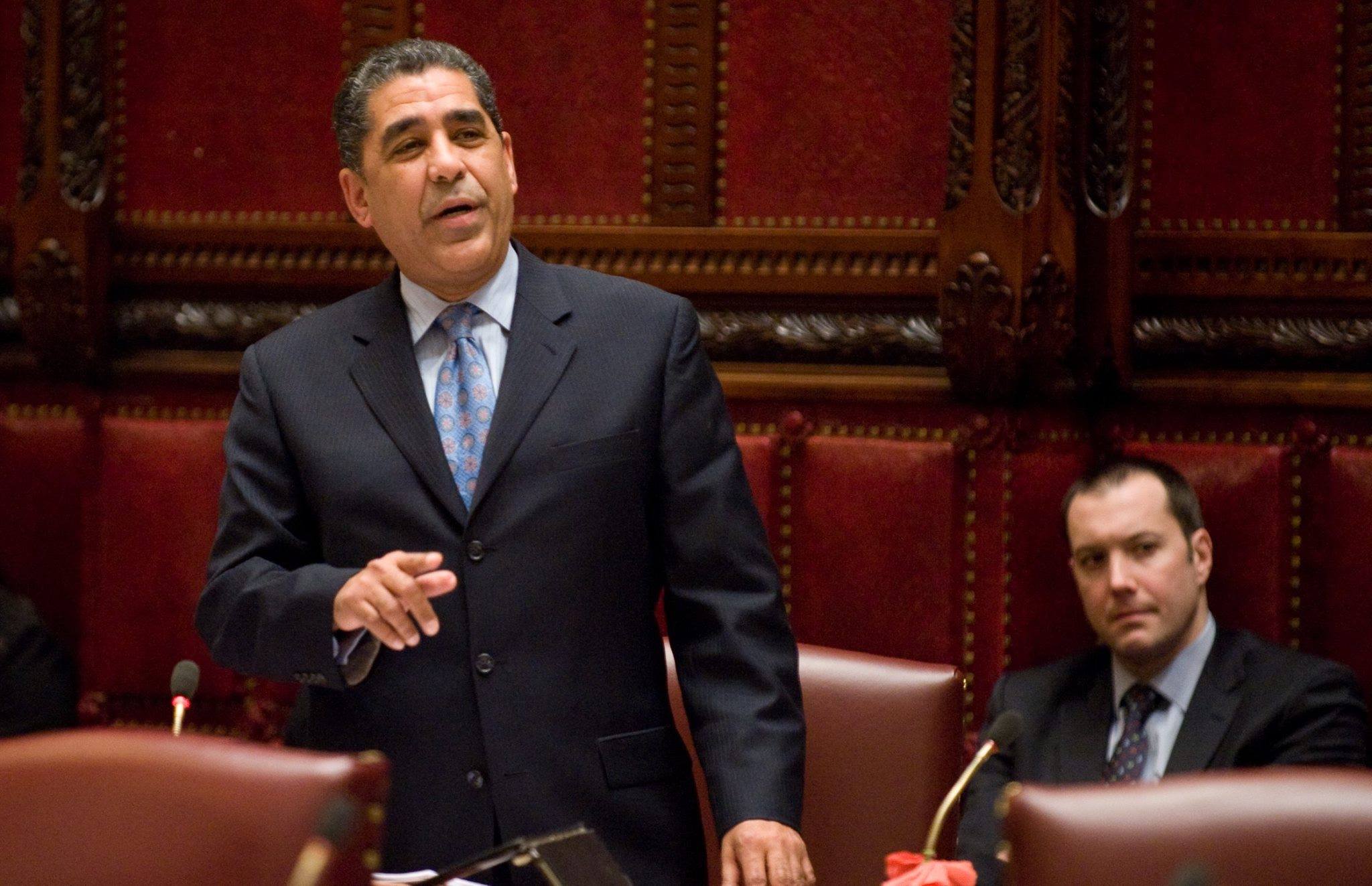 New York's elected officials took the stage at the Democratic National Convention tonight to offer up their support of hometown candidate Hillary Clinton—including the state senator who will become the nation's first Dominican-American congressman this November.
Adriano Espaillat, who won a Democratic primary for the seat being vacated by Congressman Charles Rangel, scored a speaking slot ahead of primetime, standing alongside a slew of New York lawmakers who sought to have Clinton's back as the crowd roiled with unhappy Sanders delegates, who have been booing her name all afternoon.
"I will become the first Dominican-American to ever serve in the U.S. Congress," Espaillat introduced himself to applause. "Perhaps even just as important, I will be the first member of Congress who was once undocumented as an immigrant. You take that Donald Trump!"
Espaillat, who later became a citizen, went on to assail Trump, the Republican nominee and a fellow New Yorker, for his views on immigration. Trump has called Mexican immigrants rapists and criminals and has called for building a massive wall on the border and deporting undocumented immigrants.
"For us immigrants, our commitment to this country isn't always found in our papers, in our documents," Espaillat argued. "Even on our worst day that tall elegant lady sits in New York Harbor, and she says Donald Trump, every day, give me your poor."
Espaillat—who is a shoo-in to win a general election for the reliably Democratic seat representing East Harlem and Washington Heights—went on to praise the work of immigrants.
"With every callous on our hands, we build the bridges between our dreams and our destiny. For Donald Trump, that is scary. For Hillary Clinton and Tim Kaine, it is inspiring," Espaillat said.
But as he continued on, he too fell victim to the theme of the night—a healthy smattering of boos when he endorsed the party's presumptive nominee.
"Let's keep building, let's keep dreaming and let's elect Hillary Clinton as our next president," he said, "so we can be stronger together."
Espaillat was introduced by Congresswoman Nita Lowey, who took the stage along before inviting the top members of the New York delegation to join her on the stage.
"We New Yorkers really know Hillary," Lowey said. "Not only has she been our first lady and secretary of state, Hillary has been our neighbor, our friend and for eight years our fierce ally in the United States Senate."
Lowey went on to cite Clinton's work in the state after the terror attacks of September 11, 2001—saying she consoled those who lost family, brought home federal aid and "long after the cameras were gone" helped fight for healthcare for first responders.
"Hillary has devoted her life and career to public service and strengthening America's middle class. Now, Donald Trump has devoted his life and career tom well, Donald Trump," Lowey said. "Hillary will always put our families first and that's why on our ballots we put Hillary first."