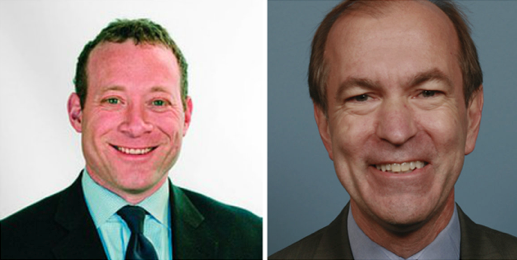 The Democratic challenger to the incumbent congressman in one of New Jersey's most conservative districts is attacking his opponent from the center. Congressional hopeful Josh Gottheimer cited what he called U.S. Representative Scott Garrett's record of "obstructionism" in the House Monday, touting his support from Republican moderates in the district.
At a Paramus fundraiser Monday, Gottheimer equated his Republican opponent with the fringe Tea Party movement, which fallen out of fashion with even the most right-leaning Republicans in the state.
Taking aim at the Republican majority's tactics since taking the house in 2010, Gottheimer is banking on reminding Republicans in the fifth district that their strategy has been long on interference and short on compromise.
"My opponent, Scott Garrett, is one of the Founding Nine Fathers of the Freedom Caucus – of that gang of some forty-odd members, who are the poster children for obstructionism," Gottheimer said. "Garrett's own staff called him the Tea Party before there was a Tea Party."
Those remarks presaged the launch of Gottheimer's new campaign website, where his campaign lists prominent Republicans who have come out in favor of the moderate Democrat. That list includes James Cicconi, former deputy chief of staff to former President George H.W. Bush and former special assistant to President Ronald Reagan.
"This wasn't a partisan decision; it was a decision to support somebody I think is really good," said Cicconi, who hosted a fundraiser for Gottheimer earlier this summer.
Garrett's anti-gay comments from last summer are also likely to follow him into his reelection campaign as Gottheimer courts the district's centrist Republicans. Garrett had said that he would be withholding dues to the National Republican Congressional Committee because of they were "actively recruiting homosexual candidates and had supported gay candidates in the past."
Former Norwood Councilman Allen Rapaport, a longtime Republican, said that the remarks led him to endorse Gottheimer before his own unsuccessful reelection campaign.
"I don't regret that decision for one second," Rapaport said. "I did it from my heart."
According to the FEC Gottheimer has $2,505,372 in cash on hand to Garrett's $2,759,752. Gottheimer had a better fundraising quarter than his opponent last quarter, raising $577,368 to Garrett's $234,736.