It might sound funny to say that Los Angeles is having a taco moment, because L.A.—the king of Mexican food in the United States—is always having a taco moment.
That said, L.A. is really having a taco moment. In fact, summer 2016 is the summer of tacos: the city's favorite street food is being elevated while also becoming easier to find than ever.
Yes, there's chef/taco wizard Esdras Ochoa's Salazar turning things up to 11, making its case as the city's restaurant of the year with its wood-fired grill, splendid carne asada and artisanal tortillas in Frogtown. There's Loqui, with its own destination-worthy carne asada and tortillas, in Culver City's shiny new Platform development. There's all the first-rate Mexican food at the recently launched Smorgasburg in downtown L.A., which includes Ochoa's new Califas Taco stand along with standard-bearers Guerrilla Tacos, Carnitas el Momo and Burritos La Palma. (Not getting into the discussion about how a burrito is actually a taco.)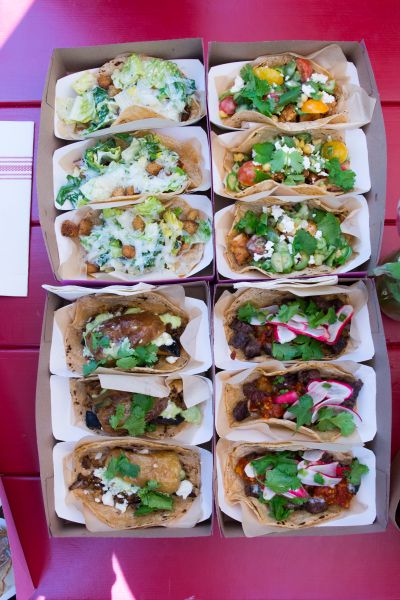 Also downtown is the new Chicas Tacos, a bright, hip stand that is totally on-trend-L.A. with its locally sourced and organic ingredients, parking-lot seating and watermelon-cinnamon, lavender-cantaloupe and cucumber-mint-lime agua frescas.
We were surprised to see chef Eddie Ruiz of the beloved and recently closed Corazon y Miel at Chicas on the afternoon we visited. It turns out Ruiz is now the corporate chef for hospitality group Blvd745, which runs Chicas.
This is quick-service food with some serious culinary firepower. Chicas succeeds in its goal of serving fresh, clean fare with creative offerings like a beer-battered fish (wild-caught, of course) taco topped with a Caesar salad, croutons and all. It's a reminder, local taco guru Bill Esparza points out, that the Caesar salad was invented in Tijuana. For real.
Like the mindful Mexican food at Trejo's Tacos, Chicas serves fast-casual fare that won't weigh you down. Well, unless you want it to.
You can get any of the meats at Chicas (steak, chicken or our favorite, chile verde pork with chicharrones) Mama's-style. This is a two-pound layered taco bake that, the proprietors of the stand correctly note, might as well be called a Mexican lasagna. Except this crunchy and gooey and meaty extravaganza is more of a texture bomb than lasagna.
Chicas is open until 1:30 a.m. on Friday and Saturday if you need Mama's help to counterbalance a long evening of drinking. You could do a lot worse for a post-tequila meal. Or one of these bakes works nicely as lunch for two people, especially if going back to the office after your leisurely lunch involves a leisurely walk.
But feel free to complicate things on your lunch hour if you prefer. Not far from Chicas Tacos is another new downtown taco spot, Sonoratown Taqueria, where mesquite-grilled steak and chorizo come in tacos, chimichangas and open-faced lorenzas among other tortilla-based options. It's the summer of tacos, choose your own adventure.