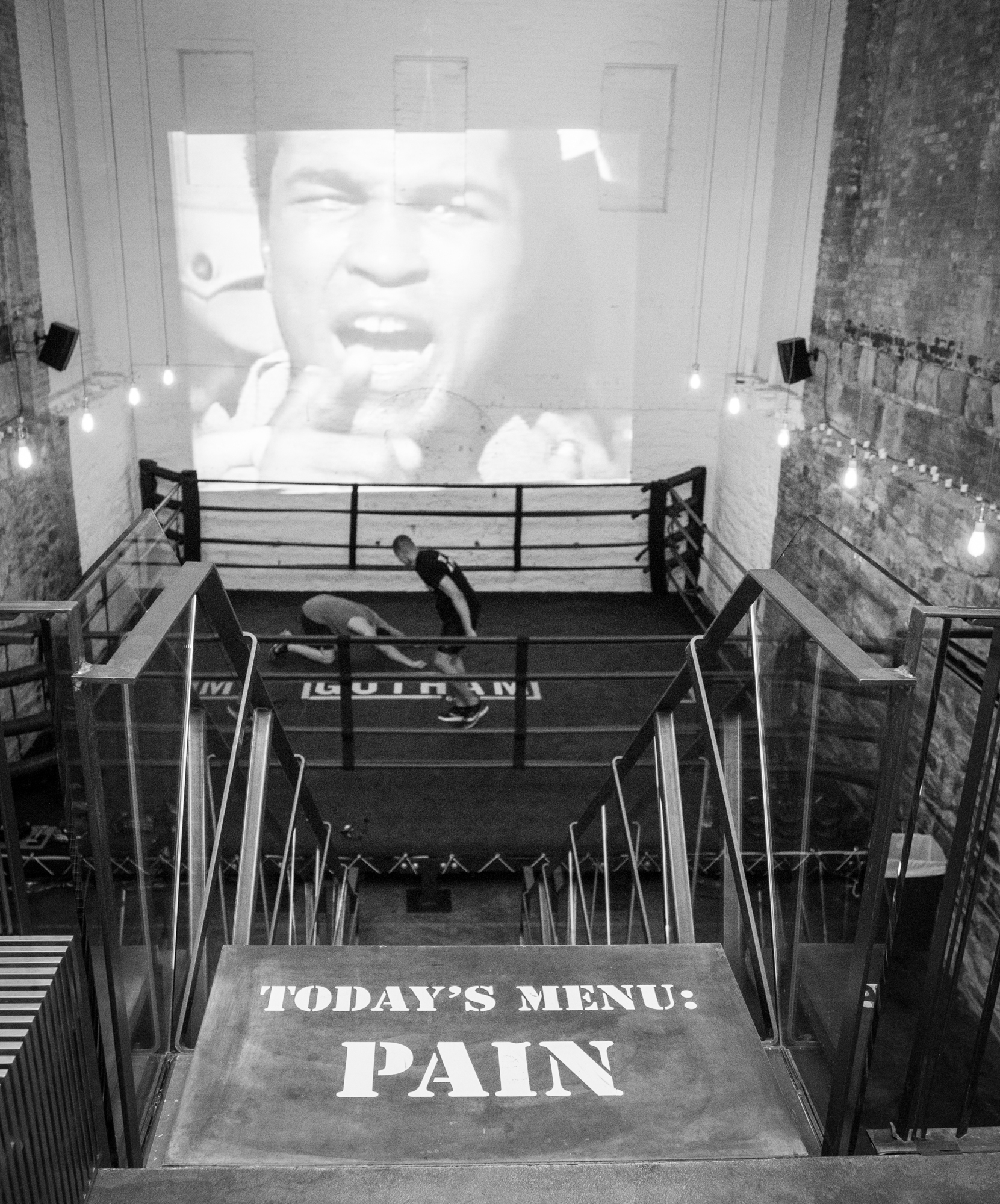 Gotham Gym's new Soho location would be the perfect place for a modelizer to camp out. The Jenner and Hadid sisters are fans of the hardcore gym, along with fresh faced models new to the city. Their agents send them to the gym's packed group classes in droves, since the work out promises to slim and tone without bulking. One-on-ones have mostly happened in their original West Village studio, but models (especially newbies) requested group classes regularly. The new Soho space offers more room and Instagram-worthy decor.
Unlike other similarly priced group classes for models, the vibe at Gotham G-Box is a bit intimidating, especially if you've never taken a boxing class before. (And no, cardio kickboxing doesn't count, despite what you were led to believe.) Class-goers are greeted with a Muhammad Ali quote on the wall: "Grass grows, birds fly, waves pound the sand. I beat people up." No pressure.
But while you're led to believe that you're about to fight for your life against a Victoria's Secret Angel, the work out itself is far less intimidating than the space, which is red, dimly lit and as threatening as a dark night in a Buffy the Vampire Slayer episode.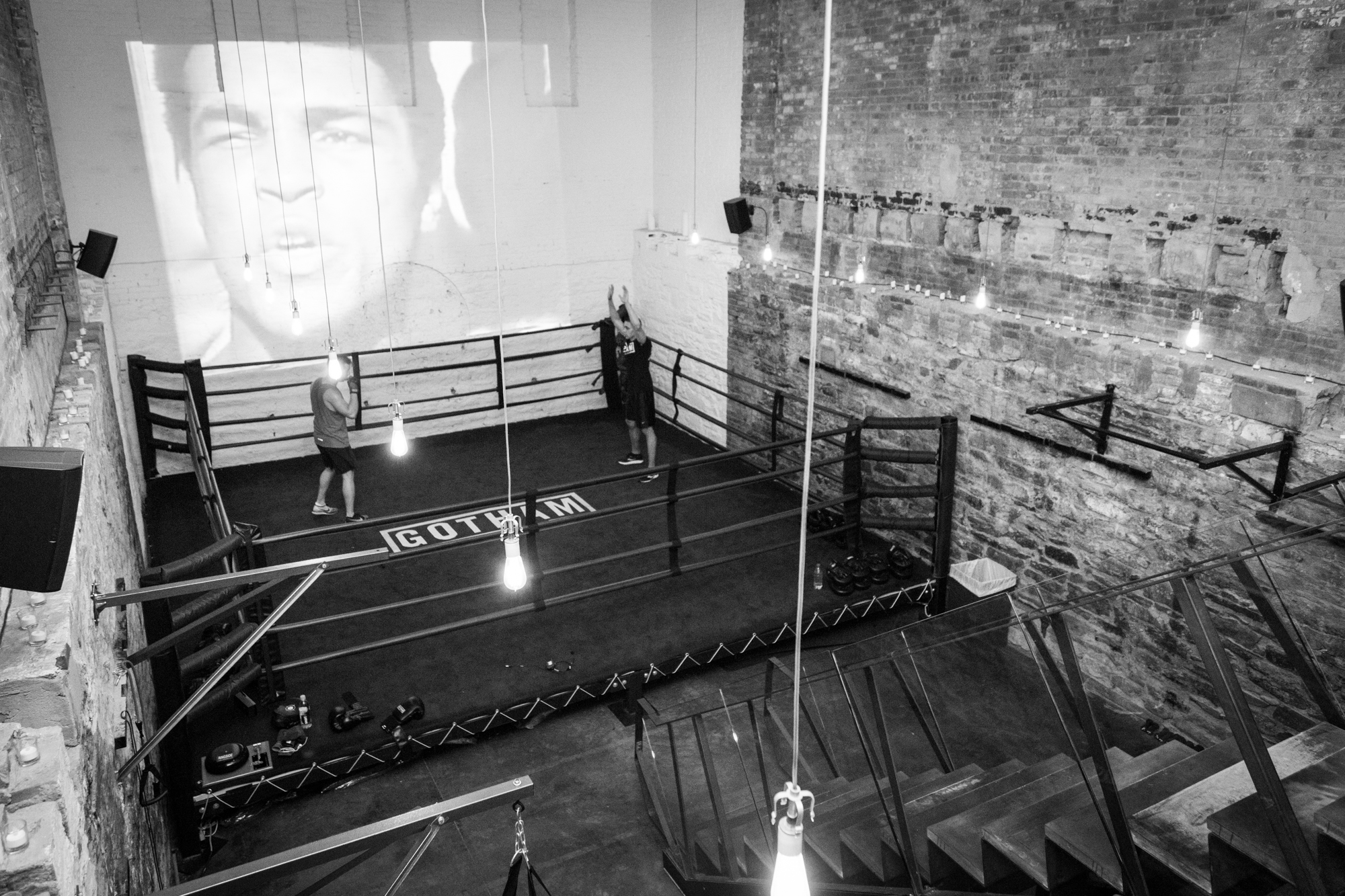 The brand new studio (it opened Memorial Day Weekend) already has its own Instagram account, showing off the stairs (they say, among other, unrepeatable things, "Todays' Menu: Pain" and "Lock and Load." From above, future class-goers can observe private lessons in the ring. From my perch atop the stairs, I watched a grown man, who was handsome enough to be a character on a teen TV show do push-ups and planks until it was possible he was crying. Throughout it, his trainer looked on calmly.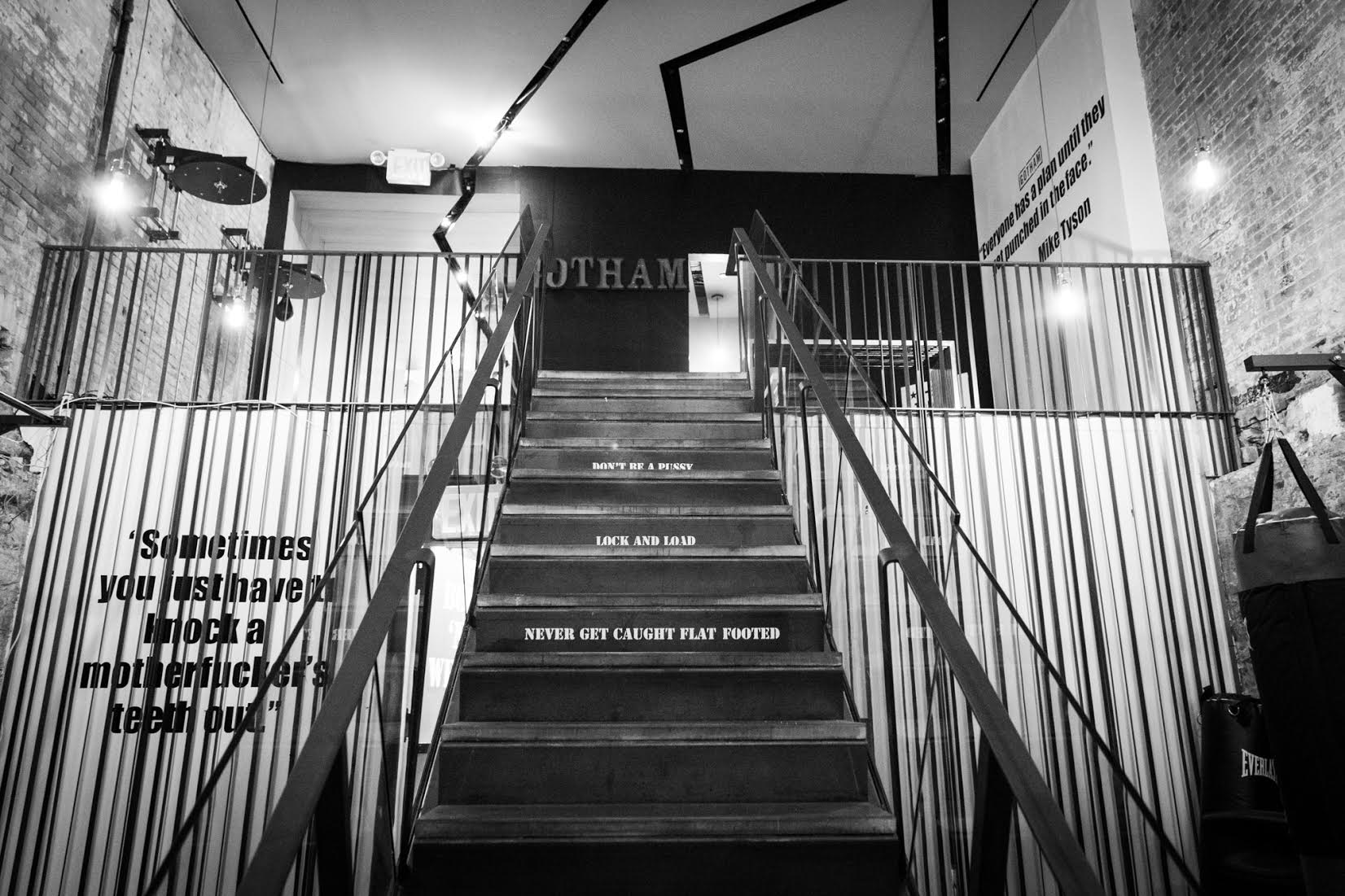 Once downstairs, instructors were enthusiastic about teaching patrons how to wrap their knuckles, which was useful since my only experience with boxing was watching the movie Girlfight and I'm no Michelle Rodriguez. Kory Flores, who also teaches trampoline/cardio at bari, quickly assured me that there would be no burpees, after demonstrating how to do one (she made it look easy, but I wasn't about to see for myself). Flores said her classes focus on cardio and core–and after getting into the ring, her technique was obvious and effective.
The warm-up consisted of jumping jacks (she expected to feel the ground shaking underneath us), high knees to bring up high school flashbacks and enough squats to start feeling the burn before the true work out even began. And there was no way to fake your squat–Flores walked around the ring and made sure everyone was going all the way down. It was motivational, but nothing like a yoga instructor turned guru; instead, it was just plain menacing.
Then, the sparring began. The group, which consisted of many model like physiques, learned how to jab, cross and upper cut, which takes far more coordination than one (me) would imagine. After the girl fight–although there was one man in the ring, wearing an Overthrow t-shirt–the hard part came, in the form of an ab work out that would leave even an Angel exhausted. Before taking up boxing, make sure you have some kind of core to sustain you.
(Photo: Kaitlyn Flannagan for Observer)

First taste free.
Rob Piela, the creator of Gotham, is famously friendly with the models, posing for sweaty selfies after class, especially with Gigi Hadid. "Opening up G-BOX in Soho with WellPath gives us the opportunity to teach a way higher volume of clients. And vice versa, gives a lot more New Yorkers the chance to come and train with the Gotham team," Piela told the Observer. His new work out method is specifically designed for Gotham G-Box, featuring 60 minutes of total body focus on technique, cardio and calisthenics.
Piela has trained a whole slew of models and actresses, including the Hadid sisters, Kendall Jenner, Georgia Fowler, Pretty Little Liar Ashley Benson, Cara Delevingne and Rianne Ten Haken. While they usually take privates, the up-and-coming models join the rest of the plebeians in the ring–still, you never know who you'll spar against.