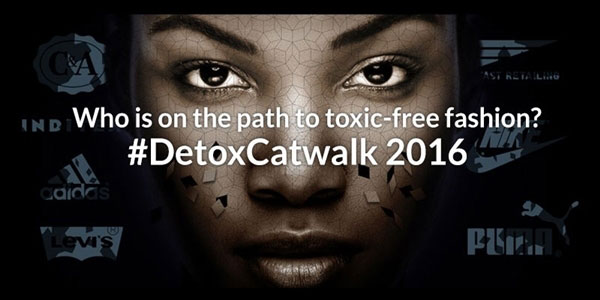 In an attempt to stimulate change within the fashion world, Greenpeace, an environmental organization, is launching a list of the most eco-friendly fashion labels.
The third series of the "Detox My Fashion" campaign, the Detox Catwalk, offers an online ranking of 19 fashions and sportswear companies, examining their headway in implementing the Detox 2020 criteria. This entails the pledge of fashion brands to eliminate their companies and suppliers of hazardous chemicals, to provide transparency and to meet their commitments of the Detox 2020 time-cap.
The Detox-committed companies that are ahead of the game include Inditex (Zara), H&M and Benetton.
Those companies that have not shown full investment or enough actions towards reaching the Detox 2020 goal have been dubbed in "Evolution Mode," for their lack of development and transformation. Included in this middle category are C&A, G-Star, Mango, Valentino, Adidas and Burberry. Greenpeace dismiss some brands as "Toxic Addicts," including Espirit, Nike, Limited Brands and Li-Ning.
It's a of Hunger Games style battle to obtain the goals by 2020. By then, time, social pressure and public rankings will work to "close and slow the loop," Greenpeace said.