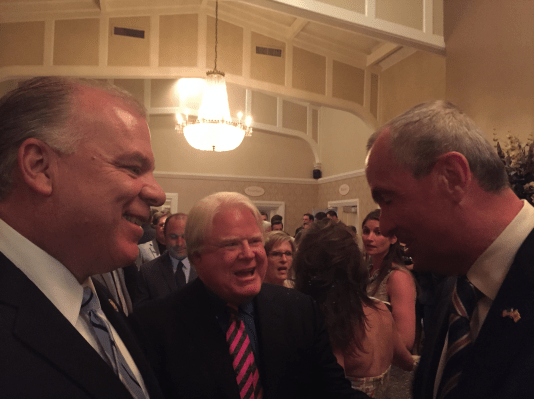 NEPTUNE — With the Republican National Convention underway in Cleveland, the state's Democratic leadership gathered at the Monmouth County Democratic organization's Chairman's Ball to take stock before its Republican counterpart in Philadelphia next week. Several names from the Democratic shortlist were there Wednesday night to rally the troops in a county that has become one of the state party's biggest success stories.
Two questions were on everyone's mind now that Donald Trump has officially picked Mike Pence as his running mate over Governor Chris Christie: who will Hillary Clinton choose as her VP pick, and how and when will the legislature and the governor reach a compromise on two competing bills to fund the Transportation Trust Fund?
Senate President Steve Sweeney (D-3) said that he is holding out for Senator and former Newark mayor Cory Booker, who has campaigned hard for Clinton from the very beginning of this cycle. On the TTF, whose precarious financial state after behind-the-scenes negotiations broke down led Christie to halt all non-essential construction work through an executive order, he simply grimaced and said he doesn't expect a compromise before the end of the conventions.
"Obviously we would love it to be Cory Booker, but that's going to be her call at the end of the day," Sweeney said.
Phil Murphy, former U.S. ambassador to Germany and the first candidate to officially announce his campaign, is also rooting for Booker. He placed the blame for the TTF standstill with Christie, and said both proposals' hike to the gas tax has been a long time coming.
"I hope Cory Booker's on her list. I'm a huge fan, I've been a fan of his for a long time," Murphy said. "It think it would be great for America and great for New Jersey. So I'm not smart enough to know who's on the list, but I hope Cory's on it.
"We should have raised the gas tax months if not years ago. I don't like the fact that it's regressive," he continued. "I believe the governor's lack of leadership on this is absolutely deplorable. It's time to put on your big boy pants and lead.
"The Republicans are making it easier for us by the day when you look at the spectacle they're putting on in Cleveland," he added of the presidential race.
Assemblywoman Shavonda Sumter (D-35) deferred the question of the best VP candidate to Clinton's best judgement, but said that she and the rest of her caucus are eager to reach a deal and end the work stoppage. The Assembly plan from Speaker Vince Prieto (D-32) would offset the gas tax increase with gradual cuts to the sales tax, rather than the Senate bill's phase-out of the estate tax.
"We're not opposed to a phased-in 23-cent gas tax," Sumter said. "We are still the lowest throughout the country and for our region, and we need to put people back to work."
Jersey City mayor Steve Fulop and Assemblyman John Wisniewski (D-19) were present, but declined to comment. Senator Ray Lesniak, who also intends to run, gave a donation through his law firm but was not able to attend.