Gubernatorial hopeful Phil Murphy is drawing fire from rivals within his party for his fundraising sources. Though former U.S. ambassador to Germany Phil Murphy cleared $10 million in totals since announcing his campaign six weeks ago, State Senator Ray Lesniak (D-19) took a jab at his competitor for the nomination on Twitter Friday afternoon.
According to state Election Law Enforcement Commission records, the bulk of that total came from a loan Murphy made to his own campaign. Lesniak pointed to that $10,071,783 sum, characterizing the move as a sign that the former Goldman Sachs executive doesn't have the kind of popular support his cash-on-hand total might suggest.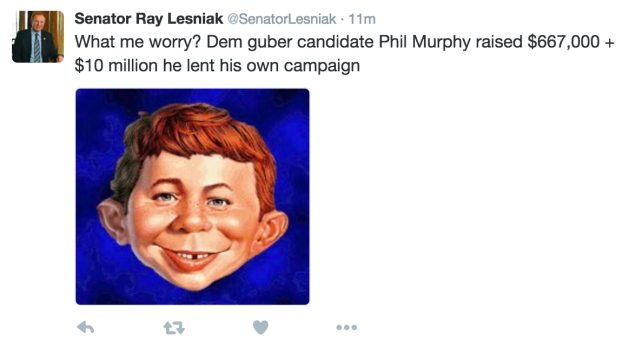 The Murphy campaign has been forthright about the loan, laying out the totals in a statement earlier this week.
"The primary election total includes individual contributions totaling $591,364.21 and $75,998.01 in total in-kind contributions, in addition to a $10 million commitment Phil Murphy made to the campaign at its outset. The campaign received an additional $38,500 in contributions designated by donors for the 2017 general election which were placed in a segregated account."
In a political climate where economic populism is on the rise and many New Jersey residents are still hurting from an uneven recovery from the recession, more of Murphy's opponents in the primary could see an opening in his substantial personal wealth and his connections to Goldman Sachs.
Former governor Jon Corzine, who went down hard against Christie seven years ago, was a senior partner with the firm and has been Murphy critics' favorite unfavorable point of comparison so far.
ELEC records show 27 Goldman Sachs partners and 14 spouses or relatives of partners contributing a total of $169,700 to the Murphy campaign to date. Reached for comment, a representative with the Murphy was nonplussed. That representative shrugged off the number as "a handful of the 971 contributions that individuals have made in the last six weeks."
Murphy and Lesniak are expected to face off against several influential state Democrats come next June:Jersey City Mayor Steve Fulop has announced his intention to run and Senate President Steve Sweeney (D-3), Assemblyman John Wisniewski (D-20) and Assemblywoman Shavonda Sumter (D-35) are weighing their own primary bids.