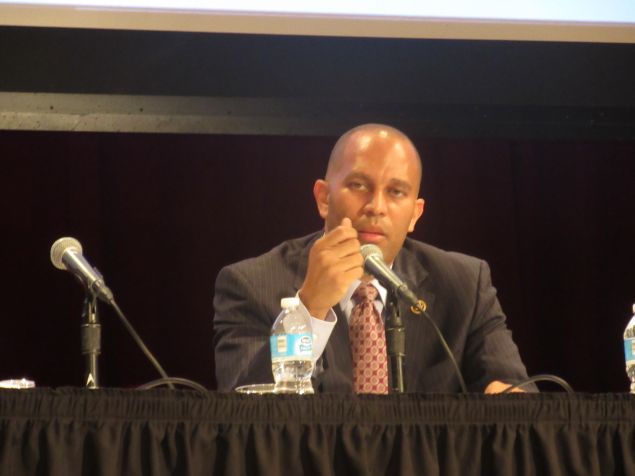 Brooklyn Congressman Hakeem Jeffries said Mayor Bill de Blasio's affordable housing plan needs to be affordable for everyone and discussed his efforts to address the recent deaths of black men and police officers in Louisiana, Texas and Minnesota at a City & State forum today.
The mayor is seeking to build and preserve 200,000 units of affordable housing over the next decade—a plan that has received criticism for not taking into account incomes on a neighorhood-by-neighborhood basis.
In a special one-on-one interview with City & State Opinion Editor Nick Powell, Jeffries said he agreed with de Blasio's decision to set a high goal, but wondered who would benefit from the initiative—particularly those in his district, which has rapidly gentrifying neighborhoods such as Fort Greene, Clinton Hill, Bedford Stuyvesant, parts of Crown Heights and East New York.
He said gentrification in those areas "has been intense for a long period of time" largely because the market was unleashed on them without any accountability in government influence in terms of trying to increase the affordable housing stock and preserving affordable housing.
The congressman said some people do not make enough money to buy a home or live decently but make too much money to qualify for some affordable housing.
"With respect to the mayor or the governor or any efforts at the federal level, that it has to be done in a way that helps the problem, doesn't exacerbate irresponsible development and one of the concerns for instance in East New York is just to make sure that if we want to create affordable housing and I hear this every time I talk to constituents: 'Well, affordable for who?'" he said.
A frequent critic of de Blasio's, the congressman has been bandied about as a potential mayoral candidate, but he has several times sought to downplay that speculation.
Jeffries said housing and economic development opportunities must be tailored to different neighborhoods' conditions, noting that due to a federal standard, affordable housing is measured based on the citywide income as well as the surrounding suburbs.
The area median income is now nearly $80,000 based on how it is calculated, but for neighborhoods like East New York, the area median income is $34,000.
"We've got to a better job of aligning the housing with what people actually make in those neighborhoods," he continued.
The congressman, an advocate for police reform, also shared his thoughts on the recent deaths of two African-American men—Alton Sterling in Baton Rouge, Philando Castile in Minnesota—at the hands of the police, the fatal shooting of five police officers in Texas during a demonstration and the killing of three police officers in Baton Rouge.
Last July, Jeffries announced that he and Louisiana Congressman Cedric Richmond, Utah Congressman Jason Chaffetz and Indiana Congressman Raul Labrador, a Republican, would serve as co-chairmen of the Congressional Criminal Justice and Public Safety Caucus, a bipartisan membership organization.
Jeffries said he and Richmond had written to then House Speaker John Boehner saying that the House "should enter into this discussion but do it in a meaningful way that's about the work, not the show," leading to the creation of the group.
"Cedric Richmond, who represents Baton Rouge in Louisiana and myself wrote to the speaker and said that this time has to be different because we're attracting this constant cycle of an excessive use of police force incident often caught on video," he said, adding that most police officers are hardworking public servants. "People are outraged, justifiably, based on what they have seen."
Though he believes there is "still a long way to go," especially as it pertains to diversity amongst higher ranks of the Police Department as far as the leadership looking like the community the department is policing, he believes progress has been made.
He credited former Mayor Michael Bloomberg and former Police Commissioner Ray Kelly with doing a good job of diversifying the Police Department during their era in terms of the department's rank-and-file members.
"I think at this point, greater than 50 percent of the police force in terms of officers are people of color or women, and that's a significant step in the right direction compared to when I was growing up in the city in the late 80s, early 90s," he said. "Things were very different."
He also said the police chief in Dallas "did a phenomenal job."
"He's someone, by the way, who has brought community policing to Dallas and significantly improved the relationship between the police and the African-American community there," he said.
He also said a recent House sit-in led by Rep. John Lewis, an icon of the civil rights movement, in June to protest the Republican majority's refusal to take action on the gun issue following the Pulse nightclub massacre in Orlando was motivated by a desire to do something "dramatic."
He noted that the United States represents 5 percent of the world's population but has 50 percent of the world's guns and that it is estimated that the country has more than 325 million gun owners.
The United States is "one of the most violent countries in the world," he said, adding that "not a single law enforcement entity can tell any of us where the majority of those guns are right now."