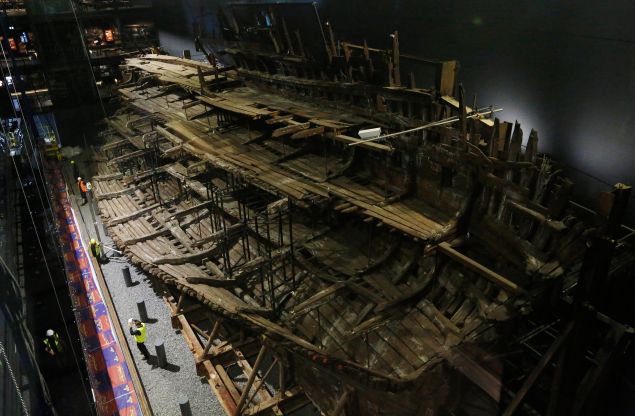 Henry VIII's restored warship goes on view to public. The Mary Rose sank in 1545 with 500 souls on board during the Battle of the Solent near Portsmouth, England. The ship was raised in 1982, and a museum has been built around the wreck while ongoing conservation work is being done. Now, a walkway and glass galleries have been erected over the ship so viewers can marvel at the historic vessel.
Senator introduces bill to block export of sacred indigenous items. New Mexico senator Martin Heinrich put forward the Safeguard Tribal Objects of Patrimony (STOP) Act during a press conference in Washington, D.C. The bill would place stricter penalties on those caught stealing objects and calls for a report on illegal trafficking from the U.S. Government Accountability Office.
Documentary on Dutch master Hieronymus Bosch opens in U.S. on Wednesday. This year is the 500th anniversary of the painter's death and filmmaker Pieter van Huystee marks the occasion by taking viewers on tour of the artist's few surviving paintings.
Over 90 paintings in Gurlitt trove believed Nazi loot. The German Lost Art Foundation, with the aide of the German government, has analyzed 502 works from nearly 1,200 found in art historian Cornelius Gurlitt's Munich apartment. So far, the organization reports 91 works are suspected to have been plundered from Jewish owners during World War II.