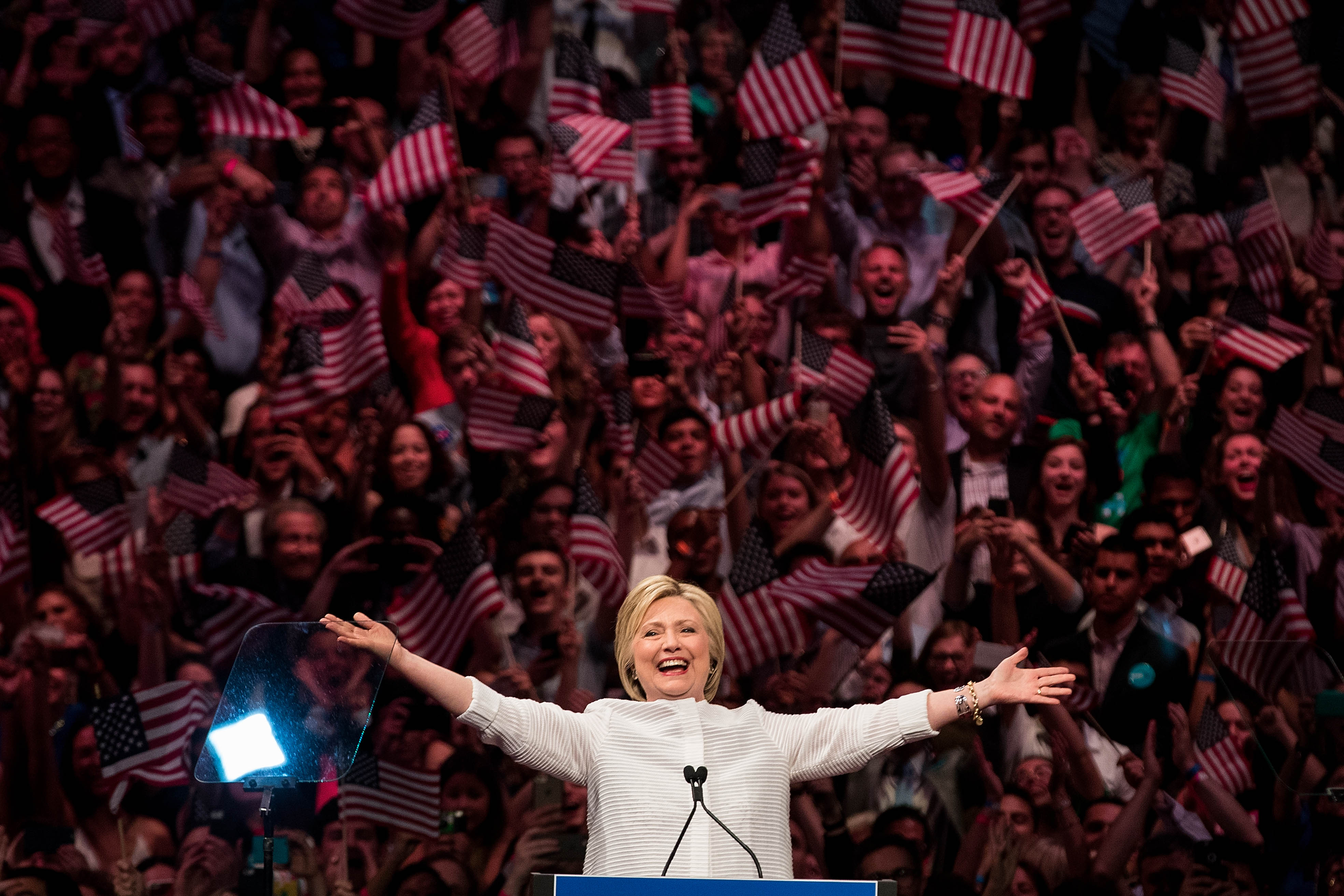 Start spreading the news: New York is on its way to take to Philadelphia by storm.
Just days after the Empire State played an unusually outsized role at the Republican National Convention in Cleveland, it will be center stage at the Democratic National Convention—unsurprisingly, given both Donald Trump and Hillary Clinton hail from New York.
The Democratic National Campaign Committee blasted out a list of elected officials who will be convention speakers today, featuring many locals. (The DNCC notes more names could be added as the week goes on.) The long list is in contrast to the RNC, where many elected officials—including Ohio's own Republican governor, John Kasich, have opted not to speak.
Here's a look at who (so far!) will represent the Big Apple in the City of Brotherly Love, in alphabetical order:
Congressman Joseph Crowley: The Queens County party boss has been in Congress since 1998, representing parts of Queens and the Bronx. He backed Clinton's campaign for the Democratic nomination almost immediately after she announced it, unlike somebody else on this list.
Governor Andrew Cuomo: Cuomo, too, backed Ms. Clinton the day she announced, despite his own long-rumored ambitions to run for president. But he's occasionally been a bit lukewarm as a Clinton surrogate, this week refusing to weigh in on New Jersey Gov. Chris Christie's mock criminal trial of Clinton this week—something New Jersey Sen. Corey Booker, who will also speak at the DNC, took an opportunity to do today—and saying he wasn't referring to Trump when he spoke of politicians "scapegoating" immigrants. Still, Cuomo is the Democratic governor of the state from which Clinton hails, so it's not all that surprising he made the cut. He's sure to be thinking about the Cuomo legacy when he takes the stage, considering his late father Mario Cuomo cemented his place in progressive history with his oration at a DNC.
New York City Mayor Bill de Blasio: Hizzoner is probably letting out a sigh of relief right about now, assuming the news has reached him on his Italian vacation: he made the cut. That wasn't necessarily a sure thing: de Blasio, imagining himself a progressive power broker, didn't endorse Clinton for months, demanding to see more of her platform first—despite having gotten his start in her husband's White House (alongside Cuomo) and running her Senate campaign in 2000. The entire charade blew up in the mayor's face: it infuriated Clinton World, his plans for a national progressive group fell apart, and his much-touted presidential forum focused on income inequality was scuttled due to a lack of interest. Finally, he rolled out his endorsement quietly, on cable television. Perhaps he'll try to make it up to her in his speech—this time without dropping any racially charged jokes while she's standing next to him.
Senator Kirsten Gillibrand: Gillibrand, who holds Clinton's old Senate seat, is often considered a potential contender for the presidency herself one day—a move for which Clinton is clearly hoping to pave the way. An advocate for women on issues of campus sexual assault who has called out boys' club behavior in the Congress but comes without Clinton's baggage, she could use this speech as a bit of a an audition her own future.
Congresswoman Nita Lowey: Lowey was another early Clinton backed, who once vowed she wouldn't cast her vote, as a superdelegate, for Bernie Sanders even if he won the state. (That's moot by now, since he lost.)
Senator Chuck Schumer: Last (alphabetically, anyway) but not least. No matter which New Yorker moves into the White House next year, it's pretty likely Schumer will be the Senate's next Majority Leader, assuming the Democrats recoup the Senate as expected. Schumer is a fundraising powerhouse, popular elected official in her "home" state, and served alongside Clinton in the Senate—of course he's on the list.
Notable omissions (so far): Congresswoman Carolyn Maloney, who held the first and last Ready for Hillary events ahead of Clinton's formal announcement; Council Speaker Melissa Mark-Viverito, a woman and native of Puerto Rico whom Clinton has deployed on the campaign trail;  Congressman Hakeem Jeffries, a rising star from Brooklyn and outspoken proponent of police reform in a year that it's a hotter topic than usual