Well, we're back. Week six into The Bachelorette and we're dealing with the most interchangeably generic group of guys since every other season of this show.
I mean, have you seen all these guys? They're like a frat house cloning experience gone wrong. At least Chad was unique in his willingness to eat lunch meat with his fingers.
One-On-One With Alex
The self-proclaimed underdog, Alex, finally gets his one-on-one date with a card that says "I gaucho on my mind." Quick sidenote, who is writing those terrible, terrible puns? God bless that production assistant.
And so begins the most awkward date in recent Bachelorette memory: even without jangly music clueing us in to how bad this date is going, you can tell this date is going very badly. The Pringles they eat in the car ride are the best part.
ALEX: [looking out the window, being boring] Is that wheat?

JOJO: [politely laughing] Just be normal.
Although in Alex's defense, the rest of the boys are equally cringeworthy. They recite this rap that took far too much rehearsal and energy while Chase beatboxes about Alex being short. I hate them all.
Alex's dazzling wit and conversational prowess emerges yet again when they reach their destination in the Argentinian countryside. "I like those trees. The one that's like droopy." His attempt at rapping? "Yo yo, JoJo, gots to go to the liquor sto."
JoJo does that patented Pretty Girl Laughing Because She Doesn't Really Have Anything To Say Maneuver.
While she changes into fetching suede bellbottoms, Alex has to wear a traditional gaucho outfit. Seeing as the Bachelorette producers couldn't find one, they sent an intern to Party City to pick up a 1930's Hollywood director costume.
They ride horses together and then watch a stranger bring a horse to partial orgasm, before spooning with the horse while a man also cuddling the horse pretends not to notice them.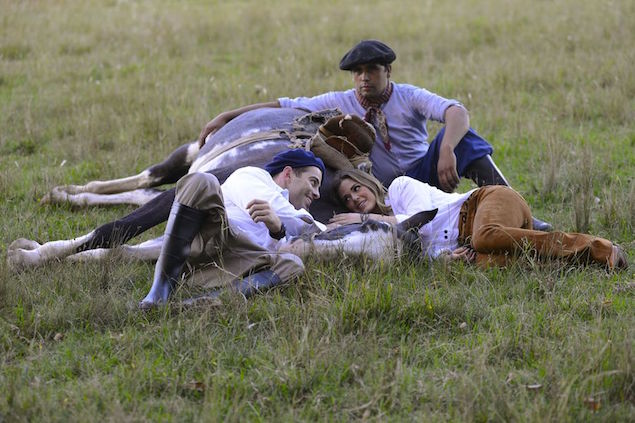 I got a quote from eliminated contestant and my future boyfriend Wells via FaceTime (first time ever saying that in an article) who was watching the show: "I couldn't stop thinking about it through the prism of what that horse must have been thinking." I'm guessing something like, "Isn't it cute this guy thinks he might win?"
And THEN the date got awkward.
Alex, a boy who does not understand body language, decides to profess his love to JoJo, who responds by not making eye contact and then not making eye contact some more.
And then he keeps going!
JoJo's response? "Yeah, um." Never a good sign. Instead of making him wait until the rose ceremony, JoJo sends him home right then and there which will sure teach him never to share his feelings again!
Jordan Gets The Best One-On-One Dates
Don't worry about JoJo feeling too sad about breaking Alex's heart, because in the next scene she's making out with Jordan while majestic, swelling music plays in the background.
Last time, Jordan got to chill on a yacht. This time, JoJo brought him on a private jet to a winery. They crushed grapes with their feet (unfortunately this never happened) and then drank the disgusting foot juice.
"I think Jordan is a frontrunner," Luke and Chase were saying to each other back at the house, cut between shots of JoJo and Jordan making out in a hot tub.
After their disgusting "wine," JoJo and Jordan went to a dinner they sat in front of without eating while Jordan told her, to her disappointment and ours, that he wasn't close with his "middle brother."
[protected-iframe id="50478d563203e7b10133be86c5515f9d-35584880-105013903″ info="https://www.whipclip.com/embed/fsese?pid=19703″ width="560″ height="315″ frameborder="0″]
"And that's Aaron?" JoJo asks innocently. As if you don't know. As if you weren't secretly planning what bridesmaid dress would look best on Olivia Munn (Aaron Rodger's GF).
Jordan gives some feeble excuse about how he chose to be close to his family and how he and Aaron don't really have a good relationship because he's busy with football or something. It wouldn't have anything to do with how you cheated on your last girlfriend, who's good friends with Munn, would it, Jordan?
They make out, they're in love, it's all very predictable cheerleader-quarterback stuff. I'm going to go on the record and say Jordan seems like kind of an asshole.
Low-Budget Group Date, and Luke on the Range
[protected-iframe id="a256f15b54d98c3b37556b6b10995f29-35584880-105013903″ info="https://www.whipclip.com/embed/fsokz?pid=19703″ width="560″ height="315″ frameborder="0″]
JoJo has Chase, James T., and Robby just… hanging out in the hotel for their group date, eating snacks and watching TV. This is exactly what it would look like if I were the Bachelorette #DanaForBachelorette. I'd take every guy on the exact same date: watch Howl's Moving Castle in bed and eat mozzarella sticks.
There is literally nothing exciting to say about this date. James T. tries to stir up some drama, I guess. And they play a lame Bachelor-themed round of charades. And all four of them lie together in bed like some grotesque pale-skinned Guillermo del Toro character. And, of course, Chase continues to wage his one-man war against facial expressions.
For her last one-on-one, JoJo rides horses again, this time less awkwardly, with Luke who is Nice and Polite and Charming and officially the person I want to win even though we all know it's going to be Jordan.
And then JoJo shoots skeet and gets to celebrate how wonderful this manly man is that she's going to dump in three weeks.
Next week: hometown visits with Luke, Jordan, Robby, and Chase. If you replaced them all with the first white guy you saw at a CrossFit class, I would not notice.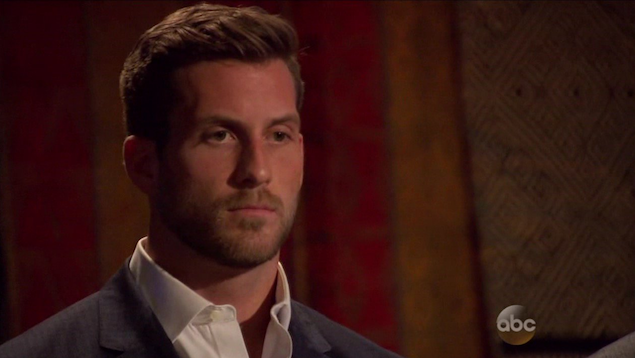 Who Did JoJo Tell To Leave (Get Out)
ALEX
JAMES TAYLOR
Goodbye James Taylor: you will be missed. You seemed like a very nice person, and you spent a lot of time on your hair which did not go unappreciated.
DANA'S PRE-SHOW PREDICTIONS
Considering that I made these predications before the show started, BASED ON THEIR PICTURES ALONE, I'm going to say I'm doing a pretty good job.
26. Evan
25. Brandon
24. Nick S.
23. Vinny
22. Nick B.
21. James Taylor
20. Luke
19. James F.
18. Grant
17. Coley
16. Daniel
15. James S.
14. Sal
13. Peter
12. Jonathan
11. Jake
10. Ali
9. Alex
8. Christian
7. Will
6. Robby
5. Derek
4. Jordan
3. Wells
2. Chase
1. Chad
How do you feel about all this, Chase?!?