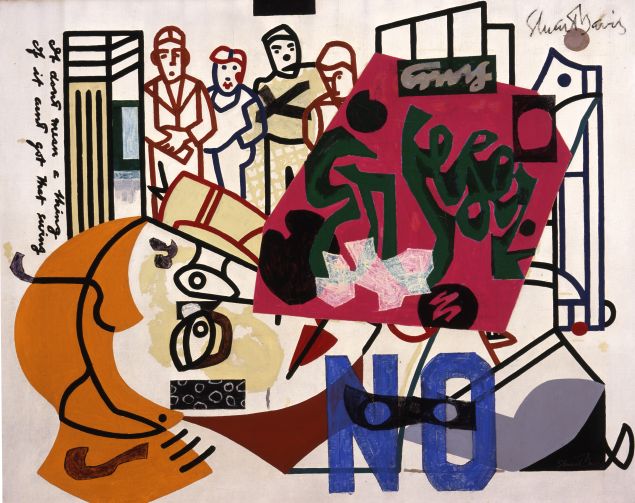 Many experts claim that America's first truly original contribution to painting came in the form of the heroic-scaled, grandiose gestural compositions of the Abstract Expressionists of the 1940s, such as Jackson Pollock, Willem de Kooning, and Franz Kline. To my mind—and I'm not alone in this—Stuart Davis (1982-1964) can more appropriately claim the mantel of originality in 20th- century American art. The astonishing paintings he produced in his mature period, from the 1920s until the time of his death, are unlike anything done before—or since, for that matter. Davis developed a unique form of abstraction with which he could render, as he is often quoted, "the many beauties in the common things in our environment."
Indeed, using heighten colors and a rich vocabulary of hard-edge shapes, and words as compositional elements, he transformed the American vernacular—especially everyday consumer objects, such as light bulbs, cigarette packs, salt shakers, and egg beaters, plus things like gas pumps, and advertising signage—into something extraordinary. His works are emblematic, bold and brash visual statements that reflect street culture, the syncopated rhythms of jazz, and the unbridled optimism enmeshed in the American Dream.
"Stuart Davis: In Full Swing," on view at the Whitney Museum of American Art, through September 25, is a remarkable event, and not to be missed. Co-organized by Whitney curator Barbara Haskell, and National Gallery of Art curator Harry Cooper, with Whitney assistant curator Sarah Humphreville, the exhibition contains some 100 works, and is the first large-scale Davis survey in more than two decades. Not a true retrospective in the sense of covering every period of Davis's career, the exhibition focuses in-depth on the works from the 1920s on, and that's a good thing. The show features Davis at his best, and includes his most acclaimed works; it is a thrill to see them hanging together side-by-side.
On view are iconic pieces such as Lucky Strike (1924), a still life inspired by Cubism, but which appears today more like a precursor to Pop art. Owh! In Sao Pão (1951), which has to have one of the best titles in art history. The pained expression in the title refers to the fact that the work was intended for the prestigious São Paulo Bienal in 1951, but Davis did not finish it in time for the show. In this composition, a searing yellow ground with pulsating red polka dots plays counterpoint to words and letters in black; the work is full of freshness and vitality, and looks as if it had been painted yesterday. It is a rather moving experience to see Fin (1962-1964), Davis's last painting, in the context of his finest late works. Apparently, Davis added the French word "Fin" to this canvas after watching a French movie the night before he died of a heart attack or stroke. It still bears the strips of masking tape he used to help maintain the thick lines and hard-edge forms.
Born Edward Stuart Davis in Philadelphia to artistic parents—his father was a journalist and illustrator—Davis eventually moved to New York, where he studied with Ash Can School maestro Robert Henri, beginning in 1909. A visit to The Armory Show in 1913 changed Davis's life. He became fixated on the Cubist works he saw there, and eventually adopted the style. Excellent examples here, such as Percolator and Matches (both 1927), show Davis gravitating more toward the style of Léger rather than Picasso and Braque. They also hint at a kinship with contemporaneous works by the American painter living in France, Gerald Murphy.
Davis traveled with his wife Bessie to Paris in 1928. The paintings he produced there, such as Place des Vosges, No. 2 and Place Pasdeloup (both 1928), are reductive cityscapes, with stark planes, and rather sweet colors that seem to emulate the charm of late Impressionist painting. Immediately after returning from France, and through the 1930s, Davis was hit hard by the recession. He became a Socialist activist, and worked for various workers' causes for most of the decade, until by 1941. By then, he had grown disenchanted with Soviet policies and disillusioned by politics in general. During the '30s, though, he spent more time demonstrating than painting, he would later admit in his autobiographical writings. Passages of his autobiography appear in this show's excellent catalolgue, featuring an extraordinarily detailed chronology by Barbara Haskell.
Throughout his career, Davis was well respected by artist- peers and the art-world cognoscenti, but during the Great Depression in the 1930s, Davis, like most artists, had an especially rough time. He depended on the largess of certain individuals, such as Whitney Museum founder Gertrude Vanderbilt Whitney, who practically kept him alive at certain moments by purchasing a number of his paintings; and several important WPA mural commissions kept him visible in the art world. Among these large-scale compositions, the striking New York Mural (1932), contains an almost comic-strip depiction of the Empire State Building. And the vast, resplendent, nearly wholly abstract and wildy colorful Swing Landscape (1938), incredibly commissioned by a Williamsburg, Brooklyn, housing project, is among the high points of the show.
One may wonder, looking through the glorious works in this exhibition, why Stuart Davis is not exactly a household name, still widely regarded as a painter's painter. This exhibition, hopefully, will help change all that. The problem with the perception of Davis may be, oddly, that he was almost too original. His works seems prescient of Pop art, and many forms of hard-edge abstraction that came decades later, and flourish today. But in fact, he had no direct followers, and there is no particular "school" of painting of which Davis can be called a leader. In a culture that claims to champion individualism, Davis is one of those who suffered because he was unique. None of this really matters, though, when in the presence of these miraculous works, like Little Giant Still Life (1950), emblazed with hot orange-pink letters blaring the word "Champion," the name of a brand of spark plugs, certainly, but subtly self-referential.
Co-organized by the Whitney Museum of American Art and the National Gallery of Art in Washington, D.C., "Stuart Davis: In Full Swing" travels to the National Gallery of Art, November 20, 2016 through March 5, 2017. It subsequently appears at the De Young Museum in San Francisco, April 8 through August 6, 2017, and at Crystal Bridges Museum of American Art in Bentonville, Arkansas, from September 16, 2017 through January 8, 2018.