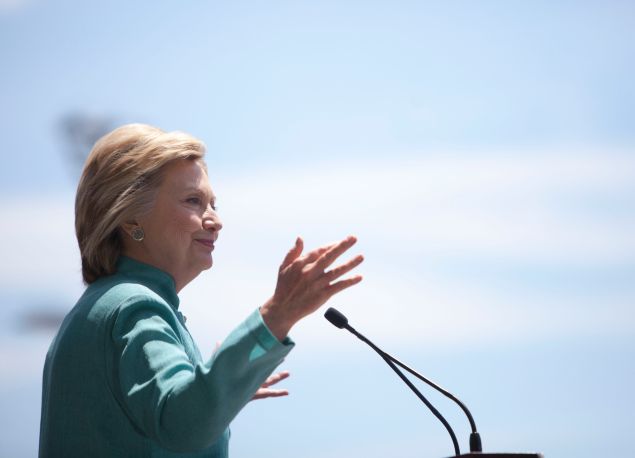 Presumptive Democratic nominee Hillary Clinton won't be indicted for her role in mishandling classified information, but she definitely looks like an incompetent dolt now.
FBI Director James Comey held a press conference Tuesday that saved Clinton from indictment, but was far from a defense of the former secretary of state. Among the many rebukes from Comey, the most damaging, I believe, is actually that Clinton didn't intend to mishandle classified information.
"Although we did not find clear evidence that Secretary Clinton or her colleagues intended to violate laws governing the handling of classified information, there is evidence that they were extremely careless in their handling of very sensitive, highly classified information," Comey said.
He also said that she and her team (or rather, "any reasonable person") "should have known" that her unclassified email server should not have been used for classified information.
Sure, as my colleague Austin Bay pointed out, these lapses in judgment (I'm being as charitable as possible here) should have actually gotten Clinton indicted. But Comey's decision not to indict, which I don't agree with, also made it pretty clear that Clinton is incompetent and should never be allowed to handle classified material.
Here's a woman who, along with the people around her, were so inept and "extremely careless," as Comey put it, that the people with whom they emailed had their accounts hacked by "hostile actors." And just because there was no "direct evidence" that Clinton's emails were hacked, Comey said it was "possible that hostile actors gained access" to her personal email account because she "used her personal email extensively while outside the United States, including sending and receiving work-related emails in the territory of sophisticated adversaries."
This woman clearly doesn't know what she's doing. She used a private email server for "convenience" that she had to keep updating and maintaining when the government could have done that for her, and she used multiple devices in hostile territories with no consideration for the safety of that information.
That should have risen to the level of gross negligence. And really, she certainly intended to use a less secure email server (Comey said it wasn't even as secure as Gmail). Yet somehow this wasn't a crime?
Sandy Berger and Gen. David Petraeus are weeping. Sure, sure, Gen. Petraeus knowlingly mishandled classified information, and Clinton just stupidly mishandled it. Is that really any better? It might be a distinction under the law (and I certainly do love the Left's sudden defense of mens rea), but negligence is negligence, and Clinton's was pretty extreme.
But, of course, she is a Clinton so the rules don't apply.
Comey also left the door open for Clinton to be punished even if it's not criminal.
"To be clear, this is not to suggest that in similar circumstances, a person who engaged in this activity would face no consequences," Comey said. "To the contrary, those individuals are often subject to security or administrative sanctions. But that is not what we are deciding now."
We know that Clinton herself won't face sanctions because, again, she is a Clinton. She should, however, and that would preclude her from being president because how could someone hold the highest office of the land and not have security clearance?
No, more likely her underlings will face the consequences for following her lead and her orders. It's classic Clinton, neither she nor her husband face consequences for their misdeeds, but those around them will. Whatever "sanctions" are applied to State Department employees will happen now that Clinton is gone—and she won't be subject to them.
State Department Spokesman John Kirby told reporters on Wednesday that former officials who were involved in Clinton's email scandal might be denied future security clearances. These sanctions could affect close Clinton aides Huma Abedin, Cheryl Mills, Philippe Reines and Jake Sullivan (which would make hiring them in her administration quite difficult). There was no indication that Clinton herself would face such sanctions.
Yet again, Clinton skates away from controversy, but at least this time, she does so for clear incompetence. So now not only is she untrustworthy and corrupt, she's also inept.