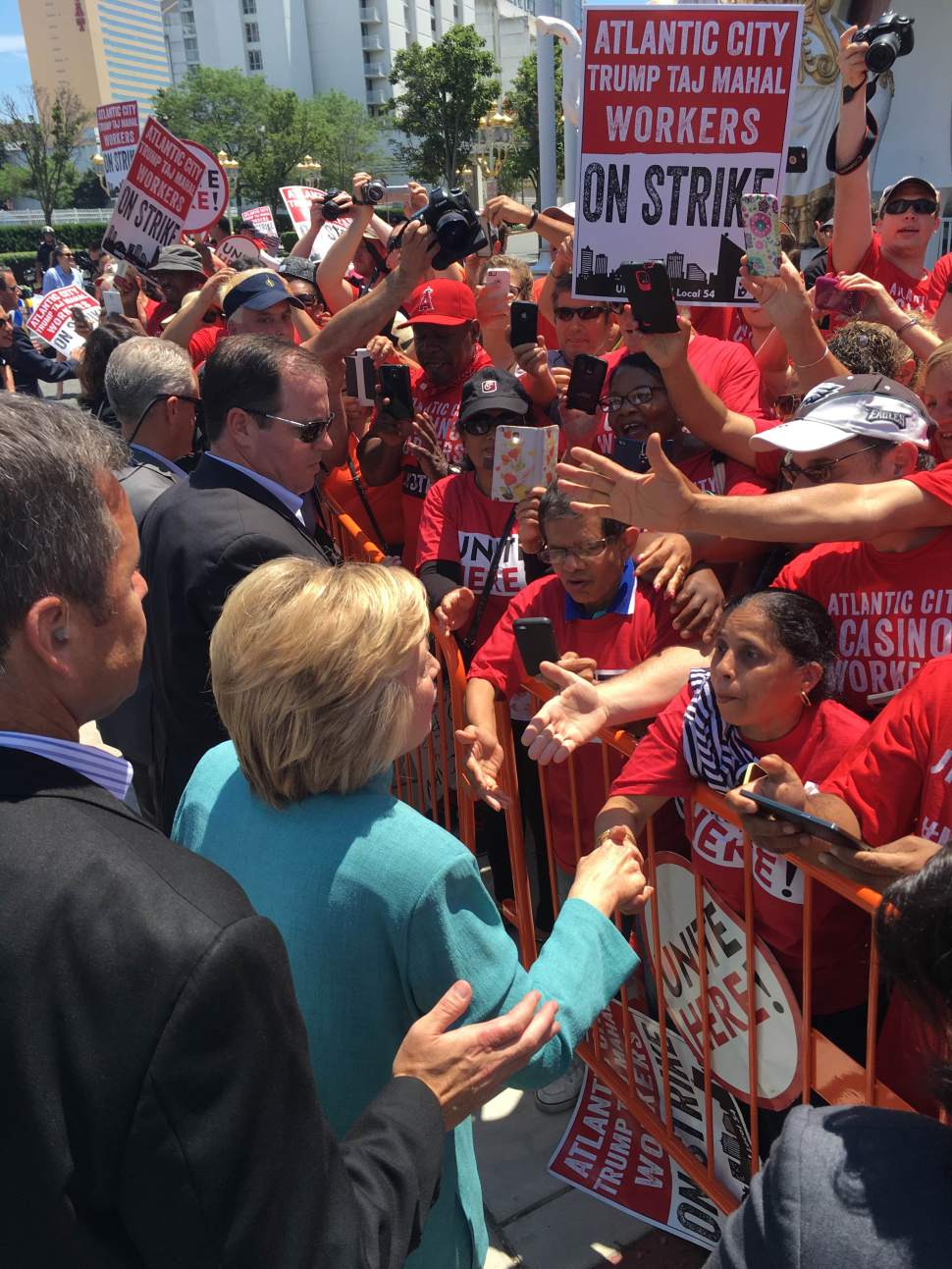 Oh a blazing hot summer day with the hulking, mothballed Trump Tower lurking in the background, Democratic Presidential nominee Hillary Rodham Clinton dropped some truth-bombs on her GOP rival Donald J. Trump's appalling, reckless business practices. The locale was fitting. Many Atlantic City locals were royally screwed in the course of Trumps four (!) bankruptcies, three of which happened right here and hastened Atlantic City's current fiscal crisis. Clinton's message, in short, is that Donald Trump has been sucking money out of Atlantic City since his very first bankruptcy here in 1991.
The assembled crowd was keen for a Trump skewering. No place knows the sting of Trump's tawdry business schemes better than Atlantic City. And sensing the crowd's bloodlust, Clinton attacked Trump early and often.
"Four times?!" Clinton mocked, citing Trump's multiple bankruptcies, including the erstwhile Trump tower in the background. She was just warming up.
"Not far from here, Trump Marina Hotel Casino was sold a few years ago for pennies on the dollar! Then, he called the Trump Taj Mahal the 8th wonder of the world!"
Unsurprisingly, Trump Taj aslo filed for bankruptcy projection (a move which BTW cost Trump's workers their healthcare and benefits.)
"What we're seeing in Atlantic City, N.J., encapsulates the ugliness and the greed…and the recklessness we have seen from people like Donald Trump," Sanders said to rounds of boos and hisses.
"Oh, so you know Donald Trump?!" Sanders teased. "I get it! You don't think he is a brilliant successful businessman who can bring the kind of prosperity to America that he brought here to Atlantic City?"
Hillary took Bernie's salvo a step further: "As the people of Atlantic City know, Donald Trump can not do the job for American workers!  He got rich and got out. That's nothing to be proud of. It's shameful!""
As relentless as Clinton was, today's rally was also a reminder of her unwavering message discipline. While Trump's off peddling his latest stream-of consciousness —
most recently praising Saddam Hussein
(!?) – Hillary rhetorical hammer was on-point and punishing. She didn't waiver.
Hillary: "Atlantic City Council and the Mayor are working hard, hand and hand (to restore Atlantic City's financial footing) while your Governor (Chris Christie) follows Trump around the country holding his coat!"
She mocked men with names on big buildings then gestured towards one of Trump's failed casinos. Look closely and you can see where Trump's name once garishly adorned the building's exterior. Clinton then paid homage to the workers whose labor created the largess that Trump once boasted about, "Atlantic City was a good cash cow for me for a long time.The money I took out was incredible."
Judging from the crowd's reaction, Clinton invoking the Trump's ghastly cash cow remark was definitely her money quote.
Meanwhile Trump continutes to whine about how "rigged" the system is. First that's awfully rich coming from someone who relied on a rigged bankruptcy system to make millions while creditors, vendors, and taxpayers are left holding the bag. Secondly, of course the system is rigged! And judging from Trump's endless boasts of how much money he made here, the system is self-evidently rigged in favor of vulture capitalists like Donald Trump.
Jay Lassiter is an iconoclast, tech savvy media artiste, street warrior for LGBT liberty and marijuana reform, and an un-intimidated presence if the halls of Trenton power as he aggressively pursues liberal causes. He's often at brunch and always on twitter @Jay_Lass.