At its heart, BoJack Horseman is a television show about the past. It's there in the song at the end of every episode that's probably still stuck in your head: "Back in the nineties, I was in a very famous TV show." From the pilot episode, we met BoJack after his peak, struggling with the legacy of being an ex-sitcom actor, left with the money and the fading fame, but not much else.
Season one saw him struggling to revisit the past in writing a memoir. Season two focused his efforts to rebuild his career, peppered in with flashbacks of the friends he betrayed, and relationships he's screwed up in order to get where he is.
Now, BoJack is confronting his legacy head-on in the show's most introspective and dynamic season yet, about the actor's journey to winning an Oscar and questioning whether a trophy is going to make it all worth it.
"Every season we feel like we're pushing the envelope in different ways," said the show's creator, Raphael Bob-Waksberg in a phone interview. "Pushing the envelope sounds weird. It sounds like we're like," he takes on a darker, faux-rebellious tone in his voice, "'Ooooh, we're going there! We're being dark and edgy!' It's not quite that. It's more that we get to push the edge creatively of what our TV show could be."
"I am, in some ways, blinded by my maleness, and also my whiteness. I try to listen to other voices…"
BoJack Horseman, Netflix's first original comedy, is already an interesting pitch: "I think at first there were limited expectations of what an adult animated show about a drunk talking horse would feel like, and then throughout season one, we were pushing the edges of that, saying oh, we can go a little darker, we can go a little more introspective. We can have this kind of humor. And more, and more, it feels like that's embraced, and that's what people like about the show."
It certainly registered with Mara Wilson–friend of this writer–who voices Jill Pill, a spider that drips with New York City pretentiousness. "It is the most realistic depiction of Hollywood I have ever seen. As well as one of the most accurate depictions of depression," she said in a text to me. Wilson, who became famous after her childhood roles in Matilda and Mrs. Doubtfire also appreciated the show's treatment of its child star characters, particularly Sarah Lynn, the girl who starred in Bojack's sitcom as a child. "I was drawn to its empathetic portrayals of child stardom. It's not mocking, nor is it pitying."
Thoughtfulness is a key component of what makes BoJack Horseman a wonderful show, not only for its characters and subject matter, but in terms of sheer density of jokes. In a world half-populated by talking animals, BoJack Horseman gives us an endless buffet of visual gags and animal puns that reward re-watches and viewers who are liberal with the pause button.
An example? A split second shot of driving down the street, during a 2007 flashback provides perfect evidence that we are, in fact, in 2007: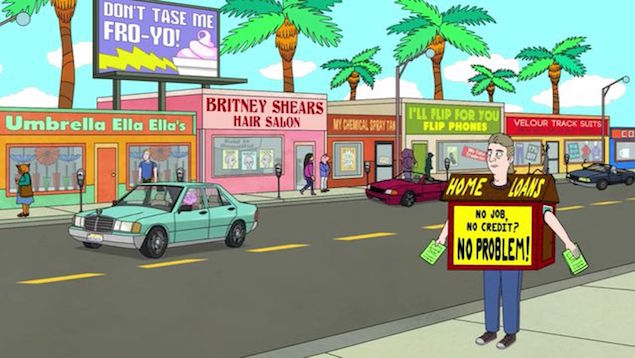 "I feel like everything has been found," Bob-Waksberg said. "I remember making one and thinking, 'Why are we putting all of this work into all of these jokes in the background? No one's going to see these.' And then gradually, I remember reading people's tweets and people's comments online and seeing, no, basically every joke was found by someone. I don't think there's everyone who caught everything, but nothing went unnoticed."
That thoughtfulness extends to the way Bob-Waksberg is willing to acknowledge the bias he has as a male show runner and learn to defer in some cases to his female colleagues. A Tumblr post from the show runner went viral in January 2015 where he discussed how pervasive the belief is in comedy that "male" is the default, drawing on his own experiences when the show's head designer, Lisa Hanawalt, sometimes surprised him by drawing characters he imagined as male as women.
"It's not like a light switch where I had that realization and suddenly everything changed for me," Bob-Waksberg said, "But it is something I keep in mind, particularly the idea that I am, in some ways, blinded by my maleness, and also my whiteness. I try to listen to other voices, and if someone says, 'This is funny,' [I try] to not just immediately say, 'Well I don't think it's funny, so it's not,' but to think, Okay, maybe there's something here I'm not getting."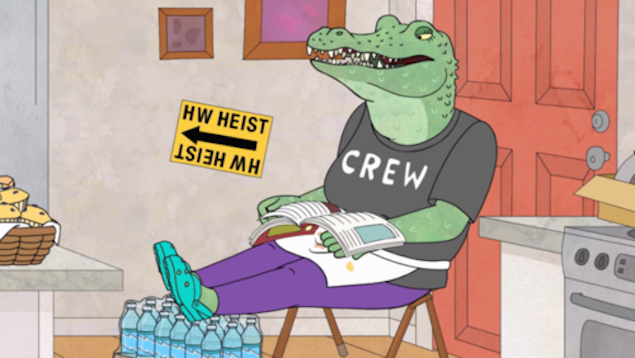 "I remember there was a joke in season two that Vera Santamaria pitched, and I remember all the women in the room laughed and none of the men laughed. And I had actually taken it out of the script because I didn't get it. Then in the room, Vera said, "What about that joke, I thought it was pretty good." And again, all the women in the room were like, yeah, that's great, and none of the men responded at all. And I thought, oh that's interesting.  
"Do you remember what the joke was?" I asked
"Mr. Witherspoon is talking with Princess Carolyn, and Princess Carolyn runs in and is very hairy, and her dress is stained, and one of her shoes is broken, and Mr. Witherspoon says, 'You look like a woman from an 80's deodorant commercial.'"
I laughed out loud.
"There you go," Bob-Waksberg said.
"I guess I got the reference but it didn't really register with me. Seeing the reaction made me think, Oh, there are jokes that I don't get and that's okay. And not everything in the show has to be for me or catered specifically to my sensibility and that's the joy of having a writer's room because you get these different voices."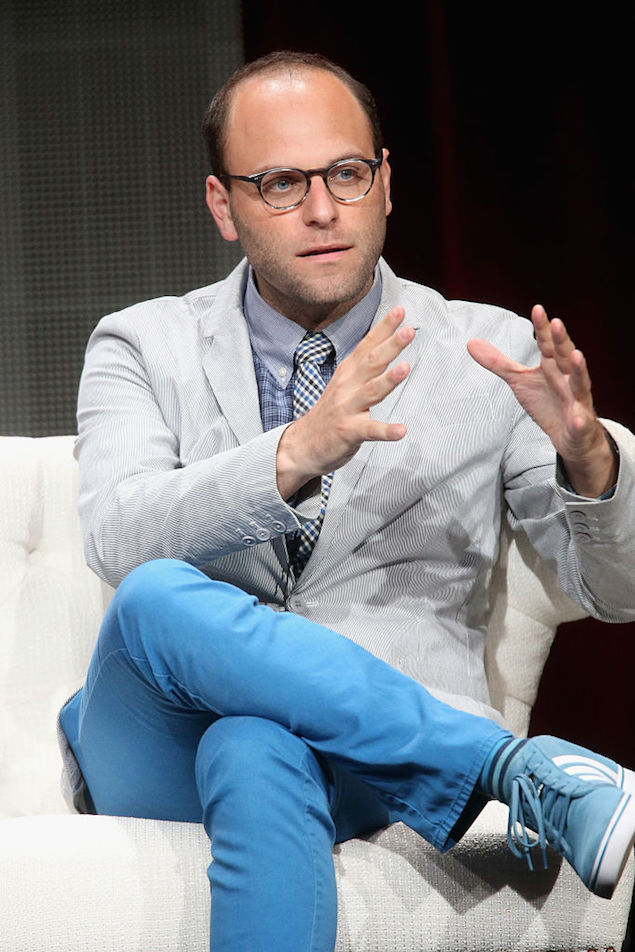 I was familiar with Bob-Waksberg before Bojack Horseman: he was one of the central members of the Olde English sketch comedy group, which formed in 2002 at Bard College.
You might know another Olde English alum, Adam Conover, from his show Adam Ruins Everything on TruTV, and Bob-Waksberg has continued to collaborate with the former members of the group."
"Adam, and Wave [Segal], and Caleb [Bark] have all been on the show, and Jesse [Novak] does the music. These are incredibly talented people. I'm grateful that I got to meet them, and use their talents on my show now."
I was a fan of Olde English in the way that maybe only middle schoolers can become obsessive about videos on the internet: re-watching them, quoting them endlessly to friends, and then getting to college and befriending anyone else who shared memories of those obscure sketches that we still somehow know every word too.
"I would say the other thing that really defined Olde English in a lot of ways but also defines Bojack is an interest in formats," said Bob-Waksberg. "I remember one time being like, I'd love to make a movie trailer that felt like a movie trailer. Because a lot of times in sketch comedy you watch a movie trailer and it feels more like a connection of long scenes more than an actual movie trailer feels like. Actual movie trailers are edited together really phonetically, and they don't necessarily give you too much of the plot, and you don't get a sense of long scenes."
(I knew, without asking that he was probably referring to this sketch: 'The Applicant'. Maybe it's nostalgia, but I say it holds up.)
"Or we'd say, you know what's really popular right now? These videos of people taking pictures of themselves every day for six years, so let's start with that. What would a parody of that look like, and how do we get comedy out of that form?"
[youtube https://www.youtube.com/watch?v=7Ya_vqEG8Eg]
The dedication to interesting formats—in telling a story within a constricting framework and still finding humor—has definitely continued in his work on BoJack.
"Sometimes we'll start with, what's a different kind of way to tell a story? In seasons past, [we asked] can we tell a story from Princess Carolyn's perspective? Or, can we do an episode that is just an episode of Mr. Peanut Butter's game show? Or, in this season, how can we tell a story without any dialogue? And that's really one thing that I definitely took out of the Olde English experience that paid off really well in working on BoJack."
I asked him whether he thought any of the old videos still held up, and it sounds like he gets a little embarrassed.
"It was like guys who were goofing around with a camera," he says. "I think there's some joy in that, but I don't know if any of that holds up per say. I mean, if I had to pick one, for a new audience, not someone who grew up with Olde English and has nostalgic feelings towards it, I would say maybe one of the last ones we did, one of our most recent. Maybe 'Breakfast At Tiffany's.'"
I'll leave it here for you to decide. I used to sing their version all the time.
[youtube https://www.youtube.com/watch?v=e1I-DScUGvw]
"The nature of being an artist in any field, but specifically in comedy, is that almost as soon as you finish something you hate it, and it feels dated, and not your best work," Bob-Waksberg said. "All of that stuff to me feels like so long ago, and I think it's good for what it is, and I'm proud that we did it, but if I watch it now, it feels like children made that."
Over the course of our conversations, Bob-Waksberg recommended a book by David Rackoff to me. One of Rackoff's essays "Isn't It Romantic," contains the following:
"As a child, the distance between desire and execution was a maddeningly unbridgeable chasm. What the mind's eye pictured and what the body could achieve were altogether different: those stubby safety scissors could only ever cut an edge that was ragged and inelegant; glitter was invariably swallowed up into the pile of carpets as if by malicious intent, like Charlie Brown's grinning, kite-eating tree; the dried macaroni we were forced to incorporate into designs didn't have the decency to stay on the page, despite the glue getting everywhere (even at age four I understood this to be the lowest form, the operetta of visual art). Regardless of the medium, everything at that age ended up a muddy, crumb-flecked mess."
The difference, is some children choose to continue to make things. Some keep struggling, and putting new things—blog posts, shorts, movies, TV shows—into the world until they're adept enough to take a show that can balance high comedy and animal puns, a story about a talking horse and his friends that shows more humanity than almost anything else in the world today.
Season three of BoJack Horseman is now streaming on Netflix