How has Instagram changed the way millennials are approaching plastic surgery procedures? "Our younger patients are showing me images they have of themselves or ones that they aspire to–from Instagram," said Dr. Stafford Broumand, plastic surgeon of 740 Park Plastic Surgery. His patients are also bringing in photos of Chrissy Teigen (7.8 million followers), Taylor Swift (86.5 million followers) and Karlie Kloss (5 million followers)—all Instagram favorites with huge followings, which isn't a coincidence. Dr. Broumand has seen what he calls a "dramatic shift" in procedures since the rise of Instagram. Patients want younger and less tired eyes, eyelid surgery, jawline surgery, neck liposuction, less wrinkles and fuller lips–especially the social media savvy ones.
Snapchat offers a glimpse into a celebrity's lifestyle, along with their expensive and intensive makeup routine; but Instagram is the far superior platform to show off makeup skills, especially since images can be heavily edited with apps Perfect365 (it's the self-proclaimed "best free makeover app," with people sharing their own before and after photos) and FaceTune. Search #makeup and 88,388,486 posts immediately appear, with regular, everyday folks demonstrating their elaborate routines. 
"I think with Instagram, people get a little bit carried away," celebrity makeup artist Ramy Gafni told the Observer, explaining that he'll meet social media friends and not recognize them because they look so different without the heavy duty editing.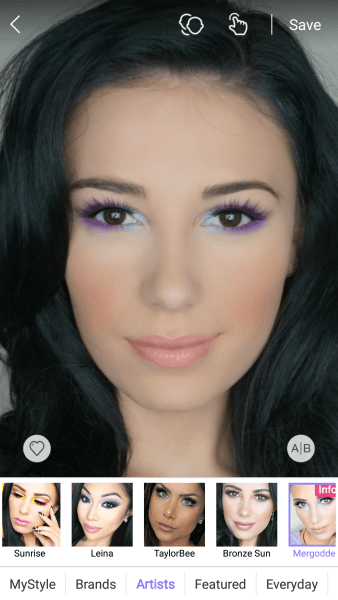 As Instagram has increased in popularity, a specific style of makeup began bombarding social media posts. It seemed impossible to scroll through a feed without seeing the Insta-look–heavily drawn eyebrows, contouring worthy of any of the Kardashian sisters and a heavy, matte liquid lipstick (usually courtesy of a Kylie Lip Kit). And now, the Kylie Lip Kit isn't all that the Kardashian empire is offering—Kylie's introducing an eyeshadow palette.
Ramy explained the current Instagram face started with YouTube tutorials. "Everything is a little bit exaggerated for dramatic effect on camera," he said, and after doing faces for Taylor Swift, Rihanna and Amy Poehler, he is an expert on camera ready looks. "You're going to wear a little big of a brighter lip color, [use] a little heavier hand with the brow filler."
"It's as old as Kim Kardashian's original face."
New trends are introduced to stay up-to-date with this Insta-makeup concept, but also to sell palettes and products. "There's nothing new under the sun," Ramy said, bringing up highlight, strobing and contouring as examples. "It's all marketing. It's all semantics, honestly. I've been doing this so many years, I've never seen new terms being cranked out like this." Ramy was recently asked to weigh in on "sandbagging," a powder technique using heavy, loose powder under the eyes so makeup doesn't run. When asked if it was new, Ramy responded, "It's as old as Kim Kardashian's original face."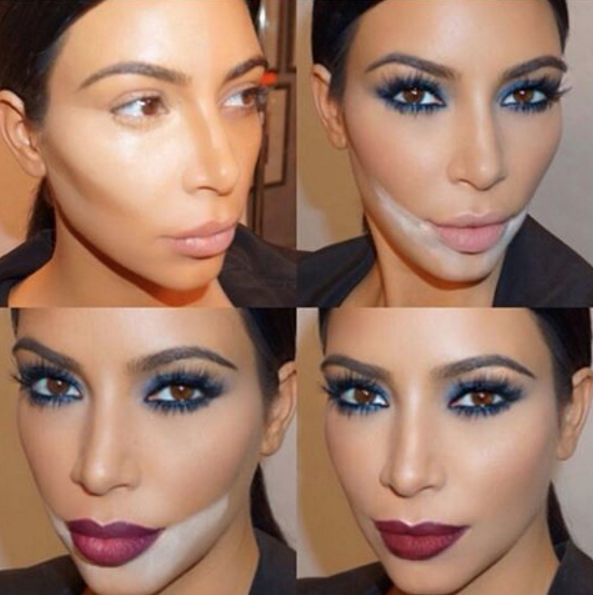 Ramy thinks some of the more elaborate makeup can be excessive ("Look at the palette I have, it's all on my eyes right now!") especially if the makeup artist is an Instagram amateur. "When I see that kind of makeup, to me it screams amateur…or drag queen, which is great if that's your objective—but unless you're RuPaul, there's really no reason to have that much makeup on," Ramy joked. He's a firm believer that makeup should enhance, not make it look like you've had plastic surgery. He prides himself on carrying only a few colors to a job, so he can mix and match. "Just get the one correct shade, it's all the magic you need," he recommends, instead of loading up on palettes you'll inevitably not completely use. 
"Unless you're RuPaul, there's really no reason to have that much makeup on."
"Instagram and beauty bloggers are usually artists who have only learned to master their own face, got a lot of compliments and decided to share their vision of beauty," freelance makeup artist Sami Heacock told the Observer. Heacock suggests people use Instagram to learn about makeup, but then branch out from there. If they continue following beauty bloggers, they won't learn what makeup looks good on their own face—and, everyone will walk around with the same badly drawn brows and highlighted cheekbones.
Enhancements, ranging from lip injections to eyelash extensions, have also grown in popularity since the rise of social media. Clementina Richardson of Envious Lashes told the Observer that Snapchat and Instagram have become one of the biggest drivers for new clients to pursue eyelash extensions, after hearing about her through social media.
"Women are always looking for ways to step up their Instagram game, take better photos and curate an enviable feed, without having to spend too much editing and filtering their images. Lash extensions help women celebrate their natural features instead of trying to totally change up their looks," Richardson said. Most customers are looking for Kylie Jenner or Kim Kardashian lashes–which, unsurprisingly, are also the bodies and faces most asked for by plastic surgeons, according to Dr. Broumand.
Narcissism is now not only accepted, it's expected. And if you stare at your face for long enough, you're certain to notice what's wrong, whether it's a wrinkle, a too-thin upper lip or lashes that could be just a little bit longer. Once you correct it using an app, what's the harm in correcting it in real life? With the right enhancements, you can finally be a filter come to life. As Amy Schumer says, like the Kardashians, we can now take the faces we were born with as a light suggestion.