In 2005, Daniel Arsham, artist and co-founder of Snarkitecture, put on an exhibition of his art in Paris. That exhibit hosted pieces including Building cut, a seemingly deteriorating building column made of foam, plaster and white paint. It also hosted a painting depicting a white staircase leading to nowhere, which, art critic Jeff Rian said, "recalled modernist architecture." Rian went on to say that the entire series looked "as if a former catastrophe had subsided over the ages into a fragmented but purer world."
Among other attendees at the exhibition was Hedi Slimane, the creative director at Dior Homme at the time. There was something in that show, likely the color palette and unique approach to material, that Slimane liked because later that year Arsham, along with Snarkitecture's other co-founder Alex Mustonen, debuted a dressing room installation featuring an excavated wall, for Dior Homme in Los Angeles.
"[The project] had architectural considerations which I was inexperienced in, at the time," Arsham told the Observer, about why he decided to bring on Mustonen, a fellow Cooper Union graduate. Mustonen majored in architecture while Arsham studied art. The work the two did together ended up being the beginning of a long-term collaboration garnering much fanfare. "We saw a niche between art and architecture. Snarkitecture grew out of that ethos."
Since officially founding the business in 2007, Snarkitecture has become a global name. In eight years, the duo has completed such projects as building a beach inside the National Building Museum complete with lounge chairs and a sea of translucent balls. They also debuted installations at Milan's Salone del Mobile, the largest furniture fair of its kind. Along the way, they've burrowed into a niche market in the fashion space.
"In the beginning it was a lot of people we were friends with," Arsham says of the firm's fashion connections. Of those people, the company has collaborated with Chris Stamp of Stampd, Ronnie Fieg of Kith, Richard Chai and Dao-Yi Chow and Maxwell Osborne of Public School. "It's been people we know from fashion coming to us for the type of work we do and the consistency we are able to bring."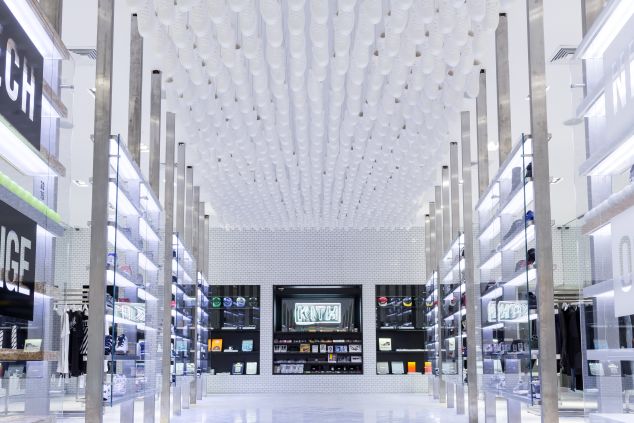 In 2013, Snarkitecture made one of its biggest Fashion Week splashes to date with the En Noir fall 2014 fashion show. Though the brand has since fallen on uncertain times, Arsham and Mustonen turned the Park Avenue Armory into a towering cavern utilizing fabric commonly used on construction sites to evoke the mood of a subway tunnel. This came only a season after building an all-black volcanic mountain for the same brand. Last year, the firm pulled off a $2 million redesign of the Kith Brooklyn flagship outfitted with herringbone marble floors, a cereal bar and a shoes-off VIP room. The centerpiece is no doubt the 700 white cast Air Force II sneakers hanging from the ceiling. This came as a part of a long-term collaboration that has seen Snarkitecture either design or redesign all permanent Kith locations.
"I feel like they are the most talented individuals in what they do," Fieg said of the decision to continually go back to the Brooklyn-based pair. So far they have redesigned Kith Soho and Kith Brooklyn in addition to helping to create the Kith Women's store, which opened in December. According to Mustonen, plans for Kith Miami are already in the works. "They provide perspective on architecture that correlates with what I do on the retail." But it's not just old friends that want in on that aesthetic. In April of last year, COS brought them to Salone del Mobile to debut an installation based on the fashion brand's spring collection.
"They reached out to us—just called the studio and invited us out to London to meet with their designers," Arsham said. "We've been told from clients before, you know, that for years photos of our works were showing up in their inspiration boards from their creative teams, they spotted a picture of our work online and just figured they would reach out." That meeting ended up manifesting itself into another cave of sorts, this time composed of white bands hanging from the ceiling. The project went so well that in November the two linked up again for a Los Angeles pop-up shop.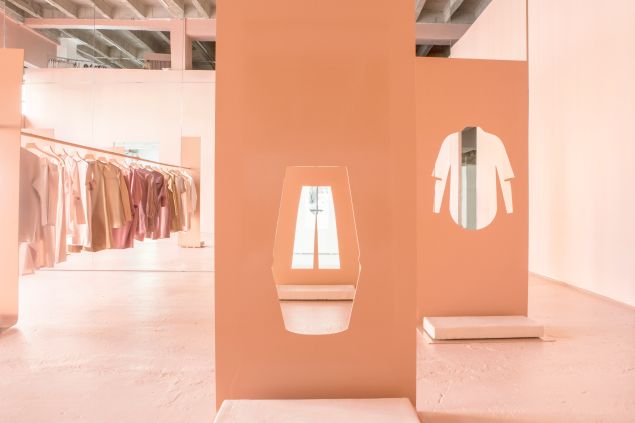 "There's something really important about the physical experience," Mustonen said. In addition to Kith stores and the COS pop-up, the April-opened Stampd store in Los Angeles was the work of Snarkitecture. To create that location they used the rough-hewn backside of Turkish travertine, which Arsham calls the "base material" for the city of Milan. "Whether it's being in one of our retail projects or one of our installation projects, or for that matter, holding one of our objects, the physical experience is important.
"Our goal with those Kith projects or even the Stampd project was to create spaces for those brands that are very different from their online space and their competitors in the market." Mustonen continued, "We're really able to elevate the experience for the customer."