It's no secret that the direct-to-consumer model in the fashion space is extremely saturated. Online shoppers can now order whatever they want, bypassing traditional retail channels and receiving wool sneakers, top-of-the line face wash and even fine jewelry, thanks to this forward thinking (and cost saving) business model.
So how does a company, with a cool product and a target market focused on millennials, differentiate themselves from the pack? Alex McBride faced that exact question when launching his range of affordable timepieces. The Austrialian-born blogger, who started the brand with Gretta van Riel, wanted to add extra value to his watches, all while keeping the price low and offering customers an experience. That's how his brand, The Fifth, came to be offered for only five days each month.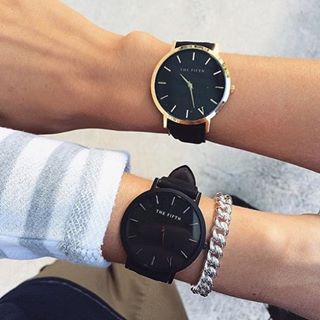 On the fifth of each month, the e-commerce site is opened to customers and at midnight on the tenth, the shop is closed, until the following month. If you visit the website between those dates, a countdown pops up, revealing the time left until the next batch of merchandise, most of which costs between $100 and $200, is available.
"By selling each month for five days, we are able to offer that exclusive experience often associated with higher price-tag designer items at an affordable price; putting the designer experience within reach for our customers. It's not price point that makes the 5th exclusive, its time," McBride, 26, told Observer. Fittingly, the brand's tagline is: "Time is: What We Make It."
While it might seem a bit inconvenient for customers to only have a five-day window during which they can scoop up sleek black on black timepieces or delicate rose gold and pink leather watches, it actually allows The Fifth to foster their relationship with the customer. For five days of each month, sales is the number one goal, the rest of the days are dedicated towards building and fostering the community that surrounds the brand. In a way, the brand's relationship with the customer helps shape their product offering, which currently includes two styles: Melbourne Minimal and New York Classic.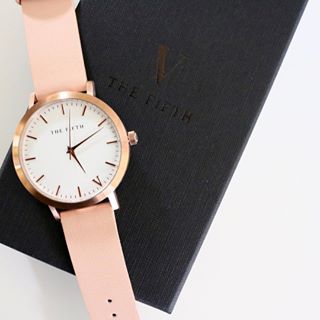 "So many brands release products without testing the waters first and then wonder why nobody is buying their product. We've flipped the process on its head by creating an audience before we create a product," said McBride.
The success of those actions can be found through the brand's social media following, which numbers nearly half a million followers on Instagram and over 160,000 on Facebook. On their busiest day of 2016, The Fifth sold 20,000 watches and they've accrued a waitlist of 250,000 for their various styles.
Based on the success of their timepieces, The Fifth is now branching out into other accessory options, including backpacks for both men and women.
So why make the jump from watches to backpacks? McBride explained: "We asked our community what they wanted us to do next and the feedback was overwhelming clear: they wanted more! When we dug a bit further to ask for specifics, bags was the top voted answer." This month, customers can buy backpacks, but stay tuned, as more launches will be revealed as time ticks on.