A Bill Cunningham piece he made for Refinery29 with turnip, swiss cheese, tomato and eggplant.
(Photo: Harley's Food Art)
Iris Apfel made with turkey breast and red cabbage.
(Photo: Harley's Food Art Instagram)
A "healthy Peacock" made with eggplant, turnip, squash, blueberries and limes.
(Photo: Harley's Food Art Instagram)
Doug the Pug made with brownie batter and Oreos.
(Photo: Harley's Food Art)
Anna Wintour in the front row, made of red pepper flakes and Sriracha.
(Photo: Harley's Food Art Instagram)
A Marchesa gown.
(Photo: Harley's Food Art Instagram)
Matzoh Instagram for Passover.
(Photo: Harley's Food Art Instagram)
Two jelly bean swimmers looking very Hamptons inspired--they just need a unicorn float.
(Photo: Harley
A NYFW piece for Refinery29.
(Photo: Harley's Food Art Instagram)
Langberg creates emoji cookies.
(Photo: Harley's Food Art Instagram)
A birthday present for Kate Middleton.
(Photo: Harley
"I was at Chelsea Market one day and I saw this food artist who had a whole photography show on the walls and I was so fascinated. I had never seen anything like it and I had always had a strong interest in food," said Harley Langberg, a native New Yorker who unexpectedly became a food artist directly after the exhibition. "I have a bit of a background in food and art, so I thought this was just a natural thing to try my hand at. I was already in the market, so I thought why don't I just grab some ingredients?" Langberg explained–and so his Instagram account, Harley's Food Art, was created. Now, he has more than 40,000 followers and collaborates with major brands on pop culture posts that look unexpectedly fresh and delicious.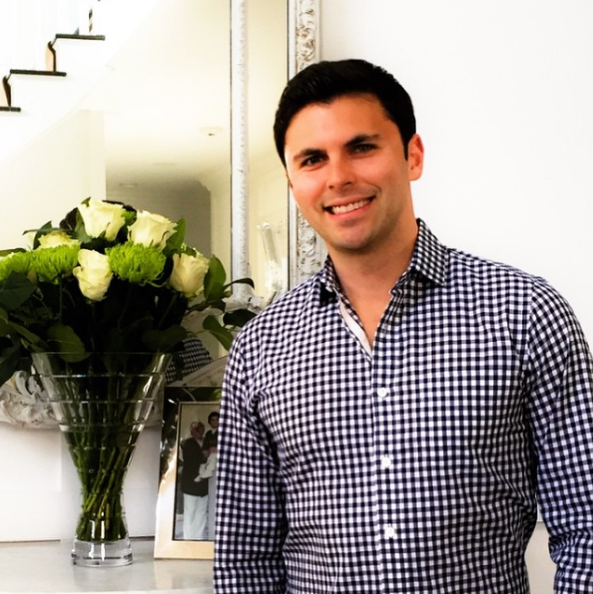 Langberg, who spent time at culinary school during high school, worked in a restaurant and considered majoring in art history. After graduating from Northwestern, he found a creative outlet and the ability to combine his interests with #foodart, a previously existing hashtag and movement, with its own collection of celebrities on Instagram.
"I first choose the piece, then I study the piece and I try and match up the colors and the textures. I'll think about what ingredient I want to use, because every ingredient has a different texture," Langberg said, explaining his process. He keeps an album of photos he wants to re-create on his phone. "It generally revolves around either a celebrity, a famous artwork, some sort of landscape or pop culture," he said. He focuses on well-known characters, current events, or wacky social media holidays. His most popular posts have been Kermit the Frog (otherwise known as tea lizard), Starry Night, The Dance by Matisse and Snoop Dogg, featuring high/low culture at its finest. "All the pop culture pieces get a tremendous amount of likes," he said.
"I hate candy. I don't like Oreos either, which is weird because those are the main ingredients I work with. I love candy because there's so many different shapes and the colors are so vibrant. I currently have 14 different boxes of Oreos inside my apartment–all the limited edition flavors. My roommate wants to throw me out," he joked. When he isn't working with candy, he'll cook with the ingredients, repurpose them or use them for a different piece.
Langberg partners with Portraits for Good, founded by his former classmate at Horace Mann, Alix Greenberg, to sell his prints online. Insta-fans can buy his art work for their walls (or their kitchen), and proceeds are donated to a charity of their choice. He's sold Picasso pieces, candy swimmers and Jon Snow coffee portraits. While many of his most liked images focus on literally consuming pop culture, Langberg doesn't watch television. "I sold a couple of Jon Snow because he's trending. I don't know if he's dead, alive. I don't watch that show," he said. Most pieces are planned well in advance, unless it's an event that just occurred, like the Orlando tragedy.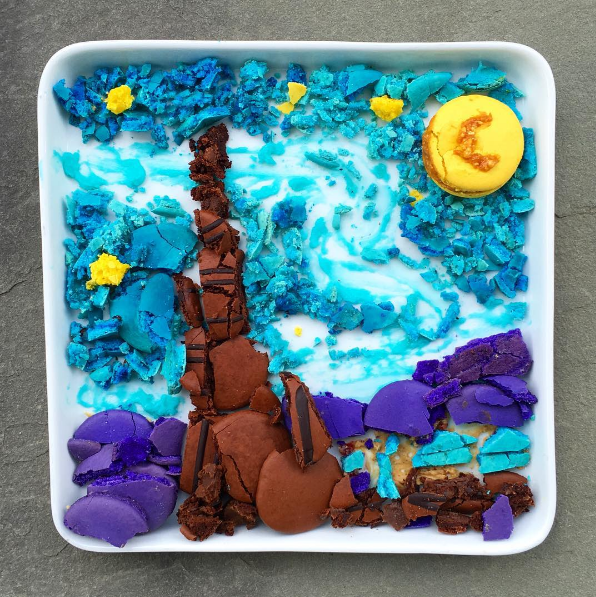 He creates food art two to three times a week, and posts almost every one he creates. "In certain cases where it's really bad, I won't post it," Langberg divulged–but luckily, that rarely happens, especially as his style has matured. Now, he peruses farmer's markets, local grocers and Whole Foods for his posts. "I'm about getting the freshest ingredients–paying premium. I like getting organic, everything fresh," Langberg said. He's worked with dragon fruit, cotton candy and taro, and usually walks into a nearby Whole Foods with a picture, to get the colors just right. His most challenging ingredient has been Oreos, which he works with constantly. "You have to deal with the temperatures and the environment–the cream can get all sticky and hard," he told the Observer. He tends to avoid condiments, which melt on the plate before he can photograph them.  
Langberg's first spotlight was by Refinery29 for Fashion Week. "That was what escalated me from zero to 5,000 followers in four days," he explained. He went on to collaborate with Whole Foods, Dylan's Candy Bar and It's Sugar. Like many New Yorkers, Langberg has what he describes as "a really tiny kitchen," but said, "I don't need a lot of space. I just need my cutting board and the white plate," proving that having a small kitchen is no excuse to Seamless dinner seven nights a week. If Langberg can create candy impressions of Anna Wintour, Iris Apfel and Bill Cunningham in a tiny space, it's possible to make dinner, even in the smallest kitchenette–but if you're not quite as talented, there's no need to hashtag it #foodart.