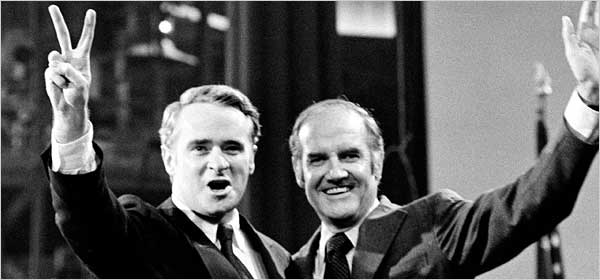 George McGovern's selection of Thomas Eagleton gave the world a great political phrase: "I'm behind him 1000%" supposedly uttered by McGovern just before he went behind closed doors and ordered the vaporization of Eagleton from McGovern's 1972 presidential campaign.
The incident illustrates the importance of a prez candidate sticking the landing on the VP pick. Discovered to have undergone shock therapy earlier in his life, after having already appeared onstage at the convention and gone on late night television as McGovern's running mate, Eagleton meekly bowed out of the contest, dragging some McGovern credibility with him.
Richard Nixon, of course, would go on to bury McGovern (receiving no succor from second choice VP candidate Sargent Shriver) in the general.
Who among the following is least likely to present an Eagleton-sized, 1000% headache for HRC: Cory Booker, Tim Kaine, Tom Perez, Julian Castro, Tom Vilsack, Elizabeth Warren, John Kasich, Admiral Stavridis, Wesley Clark, or John Hickenlooper?
For more, go here.