When Joaquin Cotler plays improvisational blues piano, sometimes he breaks the music into big pieces, and sometimes into small. The large and small cascade, with a ripple, into a stately hurtle, neither charming nor grisly, whatever the gloom, the joy, or the considerable delicacy involved. The hurtle lets go of a throaty pulse-song from a slow, somnolent smash, aggrieved, exultant. I hear something bleeding. I'm quite sure of this.
Cotler makes music only after breaking it, with true relish taken from that accomplishment. Now, finally, I understand: breaking something before making something is exactly what any intelligently original person does and should do with a tradition. The idea, an old one, feels new to me now, new as a rashly discovered fact, because Cotler's execution of the idea is, in an entirely nuanced way, so very physical. This I learned with a start on the night when, with various incarnations of the blues song "St. James Infirmary" already dancing in my ear, I realized suddenly Cotler was playing his complexly incantatory version of it. The closely stitched, swirling polyrhythms of the Brooklyn rendition made me lose my head.
Some of the music in Brooklyn sounds purely derived and derivative to me. Or, impurely so. In Brooklyn, imitators are imitating imitators, who were already imitating other imitators. The problem isn't just all the ukuleles being plonked in Bushwick, year after year. The problem isn't too many beards with bowler hats, tipped above. (The same bowler hats and beards are found in Maplewood, Missouri.) For, no matter what the objections to imitation, music must refer, after all, to a precedent. It's about drawing and redrawing the line separating imitation from invention.
Imitation in Brooklyn seems to be trying too hard sometimes to sell itself short, maybe because Brooklyn now costs a little too much. Trying too hard is a losing proposition in art, even for the sake of a livelihood. The trick is to locate exceptions to that tiresome rule of indebted imitation—exceptions which may help to redefine the present, the future, and the past, even. That's why I prefer Cotler and his Brooklyn. For a year or so, I've been looking for more like him.
He lives in Bedford-Stuyvesant, and plays here and there.
To know what Brooklyn is now, you'd really have to hear it.
Whenever I end up liking what is called, optimistically, "new music," meaning music that's presumably ahead of its time, this is partly because, if left to my own devices, I could probably never have imagined that music. All I can do is to listen to it.
Left to myself, I most likely could not imagine a Bach partita, either. Yet the conventions of Baroque music have themselves become familiar. Even when eavesdropping on a partita I have never heard before, I can predict it. I can hum along.
By contrast, what is called, with gumption, "new music," remains very much a work in progress. I can't build it, but perhaps I should. I can't build it, but if only I could! Therefore, I hear it with a certain tingly suspense. Innocent as com, I tend to my ear alone.
When I hear new music and like it, I can almost never describe it, which I like as much as I like the music. When I hear new music and like it, the music does not seem to be describing anything, either. Yet it may not be irrevocably abstract in its impact or aplomb. At its best, the music seems to be both unbeholden and unlimited. It creates, or can create, its own style and meaning. I can't find the source. I can't find the referent. I can't anticipate what comes next. Usually, too, I can't remember it.
When I hear "Oblique Music for 4 plus (blank)" by Jason Treuting performed for the second time in only a few weeks, I try to envision what the music might be describing. I do not envision Brooklyn. But maybe I should. For that is where the music comes from. This music is Brooklyn, regardless of opinion. To know what Brooklyn is now, you'd really have to hear it.
Brooklyn is, among other things, the base for So Percussion and for Treuting, at 20 Grand Avenue in Williamsburg, where tall rabbinical men patrol the boulevards. When I show up at the So studio on February 18 for a "Brooklyn Bound" concert, featuring the So quartet and a guest, the place is packed and ecstatic, teetery with musicians who've flown in from all over, apparently.
My first thought on walking in is, "It's Westbeth!" But, no: So is counter-institutional. For oddly prolonged moments I find myself studying the inside door of the studio, where interns and visitors havé scribbled love-notes in pencil, and where a photograph of the young Cage and Cunningham dominates. Affixed precisely at the center of the door, they beam, so primordially gleeful that the faces flicker in my mind still.
Treuting serves as a founding member of So. When I hear "Oblique," it is played both times by So with Jack, another quartet. Expressing a warmly grave clarity of symmetry that's hard to miss, "Oblique" is about music singing to itself. It inquires, and then it answers, again and again.
The symmetry emanates from a two-note stroke that provides the music with its evocatively minimalist basic structure. Minimalism's power to evoke tends to be underrated. What does the reiterative plangent stroking of "Oblique" suggest, at least to me? The voice of a sorrow, saving itself by saying itself. The players bow, either vertically (the four percussionists) or horizontally (the string quartet). As the strokes accrete with a gratefully severe abundance, so does the slow, somber visual impact extend itself, almost prayerfully. This is about the unity of unison. It is about an agnostic fidelity. The musicians in Treuting's majestically sonorous writing are touching something, in order to touch something.
"Oblique" is also about more than that. It's about continuing and continuity. It is about building something to last without neglecting its mercurial core fragility. In it I overhear Treuting saluting Steve Reich. Still, the greeting to Reich asks Reich to yield with tact to Latin rhythms, rhythms which may come to us courtesy of Copeland, and it asks Reich to yield as well to a contrarian crescendo, as if So were informing him, with a spry, exclamatory thank-you; Yes, we have found our freedom—our freedom even from minimalism. We are.
I do not sing. I never sang. Of course, I could. (I can.)
In September of 2014 at the Brooklyn Academy of Music in Fort Greene, I waited in line for three hours in hopes of cadging a returned ticket so that I might hear Reich's "Drumming," on the bill with work by Philip Glass. Only one ticket was returned, and it went for a steep price to the man in front of me; I was second in the line. When, to my astonishment, the box office released five free tickets at the very last minute, I found myself perched in a lower-tier front box, closest to the stage, with an ideal view of the utterly entrancing dance-like proceedings.
Just before "Drumming" commenced, Philip Glass stole into our box by himself and discreetly took a seat. Although a Manhattanite might cynically hope he'd start texting, this once-and-future Brooklyner observed with interest as Glass sat in stark, silent immersion for the complete forty-minute duration of "Drumming," exactly like an acolyte.
I've begun to open up a portion of unoccupied space in my imagination to the singer.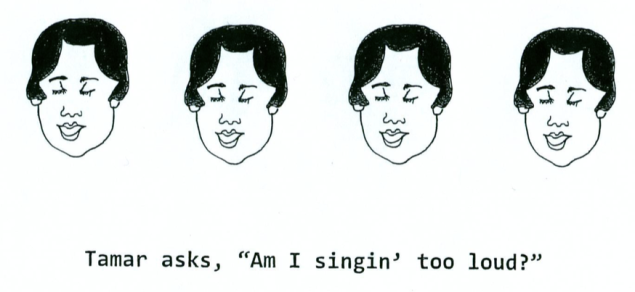 What is the difference between a song, a scream, and a weeping wail? I've been wondering lately, since beginning to explore the craft of the wail and the scream myself. I'm an amateur at this. I do not sing. I never sang. Of course, I could. (I can.) But I never sang meaning it.
Maybe that's partly because I begrudged American folk singing at a time when it was considered wise to worship Joni Mitchell and Judy Collins. I was, I know, too resentful a skeptic. But over the rainbow didn't want me. Perhaps my aversion to songsters grew by leaps and bounds merely because I learned too quickly to despair of opera, despite certain exceptions. Regardless, recently I've begun to open up a portion of unoccupied space in my imagination to the singer.
One of three people is particularly responsible for my change of mind: Jeffrey Gavett. Another is Tamar Korn, who sings jazz most Mondays in Brooklyn with Brain Cloud. In August I heard her own ensemble there, Komucopia, and noted once again Korn's piercing lucidity and her antic lyricism in scat and more. She improvises without seeming ever to try, although Kom has credited the impulse to painful personal history: her father and his parents were imprisoned in a Stalinist gulag, and improvisational music represents to her "a Houdini escape."
When I spoke to Korn after she sang in August, she attributed the unearthly zeal of the set just passed to "this beautiful weather" for making the evening especially "intense." Yet I find her singing fiercely spritely nearly always. When she sings, she smiles. Still, I hear a sadness in the merriment, because, as I scrawled that summer night in my notebook, "Musicians are mysterious to me. They are always transitory. The transition is the place where they live. That place is in between, where no one else can live."
I don't know how Jeff Gavett would answer my question about how song, scream, and wail differ. Yet I'm confident he could phrase any sound, or any sequence of sounds, imaginable or unimaginable, and make singing into something it wasn't before he opened his mouth. In his courage he resembles Cotler at the keyboard, although Gavett is more strongly wooed by uncanny musical extremes. I first heard him at Roulette in Boerum Hill during an installment of the annual Resonant Bodies festival on September 11, 2015. That feels like last Friday. It keeps feeling, in fact, more and more like last Friday. I doubt I'll lose the feeling anytime soon.
What Gavett did with unblushing faith was to fill his 45-minute program entirely with newly commissioned a cappella songs, none of them evidently performed in public before. At Roulette, a big, dark space which also played host some weeks before to the remarkable Lukas Ligeti birthday concert, Gavett stood up all alone and enflamed any waiting ear with a giddily inventive Joycean tumult of hyper-articulated vocal sound. I believe it may have meant nothing. It meant nothing I could ever translate or explain, not even by resorting to a conventionally sparkling retinue of appropriately luminous metaphors. It was music. It was music, an abstractly expressive bolt from the mind.
This March I heard Gavett's chamber ensemble, Ekmeles, with Yam/Wire at the DiMenna Center performing new music by Columbia University composers, including exquisitely sensitive settings by Ashkan Behzadi for three Samuel Beckett poems. I found Gavett again on March 26 during the two-day American premiere in Manhattan of Karlheinz Stockhausen's "KLANG," in which he sang with saturnine chutzpah "ORVONTON," voicing the composer's ironically pedantic commentary on his own composition. Gavett's satanic alacrity convinced me he'd composed it himself, divulging every orotund nicety.
But his true moment happened in the less ballyhooed corridors of musical Brooklyn.
I changed my mind about a lot, which is my definition of musical time well spent.
I'll admit that Barbes, where the whiskey even now costs only six dollars a glass, sometimes lets me down—for example, when a band supposedly devoted to the washboard plays hardly any washboard, opting instead for arch faux-folksiness of an aggressively smug, infuriatingly preening sort. Still, when Barbes curates a truly rare musical event, no one does it better. March 24 brought five oud players and their ensembles there in what was billed, justifiably, as an Oud Summit, the second of its kind. The oud, which may sound to American ears rather like a copacetic cross between the cello, the banjo, and the bass, is closer kin to the lute, but sounds resonantly deeper.
Williamsburg is filled to the brim with all kinds of music.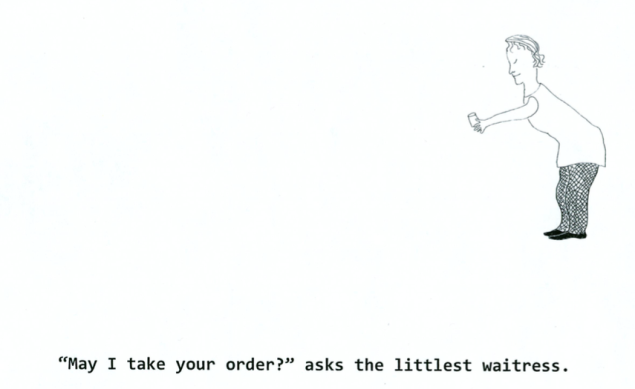 I caught the F train in part to hear Brooklyn-based oud player Adam Good, hoping that for once he'd take the stage as a soloist. He did not. He played with Jenny Luna and Eylem Basaldi in their trio, Dolunay. But I stayed five hours for another reason: great though Good is as a subtly tonal musician, the evening just kept getting wilder and stranger after Dolunay opened it. I changed my mind about a lot, which is my definition of musical time well spent.
For instance, the acoustic oud, which I had preferred, is not necessarily superior. Two, the move toward a musical fusion of seemingly disparate traditions can be exceptionally provocative and exhilarating. Three, a string instrument can also act as a surprisingly powerful, stirring mode of percussion, partly because in oud-playing the plucking hand can tend to "punch" the melody. Four, if the strokes of a melody sound unfamiliar, as some Turkish oud melodies strike me, then listening to the wordless story they seem to be telling can help.
When Mavrothi Kontanis played two drinking songs, one of them an ode to ouzo, I concluded that a just barely blithe version of nostalgic melancholia might be at the heart. Five, it is possible that the phrase "fluttering liquidity" can actually describe what the fingers of one hand are doing. They belonged to the Canadian oud virtuoso Gordon Grdina, whose taste for enthrallingly rhythmic moments of unison and of caesura enchanted me.
Six, I was kept busy by warily trying to grasp what separates or unites melody and rhythm in this instrument. I've waged the debate before, especially when listening to French Impressionism, Baroque lute music, any kind of harpsichord, or St. Louis blues piano. But the ouds I heard in Park Slope opened up the argument all over again, indelibly. Can music suggest that rhythm is the same thing as melody, or very close to that? The feeling upon observing this trend in any music is inexplicably profound, indicating the ability in music and musicians not only to play or build, but to change and transform.
Speaking of transcendently generous world music. Park Slope also hosts the annual Zlatne Uste Golden Festival of Balkan music for several days in mid-January, including ouds. Here the all-boroughs New York City crowd, hustling on a Saturday night into a former mansion for six or more continuous hours of 50 or more bands playing, often simultaneously, shockingly drops the hustle and grows incongruously peaceful. Socially this is another planet, lulled and loved by an unholy abundance of irregularly coiled and uncoiling Balkan rhythms.
Despite the crush of people and the flailing sounds, I carry with me from my Golden sessions a single gleaming facet: Zulal, an all-girl a cappella Armenian folk trio consisting of Yeraz Markarian, Anais Terkerian and Jeni Apelian. Their tightly synchronized lilt and hush charm me as much as their tunefully flaunted sung gossip. The fugitive whisper seems never far away, inherent in this music, perhaps because breathing itself is beautifully, conspicuously implicated audibly in nearly every note. When the singers inhale before singing more, that, too, is a sort of song. Anything they utter seems meant for safekeeping in a locket lying close to the heart.
Although not Balkan, the Jewish folk music of northern European klezmer, named raysn, first caught my ear with a similar ferocity more than a year ago at the Brooklyn Folk Festival in Brooklyn Heights, which I attended mainly to hear the raysn ensemble Litvakus, led by Dmitri Zisl Slepovitch. But not until I heard Litvakus at Jalopy late this March in Red Hook did I appreciate fully how distinct this music is from the southern European or Americanized counterparts of klezmer. When Slepovitch plays an archaic wind instrument dating from the Renaissance, for instance, the music sounds a low, raw bleat, or a pummeling high squeal, animating the song with an emergency alarm, and conveying far more than American klezmer's conventionally foreseeable exuberance.
Slepovitch defines his work as a preservationist by summoning the word "mitzvah"; at Jalopy he referred to his doctoral research, conducted both in St. Petersburg and in his native Minsk, where he matriculated at the Belarus State Academy of Music, as a rescue attempt for a culture now vanished. Litvakus conserves and reinterprets that.
The reclaimed-pew seating of Jalopy, and its old-fashioned carved-tin ceiling, give the space the feeling of a warm Vermont bam, minus the hooves of bovines. It was good to hear that Slepovitch composes some of his own klezmer music while riding the F and Q subway trains over the broad expanse of Brooklyn.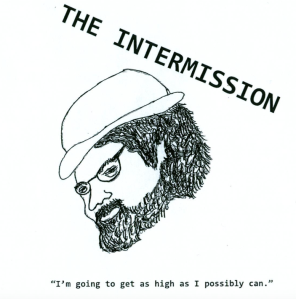 Williamsburg is filled to the brim with all kinds of music. So it makes perfect sense that National Sawdust, a new performance venue devoted to music, came to roost there less than a year ago. National Sawdust, housed in a renovated sawdust factory, and ordained by a complex array of curatorial objectives, assignments, and administrative officers, offers a space that feels intimate yet seemingly widens to fit a curious range of artistic occasions. And so, when the duo piano team of Anderson & Roe arrived to play Stravinsky's piano arrangement for "The Rite of Spring" on March 9, and the audience lounged with our wine glasses very close to the grand piano, we breathed a marvelously immediate musical atmosphere.
I'll confess, I prefer ZOFO, the piano duo of Eva-Maria Zimmermann and Keisuke Nakagoshi; they played the same "Rite" in Zurich on December 4, 2015—and, needless to say, I missed it. When, by the way, will Taka Kigawa decide to play all four hands by himself? I believe he could; he's one of the best pianists ever to traipse New York, and with just the right repertory to conquer Sawdust. But the theatrical musicality of Anderson & Roe enjoyed its own impact.
While listening, or before, you can explore visually the intricately abstract enclosure without ever feeling obdurately enclosed.
For me the impact of Anderson & Roe owed something to the setting.
Sawdust's black-and-white mosque-like paneled ceiling and surrounding walls present the eye indoors with a seductive opportunity for tested repose. While listening, or before, you can explore visually the intricately abstract enclosure without ever feeling obdurately enclosed. The patterns never pall, partly since they never end, thanks to the way they swivel somewhere between the symmetric and the not so. These are lines to follow, with just enough diagonals. The shadows matter, altering apparent details of scale and adjusting one's assumptions about what it means to be large or small. The state of mind inspired by the physical place is induced by a new sky, a fresh set of unlimiting limits.
The playing of "Rite" by four hands at one piano was disciplined, detailed, dynamic, energetic, and honest. The rhythmic plunging so important to "Rite" as both music and as Nijinsky's dance found a perfect visual embodiment in those hands. I did miss the melodic entreaties and the recurrent threats of a Stravinsky orchestra. But I hadn't long to wait for that.
On March 29, Sawdust launched a "Rite of Spring" dance party, with an actual orchestra in attendance, for the paying ($25) public. The website cheerfully announced, "[Y]ou can find yourself in the Glorification of the Chosen One and dance to exhaustion in the Danse Sacrale," and enticed, "Experience the visceral power of this music like never before in a night not to be missed!"
Played by the Experiential Orchestra under the baton of James Blachly, the dance party attracted fifty or so willing participants, none of them (luckily) professional dancers. From preteens to fifty-somethings, they responded to melodic invitations with sinuous arm movements and to Stravinsky's notoriously difficult rhythms by stamping their feet.
I feel they were all much safer without me on the dance floor with them. For receiving and expressing Stravinsky by my body could have meant only this: fly and die. Hurl. Strike. Please remember, a maiden dances herself to death here, at the urging of her friends and family. Possession by the music is its objective, which brings violence. Stravinsky may have written it from the paradoxical security of an Alpine garret, overlooking the tidy monotony of neatnik Swiss tiled rooftops. But he wrote to the tune in mind of Russian spring ice cracking. When he did, he was ready to die, possibly.
Brooklyn wasn't.
Molly McQuade is a writer, editor, and illustrator whose books include An Unsentimental Education (University of Chicago Press). She received a National Arts Journalism Program fellowship at the Columbia University School of Journalism from The Pew Charitable Trusts. Her writing has appeared recently in The Baffler and The Yale Review.