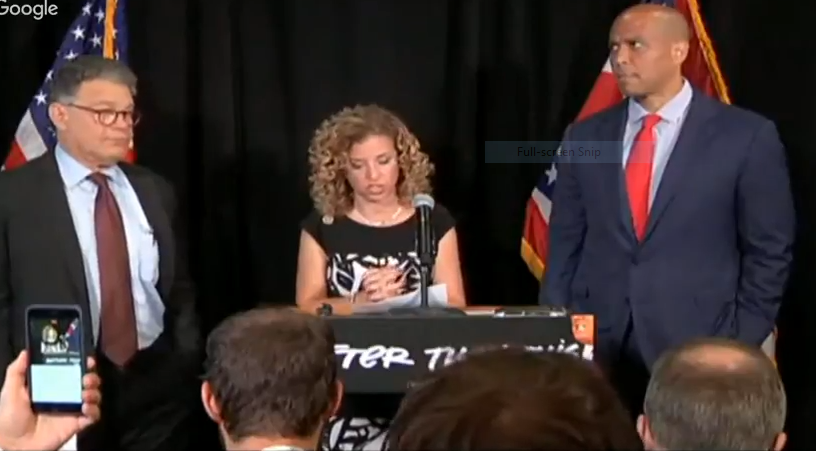 U.S. Senator Cory Booker (D-NJ) appears to have lost the who-can-stay-in-the-VP-conversation-longer contest to Gov. Chris Christie, who apparently made it to the final three last week before Republican prez candidate Donald Trump selected Indiana Governor Mike Pence.
But a choked-voice, dismayed, attack dog tonsil-teasing Booker showed up in Cleveland today anyway to take a few Democratic National Committee-sanctioned shots at the GOP and heap love on Clinton, while letting U.S. Senator Al Franken (D-Minnesota) land the surgically aggressive blows on fellow New Jerseyan Christie.
Initially in most top ten VP conversations for the Democratic team, Booker inserting himself into the cavalcade of Cleveland GOP cacophony came as Clinton apparently sizes up short list choices Tom Vilsack of Iowa and Tim Kaine of Virgina. That didn't dissuade Booker from a Richard Branaugh Henry Vth-sized effort to exorcise the Salemesque fervor he said he sees at his rivals' convention.
At first, Franken swatted specifically at Christie for stirring the anti-Hillary Clinton crowd two nights ago into chants of "lock her up, lock her up." This morning Booker threw a few outraged loose elbows the day before Clinton makes her choice official, before launching into a full-fledged oration and audition, complete with Spanish-speaking aside. The acerbic Franken skidooed as reporters directed all their questions at the former Rhodes Scholar medium-sized city mayor turned U.S. Senator turned – for a time, at least – into Veep fodder.
Without mentioning Christie's name (until pressed – to his apparent consternation – by New Jersey reporters), Booker did double down on the woe he felt at the sight of that convention crowd inflamed by old pal Christie's rhetoric. "It's been one of the more disappointing experiences of my life. I was not coming to Cleveland, but I had to be here," said Booker, flanked by Franken and DNC Chair Debbie Wasserman-Schultz of Florida.
"It has been a difficult election for me to watch a party nominate someone who has been so discriminate with his degrading language," said the junior senator. "I sit at home and watch a convention that reminds me of those [much-criticized Trump] rallies… These chants of 'lock someone up,' 'take away their liberties,' that's why we had a revolution in this country. In the spectrum of these things spewed in this convention, that's one of the least offensive."
The auditioning senator called Clinton "one of the most intelligent people" he knows, and "a deeply faithful person."
"Before you preach religion, show it to me in how you treat other people," the church-steeped senator said. "I wish I saw love, I wish I saw love. I wish I saw some Christian kindness. I wish when I saw someone saying 'stone a woman,' I wish someone would have stood up."
Bergen Record columnist Herb Jackson asked Booker if he called Christie to communicate his disappointment. Booker said he was too stunned to make the call, but did denounce the "whipping people up" that Christie engaged in on the podium Tuesday night.
Although the Vilsack and Kaine vectors noted in published reports seemed to spell last gasp optics in Booker's appearance, a report today in the Washington Post suggested that Booker remains robustly in Clinton's mix.