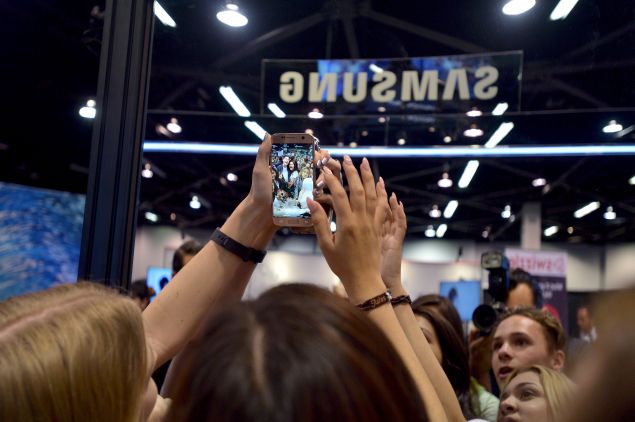 For years, I've had an immediate response when people ask me what smartphone they should buy: an iPhone. But the answer is no longer clear-cut.
True, the iPhone as a rule is still easier to use, more secure and tends to get the best new apps first. But the best Android phones—and there are some good ones out there—have surpassed Apple in a number of areas, and are closing the gap in others.
It's been almost seven years since I reviewed a new wireless phone called the myTouch 3G. The phone itself was instantly forgettable, noteworthy only because it was one of the first generally available devices to run the Google operating system. That first generation of Android felt like a cheap knockoff Apple's iOS software, clumsy and with a limited number of apps.
Flash forward to 2016, when I've been testing a pair of current Android devices, Samsung's Galaxy S7 and S7 Edge. My goodness, how things have changed.
These are two of the best phones I've ever used. While earlier Samsungs could be plasticky and cheap-looking, these are beautiful, solid and powerful. Hell, they're even waterproof. And the version of Android they run, called Marshmallow, is the best flavor yet—polished and intuitive, with an enormous selection of apps.
The two phones are similarly sized; the Edge is a little bit taller, a little bit wider, and a little bit heavier, while the regular S7 is a little bit thicker. The standard S7 ($670) has a 5.1-inch screen—making it larger than the iPhone 6s—while the curved-screen Edge ($780) is 5.5 inches, the same as the iPhone 6s Plus. Both of them have markedly higher-resolution screens than the iPhone, though in a handheld device it's sometimes hard to make out the difference.
Compared to my iPhone 6s, the Galaxy S7:
features wireless charging;
charges more quickly;
has better cameras, at least for taking pictures in low light;
can survive for half an hour in a few feet of water;
and has an SD slot to allow expansion of its storage capacity.
As for Marshmallow, besides its deep integration with Google's suite of services, it supports Android Pay—Google's answer to Apple Pay, based on similar technology—and makes better use of the Google Now digital assistant, among other refinements.
So, am I ready to revise my longstanding advice to go Apple? Not quite yet. As nice as these latest Samsung phones are, and as sweet as Marshmallow is, the user experience is still less than the sum of its parts.
One problem—not as bad as in the past, but still a problem—is the continuing competition on many phones between Google's standard Android suite of apps and services, those of the phone's manufacturer and often those of the carrier. After all, how many email clients do you need? How many different services for cloud storage?
The Galaxy devices, for instance, feature not only Android Pay but Samsung's own payment scheme. Samsung Pay is arguably the better of the two: It works even with payment terminals that aren't enabled for NFC, the tap-to-pay technology both Google and Apple use. But it's still crazy that the phones feature multiple sets of redundant apps.
Sure, you can for the most part can delete or at least disable the unwanted ones. But who wants to feel that their shiny, expensive new phone is, out of the box, a battlefield between two or three large corporations that are supposed to be partners in providing an outstanding user experience?
There's another reason I still recommend Apple over Android. Buy any iPhone, and you're guaranteed to get a beautifully designed and built device that will be capable for some time to come of running the latest operating system and newest apps. But the variation among Android phones is enormous. While the new Galaxy devices are among the best of the best, there are also, let's face it, a lot of lousy Android phones out there.
And history suggests those phones are likelier to quickly become obsolete because their hardware isn't able to run new versions of the operating system. Six months after Apple's iOS 9 was released, 79 percent of all iPhones were running it; six months after Marshmallow was released, its adoption rate was less than five percent.
The iPhone is also far more resistant to malware than Android. And while the iPhone's core apps may have suffered some from neglect, they're still generally easier to use and more polished than their Android equivalents. (And there's only one set of them.)
When I add up all the pros and cons, I still come down on the iPhone's side. But it's a closer call than it's ever been.
Rich Jaroslovsky is an Observer technology columnist and vice president of SmartNews Inc. Reach him at richj@observer.com or on Twitter @RichJaro.