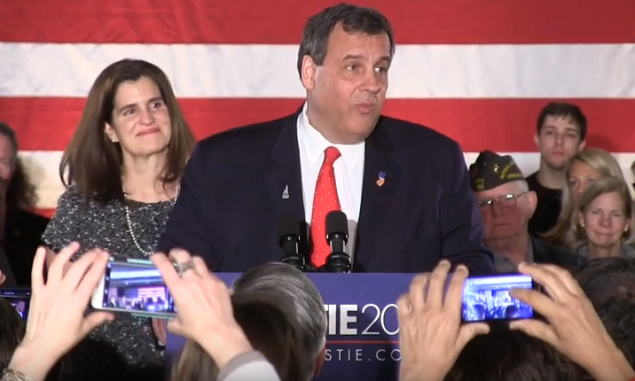 With the Republican convention just two short weeks away and his hopes of a VP nod from prseumptive nominee Donald Trump riding on his ability to prevent a tax hike on his watch, Governor Chris Christie has been cutting quick deals with and issuing brash ultimatums to state Democrats as budget negotiations come to a close.
Christie's flurry of state-level activity, which has included a deal with Assembly Democrats to create a new gas tax bill to fund the ailing Transportation Trust Fund in opposition to an existing Senate bill, could be a sign that Christie is preparing to go national as Trump's running mate.
Seton Hall political science professor Matt Hale said the governor's controversial school funding proposal, his demand that public workers make deep cuts to their health benefits in exchange for currently vetoed line items in the 2017 budget, and his hands-on role in shaping the stalled TTF negotiations harken back to the early days of his administration.
"I think what may need of happening is that you get a little in one and a little in the other," Hale said when asked the the likely outcome of the budget talks. "The governor still has more cards to play than anybody else.
"But that being said, I think the place we are now in New Jersey governance is one where there's a lot more negotiating between the governor and the branches of government then we've seen in the last six or seven years."
Rider University's Ben Dworkin agreed with that assessment.
"He's pulling people in, making deals," Dworkin said. "This is the governor we saw in the first two years of his administration, and not the one we've seen over the last two years."
Apart from the sudden TTF deal, which passed in a late-night Assembly vote last week, the budget negotiations have been Christie's biggest move. NJTV's Michael Aron offered a thorough summary of the governor's demands over the weekend, calling the threat to withhold funding a "serious breach" on the air.
"It's a $34.5 billion budget. The Democrats had added $272 million to his plan. He removed $292 million last night. Among the things that he cut, saying that the Democrats had inflated the revenues in the budget, charity care, $50 million; the senior property tax freeze program, $45 million; preschool expansion, $25 million (that was something that Steve Sweeney wanted); the family planning that he and the Democrats fight over every budget season he vetoed out again the $7.5 million that he's always vetoed before.
"Even though he's so big on the drug issue, he did red line out $4 million in addiction services. And the state welfare grant is the lowest in the country, $424 per month for a family of three. The budget increased that finally and he red lined out that increase. His people say there's plenty of social service expansion in the budget and what they're really fighting over now is $250 million in cuts for health care for public workers.
"Christie says that this is phantom spending because the Democrats won't enact the cuts, but they've put the $250 million into the budget. Christie is impounding $100 million in urban aid, among other things."
For now, those negotiations are stalled along with the bill to increase the gas tax and fund the TTF. Under Christie's new plan, that increase would be offset by decreasing the sales tax rather than by eliminating the estate tax under the Senate's bill. Sponsors Paul Sarlo (D-36) and Steve Oroho (R-24) had spent months selling the state tax plan to Republicans in the upper house.
"It doesn't matter what's getting eliminated, their concern is voting to raise the tax," Dworkin said of the Christie plan's potential to court Republican support. "I think people will find reasons to support and not support it."
"On the one hand you have a massive hole being created in the budget over two years. $1.3 or $1.5 billion," he continued, comparing that figure to the roughly $900 million in cuts under Sarlo and Oroho's plan. "It's hard to make an assessment on this legislation because it quite literally happened in the darkest hours of the night.
"Representative democracy was never designed to move quickly, and that's precisely because these kinds of big decisions need careful consideration," he said of the stand-off.
Meanwhile, Christie will be waiting to see whether coming out ahead of the rest of the national GOP in endorsing Donald Trump will win him the VP slot. That stalemate could give Christie time to secure the nomination before blemishing his record by agreeing to a tax increase. Some Trenton insiders have suggested that the state could put off a gas tax increase with additional bonds if Christie and the legislature can't come to a consensus.
Christie could well leave office to campaign for Trump full-time. Beyond Christie's legacy, Hale said that move could be his parting gift to the state GOP ahead of the 2017 gubernatorial elections. Democrats like Senate President Steve Sweeney (D-3) and Jersey City Mayor Steve Fulop are expected to dominate that coming cycle.
"If he does that, then I think in many ways Kim Guadagno is going to be the face and head of the Republican party in a lot of negotiations, which could help her in the race for governor in 2017," he said.
Hale believes that Christie preempting criticisms for campaigning full-time while in office and stepping away would be the best thing for the party.
"To be honest, I think her being the incumbent is the only way that a Republican is going to win New Jersey," he said.
Aron, however, said he had his doubts on Friday.
"People wonder whether he wants to just hand this all over to Kim Guadagno and say goodbye but I don't think that's Chris Christie's style and I imagine that in the one week in July that they really have to address this and not worry about conventions and politics and vice presidential nominations, they'll figure something out," he said.