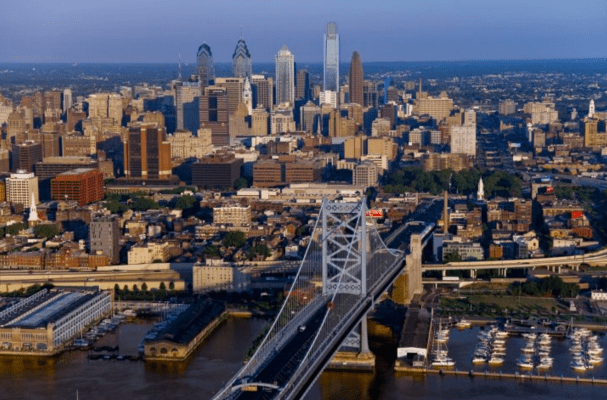 With the Democratic National Convention in Philadelphia happening next week, many are predicting a staid event where presumptive nominee Hillary Clinton's choice of running mate will grab the most attention. For New Jersey, however, the convention will mark the chance for one of its most powerful unelected officials to make further overtures to the city across the river and to national Democrats.
Insurance executive and former Camden County Democratic chairman George Norcross is ramping up his presence during the convention this year with a massive concert in Camden on the last night of the DNC, and some are predicting that this year's convention will be Norcross' opportunity to weigh his options for expanding his influence beyond the powerful South Jersey Democratic machine his built from the ground up.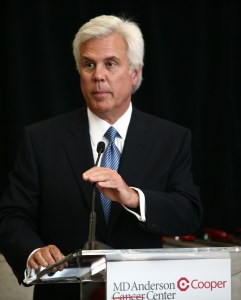 With Lady Gaga headlining the concert, the Camden waterfront Norcross helped to redevelop will be getting its fair share of attention. He has already extended his hand to to Philadelphia mayor Jim Kenney, and his statewide and national ambitions could come to the forefront next week.
Though likely gubernatorial contender Senate President Steve Sweeney (D-3) is already a Norcross ally and could have the powerful chairman of Cooper Hospital's support locked up already, the DNC will be the chance for at least one rival to court the South Jersey boss. Seton Hall political science professor Matt Hale said that he expects most of the Democratic shortlist will be in attendance.
That list includes Sweeney, former ambassador to Germany Phil Murphy, state Senator Ray Lesniak (D-20) and Assemblyman John Wisniewski (D-19). Hale said Jersey City Mayor Steve Fulop, who has banked on cutting into Sweeney's home-turf support by openly criticizing Norcross, will be the exception.
"I think that everybody running for governor next year is going to come down, with the exception of Fulop there's no doubt, and play part in George Norcoss' world," Hale said. "I think it's an opportunity for Mr. Norcross to highlight and show all of his capacity to bring donors and people together.
"I would expect Sweeney, I would expect Murphy, particularly, to make sure that they are attending Mr. Norcross' events."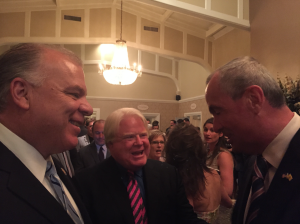 Reached for comment, Sweeney and Murphy both praised Norcross' plans for the convention with the Senate President calling the concert a chance for national Democrats to see how far the city of Camden has come. Norcross and his brother U.S. Representative Donald Norcross were instrumental in drawing new investment in the city by offering corporations hefty tax incentives to relocate through the "Grow New Jersey" program.
"I think this is going to be an opportunity to show off how Camden's coming along and the improvements that Camden is making," Sweeney said. "It's not always the bang that you hoped to get as far as dollars into the economy there, but again it really gives us a chance to show off the area. And Philly's doing great, Camden's coming on strong. So I'm excited about it."
"He invited me to the concert, I'm hoping we can make that," Murphy said. "He's a delegate. It makes complete sense to me, he's in Camden right across the river."
"George has been a significant fundraiser for President Obama, and now for Hillary," Lesniak said. "And he's been a big promoter of candidates for quite a while. So this is just right in line with what he's been doingon the national scene."
Wisniewski and Fulop declined to comment.
But the convention will also be the first of many opportunities for Norcross to pursue his national ambitions. Monmouth University pollster Patrick Murray believes the convention will be an opportunity for Norcross to make the case to national Democrats that his brother merits their support for a U.S. Senate run in 2018.
"Obviously, one of the things looking at the rumor mill is trying to position his brother for a Senate seat," Murphy.  "Certainly, it appears that he's turning a lot of his attention to Washington, D.C."
Some have their doubts that the convention and the concert will be the best venue for Norcross to expand his reach. Montclair State political Science Professor Brigid Harrison said it could prove to be a way to simply increase his profile with the national party.
"It certainly will put him on a map with delegates and party elites. But does that kind of thing translate into the kind of deep and meaningful connections? I don't know. I've never hosted a Lady Gaga concert and I don't know if that's enough to sway people into doing business with you or becoming part of your sphere of influence.
"I'm sure he'll get plenty of attention for it."