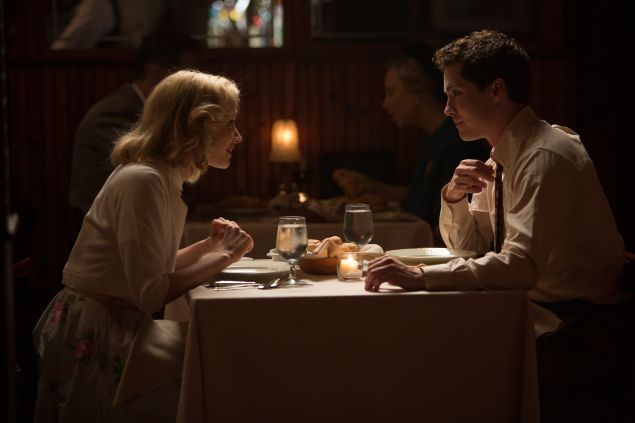 Finally, a Phillip Roth book has been properly adapted into a movie! Granted, this is a relatively small achievement in comparison to, say, curing cancer or landing on Mars, but it is a feat that had nonetheless eluded humanity until now. Films like Portnoy's Complaint, The Human Stain, and a half dozen others have consistently fallen short of capturing the combustible mix of Jewish identity, righteous irony, social commentary and obsessive puzzling over human interaction, either sexual or banal, that have kept us reading Roth's books for over a half century.
Indignation ends this losing streak with aplomb. (Time will tell which side of the ledger to put Ewan McGregor's American Pastoral, which comes out in October.) For his directorial debut, longtime producer and film executive James Schamus solves the Roth problem by sweating the details. He meticulously recreates the world of the story to allow the intellectual fury, fractured neurosis and sexual fumbling of its two protagonists to reach full bloom. In the process, Schamus creates not only a meaningful and moving snapshot of an America on the cusp of redefining itself, but also a cinematic hybrid few of us thought possible: the literary college sex comedy.
---

INDIGNATION ★★★1/2
(3.5/4 stars)

Written and directed by: James Schamus
Starring: Logan Lerman, Sarah Gadon, Tracy Letts
Running time: 110 min.

---
Taking place in the late summer and fall of 1951, Indignation tells the story of Marcus Messner, a Newark, N.J., teen and Roth stand-in whose only experiences beyond the confines of his father's Kosher butcher shop have been in his intellectual pursuits. His academic prowess wins him a scholarship from his temple to attend Winesburg College, a conservative Christian school in Central Ohio that's sort of a mix between Oberlin, Kenyon and Roth's alma mater Bucknell. Not only is this an opportunity to expand his intellectual and social horizons, but it is also his ticket out of the Korean War, a conflict rapidly claiming the lives of his school chums.
The world he encounters at Winesburg, crowded with WASPs and at least one troubled and sexually adventurous young woman, could not be further from Newark. A date with Olivia Hutton, a well-heeled blonde with a dark past, provides a glimpse of the sexual revolution still far in the future and sets into motion a series of events that put Marcus in the crosshairs of the college's imperious dean. To safely make it through school and stay off the front line, Marcus has not only to keep the carnal nature of his relationship with Olivia under wraps, but also make it through 10 chapel sermons, despite the fact that every moment of it offends him, not as a Jew but as an atheist who has committed Bertrand Russell's Why I Am Not a Christian to memory.
As the film's doomed lovers, Logan Lerman and Sarah Gadon both give precise and deeply felt performances, although only Lerman's emerges fully realized. Far from the titular modest mouse he played in The Perks of Being a Wallflower, he brandishes Marcus' intellect and insecurity like twin rapiers, slicing through everything in his path. Gadon seems almost trapped inside the male gaze of both Roth and his alter ego but still she manages to imbue Olivia with enough sense of her fractured past to make her quintessential crazy gal freshman-year crush seem real.
The actors playing the adults in the film amount to a veritable who's who of American theater, and the pedigree shows through every scene in which they're featured. As Marcus' parents, Linda Emond and Danny Burstein—they share nine Tony Award nominations between them—go well beyond Jewish parent stereotypes, giving their feverish concern for their son's well-being a manic, electric energy. But the film is a showcase for playwright-actor Tracey Letts, the only man alive to own a Pulitzer for writing and a Tony for acting. His Dean Caudwell, ablaze with false concern and barely hidden contempt, will remind you of every bumptious bureaucrat with whom you've ever had a confrontation. Yes, the 20-minute scene where he and Marcus face off over dorm room accommodations and the nature of the divine may feel like it belongs in a handsome theater production, but it is also as thrilling a battle as any lightsaber duel.
While Indignation gets so much right, it's far from perfect. A small and self-contained chamber piece, at times it can feel claustrophobic. The book's early and central twist provides an almost intractable problem for any screenwriter; the way Schamus addresses the issue—with a pair of unrelated bookends—solves one problem and creates others. Still, there is so much passion running through the film—the urgency of Roth to tell the tale and for Schamus to get it right—that one finds oneself swept away in both the rawness of feeling and the refinement of the presentation. It is a film that proves that in the right context, sometimes indignation can feel a lot like love.