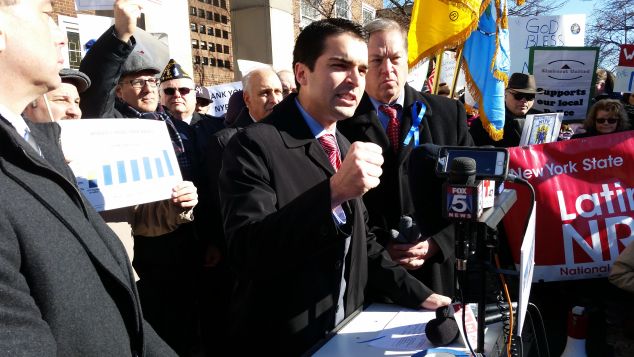 Republican Queens Councilman Eric Ulrich has been making waves recently—as he quietly considers challenging Mayor Bill de Blasio next year, and as he publicly bucks his party by refusing to back Donald Trump this fall.
And some wonder if the two moves are connected.
Joining the ranks of former Republican presidential candidates such as Ohio Gov. John Kasich, former Florida Gov. Jeb Bush, former New York Gov. George Pataki, Ulrich—who backed Kasich over Trump in the April 19 New York primary—has blatantly said he would not endorse Trump. Similarly, Texas Sen. Ted Cruz spoke at the convention but did not endorse Trump, instead outlining what appeared to be his campaign platform for a possible 2020 presidential bid.
"Sorry folks," Ulrich tweeted the night of July 21, the last day of the Republican National Convention in Cleveland. "I'm not drinking the Kool Aid #RNCinCLE #NeverTrump."
And just a day prior, he took a jab at the notion that he should endorse Trump in the name of party unity, tweeting, "I am skipping this year's convention. Sometimes party loyalty asks too much #RNCinCLE #NeverTrump."
Ulrich did not respond to repeated requests for comment.
Councilman Joseph Borelli and Council Minority Leader Steven Matteo, the two other Republicans on the Council, said Ulrich is actively considering running for mayor but has not yet made a decision.
"He laid out some ideas," said Borelli, who described talking with Ulrich about the subject informally. "We discussed the specific failures of the de Blasio administration and why he thought he would be able to address those. I look forward to planning out the process with him if he chooses to go in that direction."
In May, the Daily News reported that he had filed paperwork with the state Board of Elections to set up the "Eric Ulrich 2017" exploratory committee but did not specify what office he was seeking. Ulrich, who has served on the Council since 2009, is term-limited after next year.
Ken Sherrill, a professor emeritus of political science at Hunter College, did not appear to be surprised by Ulrich's decision to not endorse Trump, calling him a "realistic and sensible politician who wants to win elections" and noting that the fundamental purpose of a political party "is to win elections and to take office."
"He's trying to be the kind of Republican who could get a majority of the votes in New York City," Sherrill said. "Someone who wants to be mayor of New York City would be well advised not to be closely associated with Donald Trump this year."
He stopped short of saying that Ulrich's decision to not back Trump is related to his desire to run for mayor. Sherrill stressed that it's too early to tell who is running for what. He noted that Stringer was widely seen as a contender for the 2013 mayoral Democratic primary but ended up running for comptroller. And despite beliefs that former Gov. Elliot Spitzer would not run for any office after being forced to resign due to a prostitution scandal, he announced that he would run for comptroller as well.
"We're still in a very fluid period," he said. "I think Ulrich wants to run for something and I think he wants to run for a citywide office. He might well be the Republican who has the best chance of getting elected mayor and so then the question is: is the Republican Party prepared to do what it takes to run the elections?"
He also dismissed former Mayor Rudy Giuliani's claim during the Republican National Convention in Cleveland last week that Trump would run the United States the way he ran New York City, calling it a "silly comparison" given that the city's population has changed dramatically since he was mayor.
"Frankly, anybody who thinks that Donald Trump is going to carry New York City is delusional," Sherrill said.
But Christina Greer, associate professor of political science at Fordham University, says disavowing Trump may not be enough for Ulrich to sustain a victory should he decide to run for mayor.
She noted that it would be difficult for him to unseat an incumbent, especially given that de Blasio is "still pretty much well liked across the board" despite his poll numbers fluctuating due to ongoing investigations of his administration. She also said that Ulrich has "zero name recognition," is not a billionaire and that it is hard for Republicans to actually succeed in the city.
"If you're running for mayor in New York City, you wouldn't want to associate yourself with Donald Trump," she said, highlighting de Blasio's strong support among people of color, and noting former Ku Klux Klan leader David Duke has drawn national headlines with his plans to run for Louisiana's Senate Seat as a Republican. "That means you're also saying you don't want to associate yourself who is currently in a party who has KKK members running for office."
And she sees Ulrich's pro-gay marriage and pro-choice stances as him being strategic in his position as a Council member.
"That makes him a New York City Republican who has been strategic in his particular position," she continued. "As a City Council member, he has done certain things to advance and make friends and make nice which is strategic and make sense. But that's for a specific individual purpose, that's not running for citywide office."
Ironically, though Trump is seen as a broadly unpopular figure across the five boroughs, he drew roughly two-thirds of the GOP primary vote in the neighborhoods Ulrich represents—the largely white, conservative enclaves of Breezy Point, Belle Harbor, Broad Channel and Howard Beach.
Ulrich himself has attracted criticism for not being Republican enough, and not just  for his liberal stances on social issues. In 2013, he decided to back Melissa Mark-Viverito as Speaker of the Council, breaking a pledge to vote for Councilman Dan Garodnick along with his fellow Republican Council members Matteo and then-Council Minority Leader Vincent Ignizio.
At the same time, he has not been shy in his criticisms of de Blasio. Ulrich was among a number of outer borough politicians—most of whom were Democrats—who spoke out against de Blasio's plan last year to curtail the number of new e-hail cars for the following year on the grounds that it would limit options for minorities in those boroughs.
He also called for the establishment of a new bureau to handle services specifically for veterans, counter to the mayor's resistance to calls for an agency solely devoted to former service members. And last year, he participated in a rally where the mayor and the police reform movement were accused of belittling cops.
Both of Ulrich's GOP colleagues indicated they would back him for mayor. But they also said the best way forward is to back Trump to avoid a victory by the presumptive Democratic presidential nominee Hillary Clinton, the former secretary of state and U.S. senator from New York.
Borelli, a proud and fervent Trump supporter from the get-go, does not think Ulrich is betraying the party but would like to see him "come in the folds of the Republican Party now that the party is united out of the convention behind him."
"Again, people are free to make their own mind up but it's a choice between Hillary Clinton and Donald Trump and I would urge him…to back Donald Trump," he said. "To my knowledge, every Republican in the city has come around."
Matteo described Ulrich as a "proud Republican" with "Republican values" and said that it is a decision he has to make on his own.
"My choice has always been to back the nominee and I'm doing that," he said. "We'd all like for the party to be united but I think everyone needs to get to that comfortable place on their own."
Matteo said he and Ulrich talk weekly about his potential run for mayor, noting that they have a "great relationship."
"At this point, obviously he's actively considering it and that's the truth of where we are at the end of July," he said. "We can continue to have conversations about his potential run. He hasn't completely made up his mind about it."
He also rejected the notion that Ulrich's decision to not endorse Trump is about ensuring a victory should he run for mayor.
"I don't agree with that sentiment and I think running for mayor has to do with the individual person and what they would bring as mayor than it does associating him or herself with any elected official…I believe it's about the person running," he continued.
A number of prominent politicians and public figures have been mentioned as possible challengers to de Blasio, including Comptroller Scott Stringer, African-American developer and businessman Don Peebles, Brooklyn Congressman Hakeem Jeffries and Bronx Borough President Ruben Diaz, Jr.
The de Blasio and Trump campaigns did not respond to requests for comment.
Disclosure: Donald Trump is the father-in-law of Jared Kushner, the publisher of Observer Media.