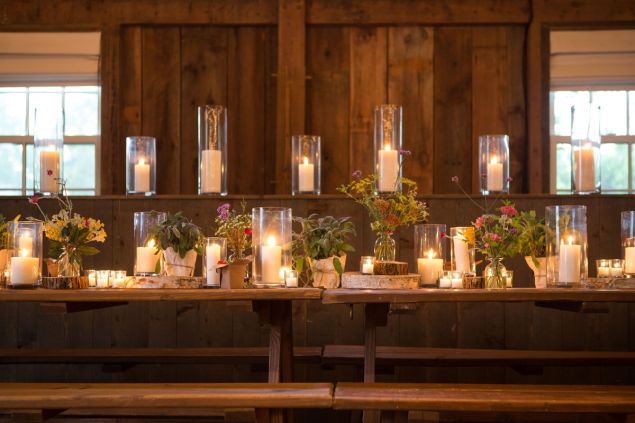 As the scorching sun began to set on Saturday out east, Hamptonites flocked to the Farm-to-(Tasting)-Table dinner at Topping Rose House.
Tasting Table and Michelin Star-chef Jean-Georges Vongerichten teamed up to throw the dinner party, celebrating Vongerichten's takeover of the luxe Bridgehampton hotel's restaurant this year, replacing former chef Tom Colicchio.
Kim Vernon and Rohit Pursram co-hosted the fête, where fashion designers Rebecca Minkoff and Nicole Miller mingled with Tasting Table's cofounder and CEO Geoff Bartakovics and model Polina Proshkina. Waiters dressed in crisp white uniforms with summer-appropriate gingham bow ties passed around silver platters of appetizers. Those who frequent Jean Georges-helmed restaurants in the city might have recognized the truffle and fontina pizza from the Mark Hotel, the beloved salmon crispy rice at Mercer Kitchen, along with other bites like corn and jalapeño fritters, tuna tartar, and lobster roll sushi.
Outside, the famed chef himself was toting around silver platters of food, navigating past a station where guests could personalize bandanas, ensuring that all were properly supplied with delicious bites.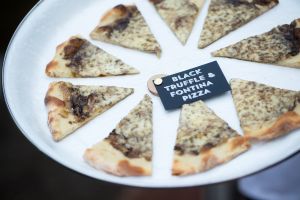 A few guests teetering around on sky-high stilettos avoided getting too close to the pool, while the white swan float that is now requisite of all Hamptons pools (at least those that haven't yet been blessed with a $6,000 unicorn float) glided along the clear blue water, outfitted in a gingham neck tie that perfectly matched those worn by the servers. Those who didn't find themselves as drawn to bandanas as others might could check out the photo booths, which guests seemed to enjoy very much.
A bluegrass band played music in the newly restored vintage barn, where bales of hay adorned with white fur throws were lined up against one wall, with a full-service bar across from an additional picnic table. There was definitely no rosé shortage, as bottles of the pink drink, along with red and white wine, flowed from the open bars. Guests also sipped on specialty Belvedere cocktails like polish mules, a very adult lemonade with vodka and blueberries, and a punch made with peach nectar vodka, and lemon soda.
A bit after 8 p.m., main courses were unveiled at the buffet—the striped bass, scallops, and parmesan crusted chicken were all lovely, though the BBQ lamb chops proved to be the winner of the night, as guests clamored over to the server, who reassured all that more of the lamb chops would be on the way any minute. Guests nibbled on the food while seated at chic picnic tables bedecked with candles and brightly colored flowers, where Glossier's Emily Weiss (whose literally flawless glowing skin made us want to go and purchase the entire Glossier line) chatted with Man Repeller's Leandra Medine. Other guests in attendance included Kelly Klein, Eric Rutherford, and Natasha Esch and Matt Coffin, as well as Pippa Cohen, who took a liking to the swan as the night progressed, posing for photographers while perched on the float, in a rather impressive balancing act.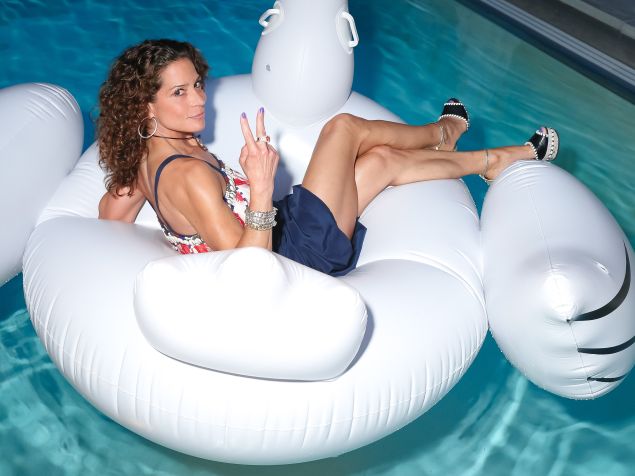 Cohen wasn't the only one who proved her superior balancing skills; a male guest with a child strapped to his chest successfully maneuvered his way outside while holding no less than three bubbly drinks in his hands.
After guests had sufficiently filled up on the appetizers, buffet, and drinks, those who were somehow able to restrain themselves from gorging on the beautiful display of desserts we spied at the beginning of the evening made their way over to curated table, piling their plates high with an array of sweets like strawberry cupcakes, chocolate chip cookies, chocolate cake pops, rhubarb bars, and strawberry sundaes.
For those who were sadly unable to make Saturday's bash, not to worry, as reservations are still available at Topping Rose House's glitzy (and pricy) restaurant–Tasting Table has a few more events on the horizon this summer, too, but you'll have to make the trip to Montauk to try them out. If Saturday's affair is any indication, we think it'll be worth it.