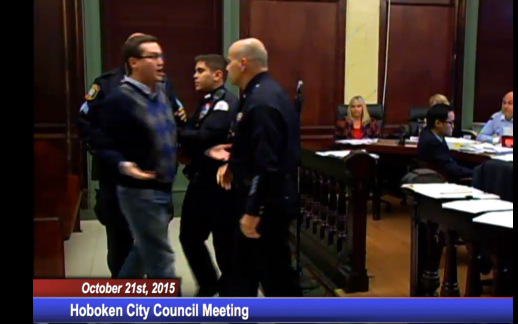 In October of 2015, Hoboken resident David Libeler was ejected from a city council meeting after inquiring about claims that Mayor Dawn Zimmer's husband, Stan Grossbard, was involved in her administration despite being a private citizen. As of last week, Federal Judge Kevin McNulty rejected a motion filed by the City of Hoboken to dismiss Libeler's lawsuit.
According to the action filed by Libeler, his ejection from the city council meeting violated his First Amendment rights. When Libeler approached the city council in October, he alleged that Grossbard had advised city council members on how to proceed with the termination of former Assemblyman Carmelo Garcia's position on the Hoboken Housing Authority. The original PolitickerNJ article on the matter was amended to reflect that Grossbard did not consult on Garcia's HHA employment termination but rather the termination of a contract.
In McNulty's rejection of the City of Hoboken's pursuit of a case dismissal, the judge delineated why Libeler's action would not be terminated. According to the memorandum issued by McNulty, the case would not be dismissed because the complaint's allegations "have not been tested by any finder of fact" and "must be assumed to be true for purposes of this motion only." The memorandum also claims that there is legal standard for Libeler's action.
Charles Gormally, attorney for Mr. Liebler issued the following statement about the city's pursuit of a dismissal: "After forcibly removing our client from the public portion of a City Council meeting, the City now is using taxpayer resources to try to convince the court to dismiss a lawsuit challenging this violation of his First Amendment rights. By throwing every conceivable legal argument at the wall, the only thing sticking is the tape of the meeting that reveals how these this government will even ignore citizens' constitutional rights in a desperate attempt to hide Grosbard's involvement in Hoboken Government."
PolitickerNJ contacted Grossbard but, as he is not part of this litigation, he declined to comment. However, according to Grossbard, the allegations made in Gormally's statement are false and caused by an initial misstatement of material facts in the initial article.
PolitickerNJ also contacted Hoboken Communications Manager Juan Melli but he did not respond with comment.