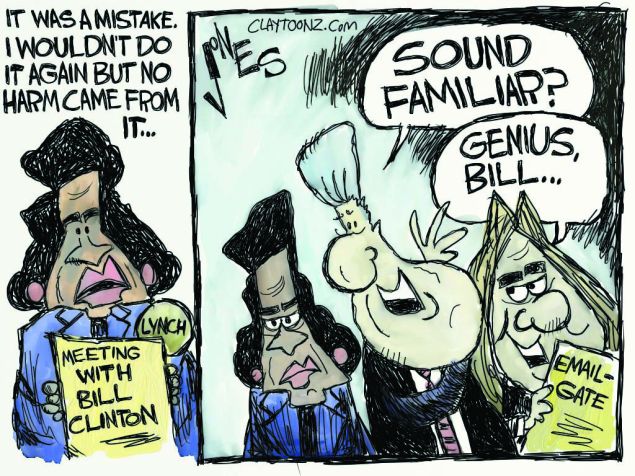 Attorney General Loretta Lynch's private meeting with Bill Clinton on a tarmac in Phoenix, Arizona has rightfully incited immense criticism and complaints from both Republicans and Democrats.
Shortly after news of the Lynch-Clinton tarmac meeting broke, Judicial Watch—one of the country's leading watchdog organizations—requested the Department of Justice begin a formally inquiry.
"We filed a complaint with the Office of the Inspector General of the Justice Department over that meeting, so we are on the record calling on the IG, Mr. Horowitz, to begin an inquiry into the Attorney General's actions," Christopher Farrell, Director of Investigations and Research at Judicial Watch, told the Observer. Farrell served in the United States Army as a Military Intelligence Officer, and has previously conducted national security crime investigations resulting in prosecutions.
"Ms. Lynch is in violation of law, regulation and the code of ethics for the Justice Department—in particular for attorneys who are officers of the court. She violated every imaginable prohibition against creating the appearance of some sort of impropriety." At a press conference in Aspen, Colorado on July 1, Lynch admitted the meeting with Bill Clinton was wrong, and people are right to question how she is handling Hillary's case.
"She should probably resign from office," Farrell added. "Though, I don't see her doing that. She also claims she is going to give way to or abide by the recommendations of the FBI in the email case. Frankly, I don't believe her."
Unsurprisingly, Lynch's impropriety coincides with the Obama Administration and the State Department's recent requests to delay the release of 14,000 pages of emails between Clinton and her aides until October 2018. A few weeks ago, the Obama Administration, in a move to protect Clinton from criticism regarding the Trans-Pacific Partnership Agreement, delayed fulfilling a Freedom of Information Act (FOIA) request to IBTimes until after the general election in November. Although Clinton helped move forward negotiations of the deal as secretary of state, she vocally opposed TPP in 2015. Clinton's surrogates in the Democratic National Convention Platform Committee voted in favor of TPP, and mentions of TPP were omitted from the paperback version of Clinton's autobiography, Hard Choices.
"Generally speaking, the FOIA is flaunted and abused by the Obama Administration," said Farrell, referring to the stonewalling and slow, arduous probes into Clinton's private server. "There is no way of knowing when any of these legal processes will be completed. The FBI is essentially silent on their criminal investigation of Ms. Clinton. We are conducting a civil investigation through our litigation and that probably has months ahead of it," he said.
Judicial Watch has also been one of the most prominent organizations to file FOIA requests to ensure all of Hillary Clinton's unauthorized private server emails are released. Farrell believes Clinton and her associates violated title 18 of the U.S. Code section 793—mishandling of National Defense Information—and that there is sufficient evidence to warrant an indictment.
As establishment Democrats continue shielding Clinton from criticism over the rules she broke as secretary of state, organizations like Judicial Watch and many more are working through litigation to push for transparency. Farrell assures the public that the court will eventually uncover all the records and documents.
"There are multiple lawsuits and multiple federal judges overseeing the process," he said. "So the notion that everything could just magically disappear is not very likely at all. It will come out—it'll just come out slowly."