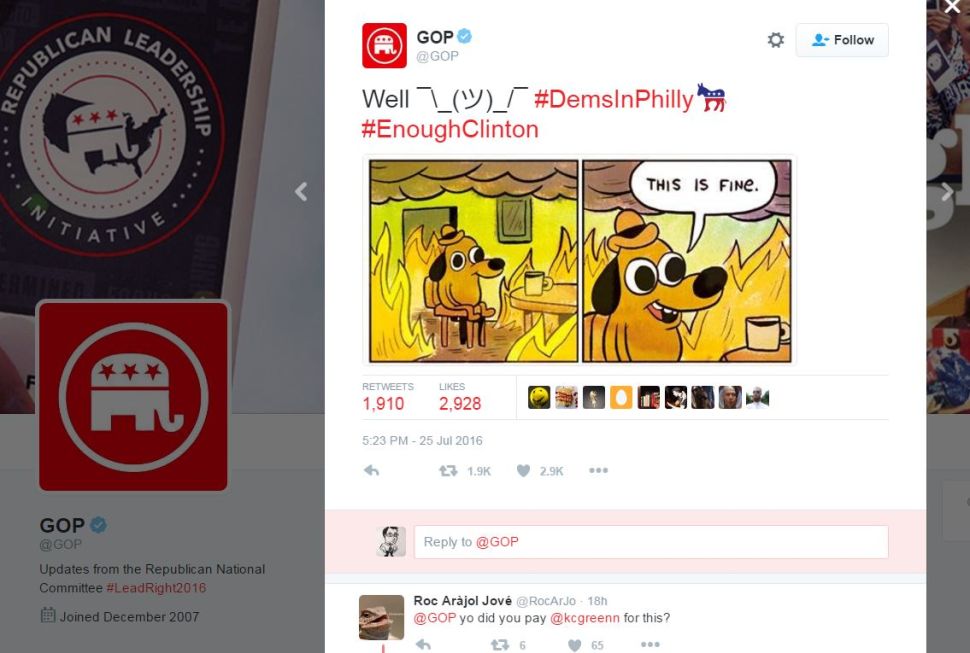 It wouldn't be surprising if cartoonist K.C. Green had the second panel in the screencapped tweet above etched into his tombstone. That's the macabre humor that has earned the web cartoonist his devoted following. Doing so would also memorialize what is, by far, the single most widely recognized drawing he has ever made. Chunks of this comic have been borrowed and made into memes all over the internet, so much so that most people who have seen it don't know who originally drew it.
The latest major entity to borrow a piece of the strip without attribution? The Republican National Committee. Its Twitter account used the two panels to make a joke about the Democratic National Convention's unruly first day. But as it happened, political cartoon site The Nib had beaten them to the joke. It had already commissioned a work from KC Green that revised the strip in order to mock the current state of the Republican party. The new work is up now in a Philadelphia art gallery in the Old City neighborhood, where the new site is promoting its content to the political junkies in town for the nomination.
"We were brainstorming some ideas for our Philly space and thought of adapting the 'this is fine' meme for the GOP," Matt Bors, the site's founder, told the Observer in an email, via a spokesperson. By commissioning a new work riffing on the meme, he saw it as a chance for the artist to get paid for a work that's so widely appropriated. "When we saw the GOP's tweet going around in a pathetic attempt to be hip with memes, we saw the opportunity for a good own."
Here's The Nib's response to @GOP's use of the panels, via Twitter, which has had 50 percent more retweets than the offending post:
Webcomics stars and fans have been piling on to @GOP ever since. The negative responses go on for pages and pages, with vastly more likes and retweets for the criticism than for the original post.
The Nib was acquired by First Look Media, which also runs The Intercept, in February.
We discussed the heavy reuse of the comic with Green in an interview about his new comics collection last year. At this point, he's trying not to get agitated about it, but that didn't stop him from offering a few thoughts about this latest instance on his own Twitter feed.
The internet can be forgiving about re-use, but it has its limits, as Josh "The Fat Jew" Ostrovsky learned last year. The Twitter and Instagram celebrity ultimately admitted to liberally stealing jokes from comedians with lesser followings. Similarly, another political illustrator recently caught an app maker using one of his drawings without permission.
Because their work first appears online, webcomic artists get hit especially hard by those who share their work without attribution. Cartoonist Kris Straub devoted a satirical comic to the lengths some go to make sure artists aren't credited. He did so after one of webcomics superstar Kate Beaton's comics received more than 30,000 reblogs in a Tumblr post (since removed) without identifying her in any way.
Webcomics fans will gleefully call out any account that borrows work from a popular artist without crediting them, as @GOP has learned since Monday. When the origin of a comic is unclear, social media directors can use Google Image Search to investigate its origin. It usually works.
Brooklyn-based Mediachain has a plan in the works that would make it much more difficult (but not impossible) for social accounts and websites to post a work without attributing its creator.