Back in 2010, 'Frasier' star Kelsey Grammer was in the midst of a rather messy divorce from his third wife, Camille.
So it made sense that he decided to leave the plush, $29,000-a-month pad the then-couple were residing in at 15 Central Park West. After checking out a few places in the city, Grammer eventually decided on Jean Nouvel's sleek tower at 100 Eleventh Avenue—it was reported that he tried to keep the purchase top-secret at the time, considering he was allegedly buying it for himself and his then-mistress Kayte Grammer.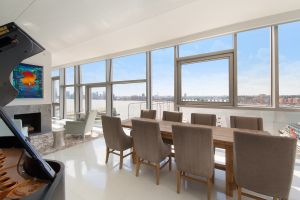 Fast-forward to the present day. Grammer and Walsh had a big wedding at the Plaza, and now have two children of their own. It would seem, however, that the two are ready to unload the three-bedroom, 3.5-bath West Chelsea home.
The 3,076-square-foot space in the glassy condo doesn't bear much of a resemblance to Robert A.M. Stern's limestone on the Upper West Side, but Grammer was evidently in the mood for a change at the time he'd bought the former—and who could say no to the 11-foot ceilings and 100 feet of Hudson River frontage this place offered, anyway?
But now, it appears Grammer is once again ready to make moves—at least in terms of his real estate holdings—as the unit is now on the market, asking $9.75 million.
All of the bedrooms have en-suite baths and unobstructed water views, with "complete privacy," per the listing shared by CORE brokers Emily Beare and Daniel Amell. To that end, too, there are motorized shades, for when the glare off the Hudson gets to be too much.
The living room features a wet bar and a wine fridge, while the west-facing dining room has a gas-burning fireplace from which one can "watch the ships pass by."
When Grammer bought the 19th-floor unit, everyone involved reportedly had to sign confidentiality agreements to ensure no one (namely, the woman he was about to divorce) found out about his new pad—obviously, things didn't go quite as he'd hoped, but he seems to have enjoyed the apartment enough to hang onto it for six years! And any concerns about privacy seem to have abated—Grammer himself confirmed with the Wall Street Journal that he is, in fact, the unit's owner. Well, a publicist confirmed such, anyway, and also said that Grammer is selling because he and his extended clan have "outgrown" the space.
We wonder where Grammer will head next—now that he's done the starchitect thing a couple of times, maybe he's ready for something more old-school. An Upper East Side townhouse, perhaps?