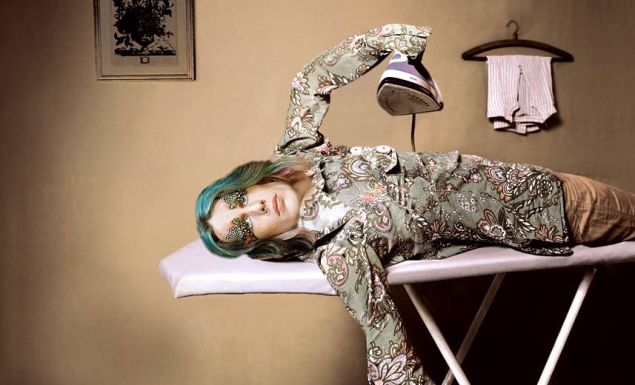 One of the best box sets to come out of 2016 thus far is a collection that has gotten minimal attention from the music press for some strange reason or another. Especially when you realize this year marks the man's 50th year in the business.
I'm talking about Todd Rundgren and the Complete Bearsville Albums Collection that was released earlier this year on Rhino.
Box set nerds be forewarned: it's no more extensive than those nifty little Original Albums Series five-disc sets you can get at Barnes & Noble for $10. The cause celebre here is the release marks the first time Rundgren's Bearsville material has been reissued in any capacity in over 20 years. And while it's natural for Rundgren fans to beeline it to such essentials as Runt, Something/Anything? or A Wizard, A True Star the moment they crack open the cellophane, let's take a moment to highlight some of the deeper titles from this set that deserve equal attention.
There is not a dud in this brick, but it's entirely understandable why you might go for, say, Todd or Hermit of Mink Hollow over some of the less-obvious works that exist within The Complete Bearsville Albums Collection. However, here are five deep treasures worth choosing as the first to play if you choose to invest in this most essential library finally rescued from the Warner Bros. archives after over 20 years in OOP limbo.
If you were a big fan of the idea Rundgren touring with Dam-Funk last summer, you will definitely want to check out these fantastic works of the runt at his weirdest but also his most beautiful.
In a year where we have lost some of modern music's greatest figures, it's indeed worth celebrating the career of a man who is still working at full tilt a half-century since emerging from a Philadelphia garage as the leader of Nazz. God bless Todd Rundgren.
5) The Ever Popular Tortured Artist Effect
[youtube https://www.youtube.com/watch?v=64sTOZsoB-Q&w=420&h=315]
This is yet another album known primarily for its hit single ("Bang on A Drum"). But dig deeper into Ever Popular and you'll find a wild twist to the traditional dialogue of the '70s act gone '80s in songs like "Don't Hurt Yourself", "Influenza" and a wonderful cover of Small Faces' "Tin Soldier," which sound as much like leftovers from the Runt LPs as they do major steps into the progressive synth-pop he helped invent with Utopia and as a solo act.
In all its peculiar glory, you could put Tortured up there with Bruce Springsteen's Tunnel of Love and Paul McCartney's Tug of War as one of the all-time great mid-career studio triumphs in album rock. And "Bang On A Drum" still makes us sing along just as much as it did over 35 years ago.
4) Initiation
[youtube https://www.youtube.com/watch?v=C51ig6J_Gp8&w=420&h=315]
Released in June 1975, Initiation is perhaps the one TR solo album that comes closest to the full-on progressive rock extravagances he capitalized on with his band Utopia. However, the formula goes to newer, weirder extremes within the context of a Todd pop LP.
The album lures you in early with such melodic faves as "Real Man" and the hard driving "The Death of Rock 'n' Roll". Then it goes right for the throat once you flip the record and experience the side-long "A Treatise on Cosmic Fire", a heady synth jam that gave way to the experimental indulgences of such like-minded mavens as Oneohtrix Point Never, Floating Points, John Carpenter, Christian Fennesz, Zombi and even Rundgren's 2015 touring partner Dam-Funk. If you ever wanted to hear Rundgren at his freakiest, here it is.
3) Faithful
[youtube https://www.youtube.com/watch?v=P5XpDkJFd4o?list=PL-Jpf3NAeJZjWVMbe14jIMNnazDnnbHiy&w=560&h=315]
Few works in the Todd Rundgren catalog exemplify his command of the electric guitar quite like the opening to his 1976 album of covers and originals. In his version of The Yardbirds' "Happenings Ten Years Time Ago", he out-solos Jimmy Page and Jeff Beck on their own tune. Cuts their heads clean off. But the beauty in these versions of Beach Boys, Beatles and Bob Dylan standards is indeed the faithfulness spoken of in the album title.
These are stunning re-creations of these songs, on par in terms of performance with Bowie's Pinups. But Rundgren never kowtows to mere impersonating like some kind of cheap comedian.
Rundgren's voice naturally inflects Lennon, Dylan and Mike Love, and the musicianship on hand—especially during his versions of Dylan's "Most Likely Go Your Way and I'll Go Mine", Jimi Hendrix's "If Six Was Nine" and the Fabs' "Rain"—is arguably some of the best guitar-based cuts in his entire canon. And, unsurprisingly, on the flip side you will find some more of his finest pop compositions, namely the concert fave "Love of the Common Man" and the seven-minute Philly soul stirrer "The Verb To Love", especially when he kills it on the grand piano somewhere around the 4:20 mark.
2) Healing
[youtube https://www.youtube.com/watch?v=Pw87rTk8gn0?list=PL-Jpf3NAeJZhn9KbgQvAcBUPkUTCPsCZK&w=560&h=315]
Rundgren entered the '80s on a spiritual note with his ninth solo album, Healing. These World Music-inspired, almost New Age meditations on the Human Condition, evidenced in the opening track "Healer" as well as the three-part title suite, feature some of Rundgren's headiest keyboard work ever.
Yet tempering the Woodstock mysticism are some of his best pop songs, namely "Compassion" and "Time Heals", both of which were released as singles. There was even a video shot for "Time Heals" that got a lot of airplay in that lean first year MTV was on the air. This is one of Rundgren's most difficult albums, but if you challenge yourself to listen the rewards will be well worth the gamble.
1) Back to the Bars
[youtube https://www.youtube.com/watch?v=qGpWfOfVTC8?list=PL-Jpf3NAeJZh3bnZsfh4VOh6ApmrK3ai7&w=560&h=315]
There are quite a number of audio and video documents chronicling the innovative majesty of Rundgren's live performances in concert. But 1978's double-live Back to the Bars remains the most definitive in capturing the totality of this show of shows at the height of his powers.
Originally released in December 1978, its four sides housed a compiled set of select performances from week-long residencies at The Roxy in Los Angeles, The Agora in Cleveland, Ohio, and The Bottom Line right here in New York City. With a track list focusing on performances of his most well-known songs from the Something/Anything? to Faithful period, Back to the Bars successfully served as a de facto "Best of" collection from this most crucial portion of his half-century-long career in music.
What truly made these versions of such faves as "Real Man", "A Dream Goes On Forever" and "Hello It's Me" was the killer band he had on the road with him, comprised of the underrated New York rock group the Hello People, not to mention a finale featuring a murderer's row of members of from Rundgren's acclaimed prog-rock outfit, Utopia: Roger Powell, Kasim Sulton, John Wilcox, John Siegler, Ralph Schuckett and Moogy Klingman.
Meanwhile, Stevie Nicks, longtime Rundgren homeboys Hall & Oates, Rick Derringer and Spencer Davis all make guest appearances as well. The only other artist who was able to deliver his meticulously crafted material so succinctly on stage besides Todd Rundgren was Prince, a professed fan Rundgren himself. Back to the Bars remains the perfect example of this mastery in action.