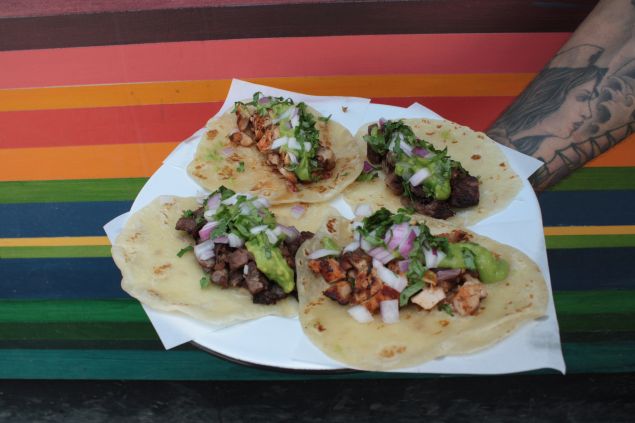 Is Salazar, chef/master taquero Esdras Ochoa's wood-fired dream of a Mexican BBQ joint, L.A.'s most pleasing new restaurant because it's almost entirely outdoors or in spite of the fact it's almost entirely outdoors?
Is Salazar, where Ochoa slings his wonderful tacos but also uses a Santa Maria-style grill for perfectly cooked rib eyes, pork chops and fish meant for sharing, L.A.'s most pleasing new restaurant because of or in spite of the fact it's in Frogtown, a low-profile river-adjacent neighborhood near Atwater Village, Glassell Park and Silver Lake? (This might be crazier than having New York's hottest restaurant in Ridgewood or Greenwood Heights.)
Is Salazar, which Ochoa opened in May with partner Billy Silverman and has a game-changing online presence, L.A.'s most pleasing new restaurant because of or in spite of the fact it's packed by 6 p.m. on a weeknight with parents who've brought their young children after karate class or soccer practice?
Is Salazar, where beverage director Aaron Melendrez (a veteran barman whose credits include Plan Check, The Normandie Club, The Walker Inn and Pistola) has margaritas on draft and garnishes a phenomenal horchata-and-rum cocktail with a cricket, L.A.'s most pleasing new restaurant because of or in spite of the fact that food-blogger goddess Esther Tseng spotted Carrie Brownstein there on a Friday night and two L.A. culinary-world gals Tseng later mentioned the sighting to remarked that they didn't know who Brownstein was?
You know what, sometimes it's better not to ask too many questions about a miracle. Salazar feels like the crowd-pleasing song of the summer and not just because of Brownstein or the evening Grizzly Bear's Ed Droste enthusiastically Instagrammed his hangout "at the best new outdoor restaurant" with Busy Phillips. (Something I've discussed for two days straight: Who's going to write the first alt-rock hit about Salazar? M83? Best Coast? Cold War Kids? Fitz and the Tantrums? Pretty sure Fred Armisen's going to write the parody of that song.) 
It feels as welcoming as a hot spot can be, and not just because you might see pre-schoolers playing in the rock pit while shorts-wearing scenesters who look like they teleported from a Williamsburg rooftop-pool party pound mezcal cocktails at the bar. (The La Anticuado with mezcal, brown-butter-washed corn whiskey, ancho chile and Mexican fernet is something like, my dining companion notes, a Mexican Manhattan.)
You hear parents eating with their kids jokingly give other parents eating with their kids shit about discovering their favorite new spot.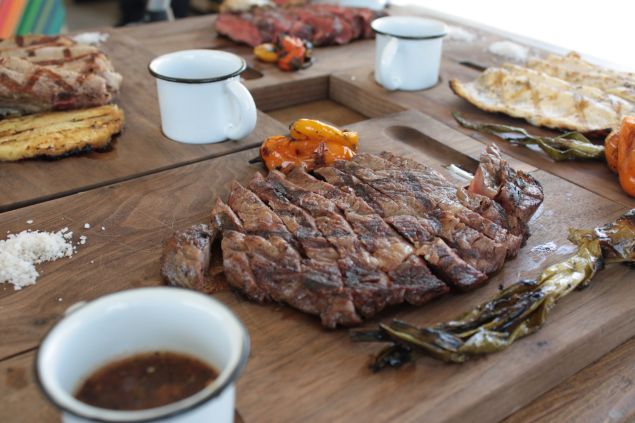 So sit inside at the cozy bar or, even better, on the bright patio with its orange and aquamarine chairs and order a Mexican shrimp cocktail, heirloom tomatoes and some perfect tacos: al pastor, carne asada, pollo asado and maybe even vegetable. (The latter was, on the night we visited this week, made with purple potatoes and kale because Ochoa no doubt understands L.A.) Get mashed potatoes, about as buttery as a stick of butter, with both green and red chorizo that make this side dish even more decadent than Joel Robuchon's famous, impossibly buttery potatoes.
You'll also likely want some meat (perhaps a beautiful Creekstone Farms rib eye) or fish from the mesquite grill, which should pair well with Ochoa's riff on sweet street corn that's pulled off the cob and served with a dollop of mascarpone. Maybe for dessert, there will be a four leches cornbread cake (with goat milk) that, Ochoa explains, celebrates both being Mexican and having a BBQ place.
Salazar, on the site of a former auto-body shop, isn't just a cool new restaurant in an unlikely location. It almost feels like a neighborhood in itself when you hear parents eating with their kids jokingly give other parents eating with their kids shit about discovering their favorite new spot. It also elevates the dining experience in a city with America's best Mexican food but with a limited amount of spaces where eating the best Mexican food doesn't involve chasing a food truck, sitting on a stool outside a car wash, driving deep into the San Gabriel Valley or visiting a nondescript restaurant with no liquor license.
Salazar is transporting, a place where you can lose yourself. This patio could be at the most popular restaurant in Palm Springs or New Mexico or Austin, but once you taste the food and perhaps hear people talking about the new Whole Foods 365 nearby in Silver Lake, you'll remember you're in L.A.
Ochoa introduces himself, and I tell him he must be busy between Salazar, his beloved Mexicali Taco & Co. restaurant downtown and his new Califas Tacos stand at Smorgasburg.
The chef smiles widely.
"You only get to be this age once," says Ochoa, 34, who lives in Frogtown and rides his skateboard to Salazar. This is his neighborhood, his time.
Ochoa's got a wife and two kids to consider, so he knows that working this hard is exactly what he should be doing. He's a man who understands the importance of seizing the moment and creating your own future. His taquero career started with a stand in a parking lot downtown after he'd been laid off from his job at a casino.
Ochoa, who had no culinary-school training but had spent much of his lifetime cooking for friends and family in Mexico, grilled carne asada and blasted music. There was a table and some chairs and a friendly dude who had some remarkable tacos, and it turns out, after some initial struggles, this was enough.
There seems to be a guiding principle, a refreshing way of life, that drives Ochoa. If he's exhausted between all his ventures, he's not showing it. Because when he's at Salazar, he's got everything he needs and he knows it. He's a man with happy customers of all ages, a skateboard, a grill, some of the best Mexican food in town and the adrenaline that comes with pure possibility.
Remember when Al Di La was BYO as it paved the way for the restaurant row on Park Slope's Fifth Avenue? Remember how Northsix made Williamsburg the coolest place for indie-rock parties or how Roberta's singlehandedly turned Bushwick into a hipster-chic destination?
This is that moment for Salazar and Frogtown, when you realize that everything is about to change.
I'm sure many former customers of Al Di La and Northsix and Roberta's now live in L.A. and have marveled at things like how Bestia turned the Arts District on its fedora-wearing head after opening in 2012.  Bestia, of course, is still one of the most coveted reservations in town years after its debut. I feel the same kind of energy and predict the same kind of future for Salazar, especially after seeing more than 10 people walk in (including a solo diner who had driven a black Fiat here) as soon as the doors opened at 5 p.m. on a Wednesday, but this place is no Bestia.
I can't imagine taking my toddlers to Bestia, but Salazar really is a restaurant for everyone. It's where you can bring your children and aging scenester friends and entitled millennial pals and out-of-town visitors and ex-New Yorkers who just moved to the West Coast and your parents. I can't think of any other place in L.A. quite like this. I can't think of any place more L.A. than this in summer 2016.