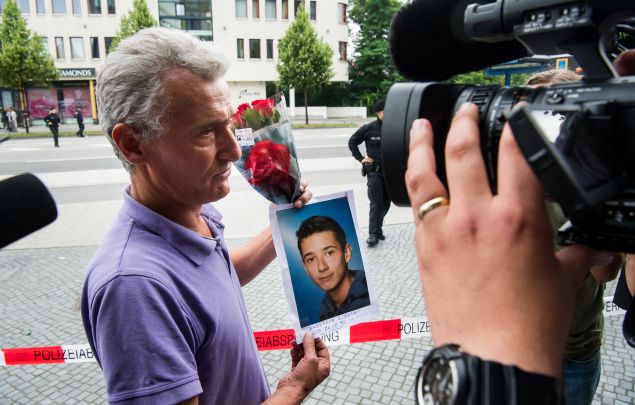 It was supposed to be a festive summer weekend in Munich, the capital of Bavaria, Germany's southernmost state. Like Texas, Bavaria has a reputation for conservatism and an independent spirit that sets it apart from the rest of the country. They also love their beer, and it's the 500th birthday of the Reinheitsgebot, Bavaria's famous Purity Law that set the gold standard for beer-aficionados worldwide way back in 1516.
But a festive summer weekend was not what Munich got. Shortly before six in the evening on Friday, shots rang out at the Olympia Center, a popular shopping mall north of downtown, just down the street from the site of the notorious 1972 Olympics massacre. The main scene of the crime was a McDonalds and many of the 25 people shot were children.
The killer emerged from the McDonalds' bathroom, firing a pistol. He seems to have targeted children intentionally and there are reports that, in a diabolical twist, the murderer used a fake Facebook (META) page to lure kids to the restaurant with the offer of free food.
Nine were killed in the rampage and 16 others were wounded, several of them critically. Mayhem followed as hundreds of police swarmed the mall and Munich's downtown. Throughout the evening, false reports of copycat shooters or possible co-conspirators caused panic throughout the city. Jumpy authorities ordered the evacuation of Munich's main train station and several other public places, just to be safe.
Within an hour of the rampage commencing, however, the killer was dead, shot with his own pistol, but not before engaging in a bizarre, angry dialog with observers of his massacre. He claimed he was a victim of bullying and ranted incoherently about his life.
The killer was an 18-year-old dual German-Iranian national who had lived in Munich for the last two years, in public housing with his mother, a department store worker, and his taxi-driver father. Predictably, initial assessments depict a young man who was quiet and troubled, though he had no criminal record.
There are media reports that the murdering teenager, who has been named as Ali Sonboly, shouted Allahu akbar—"God is great," the standard jihadist mantra—as he gunned down children. However, other reports have him complaining about "fucking foreigners" as he shot innocents. Three of the dead were immigrants from Kosovo. While he may have been a self-styled jihadist, and his murder spree certainly appears to be an act of terrorism, the possibility that he was simply deranged cannot be ruled out.
Fear of Muslims is spreading across Europe.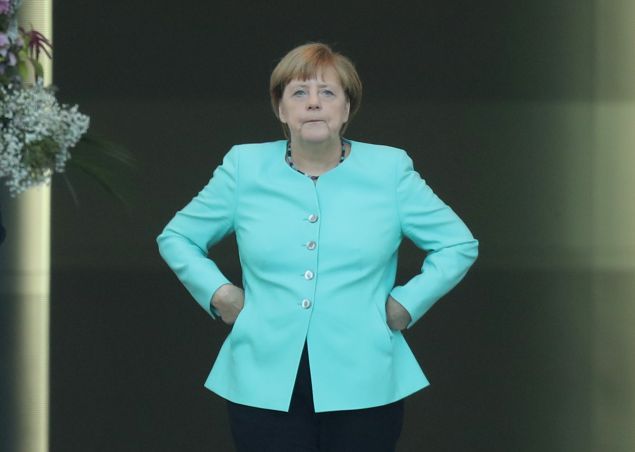 Nevertheless, Bavarians can hardly be blamed for suspecting an Islamist angle to the rampage since this is the second incident of mass violence in their neighborhood this week. On Monday evening near Würzburg in northern Bavaria, a three-hour drive north of Munich, another Muslim teenager went on a killing spree on a crowded train, injuring five people with a knife and axe, two of them critically, before being shot by police.
The attacker, a 17-year-old Afghan refugee who arrived in Germany last summer during the mass influx of Muslims, was named as Riaz Khan Ahmadzai—though, as with so many of Germany's "unaccompanied youth" refugees, his actual identity is in doubt. Yet his Islamist motivation is in no doubt. While butchering train passengers, including four tourists from Hong Kong, the self-styled jihadist shouted "Allahu akbar," while a police search of his residence revealed a homemade flag of the Islamic State as well as a chilling message left behind by the attacker: "Pray for me that I can take revenge on these infidels and pray for me that I will go to heaven."
One need hardly be a far-right German to be unnerved that young people welcomed warmly to the country only a year ago, penniless and in need of sanctuary, now want to kill their "infidel" hosts. For Chancellor Angela Merkel, the consequences of domestic terrorism by Muslim newcomers promise to be politically harmful, and perhaps lethal. While Merkel delayed her Alpine holiday this weekend to head a meeting of her national security team in response to the Munich attack—showing more tact than President Obama, who joked during his statement about the massacre—skeptics will deem this insufficient.
After all, it was Chancellor Merkel who opened the country's doors last summer in a fit of sunny optimism that already looks like a weighty political liability. Although there's no indication that the Würzburg attacker had anything to do with the Islamic State except in his own sick mind, that's cold comfort given the vast numbers of Muslim young men in Germany at the moment. ISIS was only too happy to hail the dead Afghan as their "soldier," releasing the now-obligatory video of the "martyr" swearing allegiance to the Islamic State.
Germans, who are not used to their government being inept and dishonest, are shocked by all this. Mass violence is a rarity in the country, which prizes order above almost all else, and guns are hard to get. Many are wondering how the Munich shooter got his hands on a pistol.
Lack of faith in Merkel is spreading. This has not been helped by revelations that the New Year's Eve rampage in several German cities, above all Cologne, was systematically misrepresented by authorities. While the government was at pains to portray these innocents of sexual assault as "isolated," leaked police reports have exposed that 1,200 German women were assaulted that night, half of them in Cologne, by 2,000 attackers—many of whom had just arrived in Germany as refugees.
Fear of Muslims is spreading across Europe. Last week's Nice truck massacre on Bastille Day, which killed 84 and wounded over 300 others, has caused worry to spread across the continent, not least because the ISIS-inspired Tunisian mass murderer, who naturally shouted "Allahu akbar" while running over innocents on his way to martyrdom, turns out to have planned his rampage for a year. This was no impulsive spree killing. Five Muslim immigrants are in custody, facing charges of conspiring with the murderer to perpetrate the July 14 horror.
As I recently profiled, Swiss Italians have opted to take a stand against Islamization, banning the burqa, sending a message that Muslim newcomers are less than welcome. Germans have considered such notions extreme, a talking-point of the far-right and a provocation to Muslim immigrants. However, as Bavaria's bloody week of mayhem comes to a close, increasing numbers of Germans are beginning to wonder how much tolerance they must show to intolerant foreigners in their midst—and at what cost.
John Schindler is a security expert and former National Security Agency analyst and counterintelligence officer. A specialist in espionage and terrorism, he's also been a Navy officer and a War College professor. He's published four books and is on Twitter at @20committee.