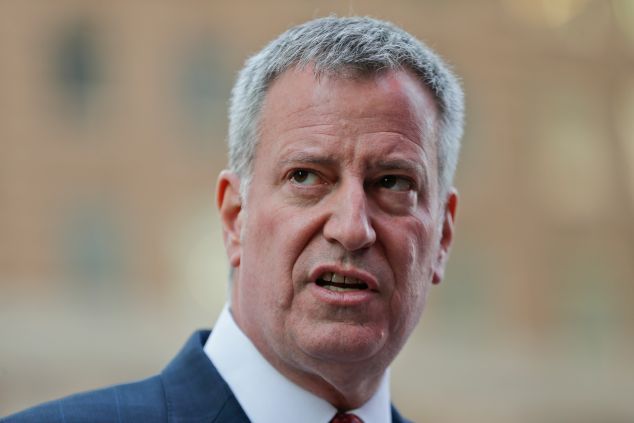 After the Department of Investigation reported that Mayor Bill de Blasio has not yet turned over documents and computers in connection with its Rivington House investigation, one Queens councilman says he is bewildered that Commissioner Mark Peters is not trying to get the administration to cooperate through a state court order.
In the scathing report released last week, DOI determined that City Hall was "aware of and involved" in a discussion about whether to lift a deed restriction on nonprofit AIDS hospice Rivington House. The city received $16 million from the developer after it lifted two deed restrictions requiring that the facility be run as a nonprofit and as a nursing home. The property's owner went on to flip it to a condo developer.
Councilman Rory Lancman—the only Council member to vote against Peters' confirmation because Peters once served as campaign treasurer for the mayor—said he could not think of any agency that could tell the DOI that it will not provide documents despite being legally bound to do so.
He said the agency should take the de Blasio administration to court and ask for an order compelling the city to produce computers and unredacted versions of the documents.
"You think Preet Bharara or Cy Vance or Eric Schneiderman is sitting back when evidence is being illegally withheld from their investigation and shrugging their shoulders and saying, 'Oh well?'" Lancman said, ticking off names of prosecutors. "By the way, the DOI itself would not accept the administration's response under any other circumstance other than this is an extremely high-profile damaging case for the mayor."
Critics have questioned whether Peters, a former prosecutor, could aggressively watch and conduct investigations into the de Blasio administration given his close relationship with the mayor. But Peters has rejected that claim, also noting that he spent several years serving on the state's Public Integrity Commission when he was then-Gov. David Paterson's appointee.
The councilman says Peters has to decide whether or not he wants to remain commissioner if his department will allow the de Blasio administration to stonewall the investigation, which he says will make the public have "zero confidence in his impartiality."
"He's got to decide whether he wants to be the commissioner that he promised he would be when he was confirmed or whether he wants to be another piece of the Bill de Blasio political machine that is so distorting our government process right now," he said.
The mayor himself claimed that the DOI's assertion that the city has not turned over documents is incorrect, although he acknowledged the tension between the DOI and the city's Law Department. Lancman retorted that what the mayor describes as tension, "the DOI describes as obstruction."
The DOI, for its part, maintained that it "pulled no punches" in its report and said it has not received the documents it requested to date. The agency is currently considering enforcement options.
"As we said in our report, because DOI did not receive a full production of what it requested, it is unclear what Rivington-related information remains on the City Hall computers and in related documents, to which DOI was denied access," a DOI spokesperson said in a statement. "DOI is pursuing enforcement options and therefore declines further comment at this time."
De Blasio's office, meanwhile, said Lancman's call for a court order was "a blatant publicity stunt."
"This is a blatant publicity stunt that ignores the City's full compliance with DOI's request for relevant materials. To the extent that DOI requested unfettered access to all City Hall communications, including communications indisputably unrelated to DOI's investigation, the Law Department lawfully declined to do so as part of its legal duty to the City," spokesman Eric Phillips said.